Getting Unstuck from PTSD: Using Cognitive Processing Therapy to Guide Your Recovery (Paperback)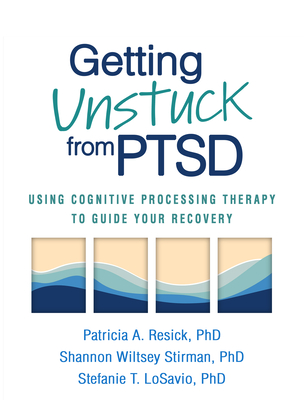 Description
---
Are you having trouble getting back to normal after a frightening experience? Do you feel stuck second-guessing what you did or did not do in the moment? Do you find yourself avoiding places, people, or sensations that remind you of what happened? Problems like these may be symptoms of posttraumatic stress disorder (PTSD). The good news is that recovery is possible. This is the first self-help workbook based on cognitive processing therapy (CPT), one of the gold-standard treatments for PTSD. Leading authorities--including the originator of CPT--have created a complete program featuring step-by-step exercises, practical tools that you can download and print as needed, and empathic stories of men and women working toward recovery. Using CPT techniques to systematically reexamine unhelpful thoughts can make the memories less painful and overwhelming. It can help you strengthen your relationships and restore a sense of safety and trust. Learn how to get unstuck from what happened in the past--so you can build the life you want now.
 
About the Author
---
Patricia A. Resick, PhD, ABPP, is Professor of Psychiatry and Behavioral Sciences at Duke University Medical School. Dr. Resick began developing and testing cognitive processing therapy (CPT) in 1988 at the University of Missouri–St. Louis, where she founded the Center for Trauma Recovery and was an Endowed Professor. CPT is considered a first-line therapy for posttraumatic stress disorder in the United States and several other countries; the CPT treatment manual has been translated into 12 languages. Dr. Resick has served as president of the International Society for Traumatic Stress Studies (ISTSS) and the Association for Behavioral and Cognitive Therapies (ABCT). She is a recipient of Lifetime Achievement awards from ISTSS, ABCT, and Division 56 (Trauma Psychology) of the American Psychological Association, among other honors.
 
Shannon Wiltsey Stirman, PhD, is Associate Professor in the Department of Psychiatry and Behavioral Sciences at Stanford University. She has been working with people with posttraumatic stress disorder (PTSD) and conducting research on PTSD since the early 2000s. Dr. Wiltsey Stirman provides training and consultation in cognitive processing therapy and cognitive-behavioral therapy and studies their effectiveness and their implementation in public mental health settings. She has a particular interest in developing digital mental health tools and other approaches to make effective treatment more widely available outside the context of traditional therapy.
 
Stefanie T. LoSavio, PhD, ABPP, is Assistant Professor in the Department of Psychiatry and Behavioral Sciences at the University of Texas Health Science Center at San Antonio and Associate Director of the STRONG STAR Training Initiative. Dr. LoSavio specializes in evidence-based treatments for posttraumatic stress disorder (PTSD) and co-occurring conditions. She is a national cognitive processing therapy trainer and has provided consultation for numerous research trials and training initiatives. Her research focuses on the effectiveness of interventions for PTSD and adaptations to treatments and training methods to increase the reach of evidence-based care.
 
Praise For…
---
"This wonderful book is an important resource for individuals who have experienced trauma, who can work through the workbook alone or with a therapist. This evidence-based treatment becomes readily accessible to the reader, with its clear outline, concrete steps, and examples. It will bring hope to those who suffer from PTSD, helping them change their beliefs and coping strategies, so they can live the life they want."--Judith S. Beck, PhD, President, Beck Institute for Cognitive Behavior Therapy

"The book is gentle and reassuring--the authors provide encouragement at every step. At first I was nervous about doing the exercises, but after an hour I could barely write fast enough! One very valuable part of this book is how it helps you distinguish between facts, thoughts, and feelings, and exactly how to deal with each of them. Highly recommended."--Linda H., Saskatoon, Canada

"This is the PTSD self-help book I've been waiting for. Not everyone is able to see a therapist. The strategies in this book are informed by extensive research and are written in a way that makes them easy to understand and use."--Debra Kaysen, PhD, ABPP, Department of Psychiatry and Behavioral Sciences, Stanford University

"If you want to take back your life from PTSD, this book is a gift. The authors are psychologists with many years of clinical experience among them, who write with warmth and compassion."--Tara E. Galovski, PhD, Director, Women's Health Sciences Division, National Center for PTSD; Department of Psychiatry, Boston University Chobanian and Avedisian School of Medicine

"I love this workbook--it's super solid.  Besides the information being sound and smart, the way it is presented is perfect. The worksheets and exercises helped make complex, overwhelming emotional issues feel more approachable, so I could understand and work through them."--Mary C., Chicago

"CPT is a truly groundbreaking treatment. This practical, informed, and compassionate workbook teaches you to identify and change the stuck points that trap you in the past, so you can cope better and overcome guilt, fear, and helplessness. This is a book that every trauma survivor should have. It not only will make lives better, but in some cases will save lives."--Robert L. Leahy, PhD, author of If Only…

"Decades of research have shown that CPT is a highly effective treatment. This easy-to-read self-help guide puts the tools for recovery directly into your hands. It is filled with relatable scenarios, tried-and-tested techniques, and helpful solutions."--Reginald D. V. Nixon, PhD, College of Education, Psychology, and Social Work, and Flinders University Institute for Mental Health and Wellbeing, Flinders University, Australia

"CPT enables trauma survivors not only to recover from PTSD, but also to enjoy increased resilience in the face of future stressors and life challenges. Now the developer of CPT, together with her master clinician colleagues, shares this remarkable approach to PTSD recovery directly with readers who may lack access to a formally trained CPT therapist. Invaluable!"--Ann M. Rasmusson, MD, Department of Psychiatry, Boston University Chobanian and Avedisian School of Medicine