French Women Don't Get Facelifts: The Secret of Aging with Style & Attitude (Paperback)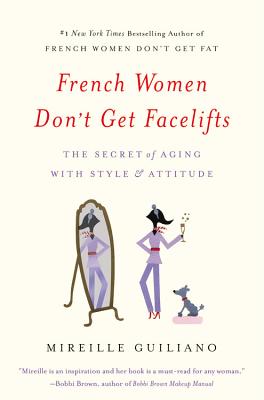 $16.99

Usually Ships in 1-5 Days
Description
---
The author of the bestselling French Women Don't Get Fat shares the secrets and strategies of aging with attitude, joy, and no surgery.

With her signature blend of wit, no-nonsense advice, and storytelling flair, Mireille Guiliano returns with a delightful, encouraging take on beauty and aging for our times. For anyone who has ever spent the equivalent of a mortgage payment on anti-aging lotions or procedures, dressed inappropriate for their age, gained a little too much in the middle, or accidentally forgot how to flirt, here is a proactive way to stay looking and feeling great, without resorting to "the knife"-a French woman's most guarded beauty secrets revealed for the benefit of us all!
About the Author
---
Mireille Guiliano, a former chief executive at LVMH (Veuve Clicquot), is "the high priestess of French lady wisdom" (USA Today) and "ambassador of France and its art of living" (Le Figaro). She is the author of French Women Don't Get Fat: The Secret of Eating for Pleasure, the #1 New York Times bestseller in the US. It has been translated into thirty-seven languages.

Mireille has appeared on theToday Show, CBS' the Early Show, NBC's Dateline, Oprah, and CNN, among many national broadcasts, and has been profiled in the New York Times, USA Today, Time, Newsweek, People, Business Week, More, Travel & Leisure, Food & Wine and dozens of other publications, and she is the author of French Women for All Seasons, Women, Work & The Art of Savoir Faire, and The French Women Don't Get Fat Cookbook.
Praise For…
---
"French women have incredible style and confidence. Mireille is an inspiration and her book is a must-read for any woman wanting to look better and ultimately feel more beautiful." --Bobbi Brown


Like a fabulous friend sharing her secrets, Mireille divulges, encourages and inspires. And she does it with joy." --Pamela Druckerman, author of Bringing up Bebe

Upcoming Events
No upcoming events available