Dust: The Modern World in a Trillion Particles (Hardcover)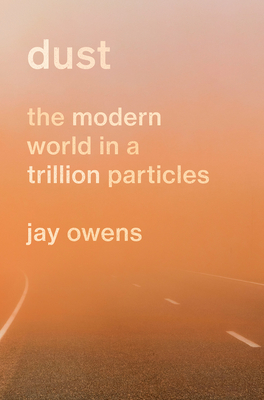 Description
---
Combining history and science, a sweeping look at the smallest substance and the biggest challenges facing people and the planet
Four and a half billion years ago, planet Earth was formed from a vast spinning nebula of cosmic dust, the detritus left over from the birth of the sun. Within the next one hundred years, life on Earth would be profoundly changed by heat, drought, fire, and, again, dust. Dust is a legacy of twentieth-century progress and a toxic threat to life in the changing climate of the twenty-first. And yet dust is something we hardly ever consider—so small and mundane.

Jay Owens's Dust corrects that oversight, sparking curiosity and wonder. This is a book on humanity and Earth and what we've done to it. Dust moves from the suburbs of a thirsty Los Angeles to Oklahoma and its Dust Bowl migrants, and the desert Southwest where nuclear testing created radioactive fallout that spread across America. Owens visits the dessiccated remains of the Aral Sea in Central Asia, the Greenland Ice Sheet, and beyond. Smart and beautifully written, Dust helps us understand our legacy and the challenges we face, building big ideas from the smallest particles.
About the Author
---
Jay Owens is a writer, researcher, and digital strategist. Her graduate thesis in geography at University College London explored dust as a medium of the domestic uncanny, and, after a journey to the parched desert hinterland of Los Angeles, she developed this idea into the e-mail newsletter Disturbances, followed by a program for BBC Radio 4—and then this book, her first. She has written for the Guardian, New Humanist, and other publications and speaks at design, media, and arts conferences and events. She works at the London Review of Books and lives in London.
Praise For…
---
"Owens's prose is often lyrical and her wide-ranging analysis highlights dust's overlooked historical significance . . . a competent and persuasive study of the big impact of small particles."

— Publishers Weekly

"A fascinating and expansive examination of the causes of dust and its effect on people . . . Owens' writing is moving and persuasive, revealing passion about the subject . . . Readers will be fascinated by what enormous insights Owens conveys by thoughtfully examining something as tiny as a dust particle."

— Booklist

"Like a detective dusting for fingerprints, Jay Owens masterfully reveals the hidden traces of modernity by following some of its smallest fragments. Dust is a hugely original and engrossing history. It's a book that captures our current age—its diffusion, its wonder, and its terror—as well as tracing its future fallout, both literal and symbolic."
— James Vincent, author of Beyond Measure

"This is brilliant… Owens is a serious writer: impassioned but intelligent, powerful but subtle … [a] first-class writer and deep-thinking environmentalist. This book is original and exciting."
— Sunday Times

"Owens takes on. . . many of the stories in Dust with admirable even-handedness, an impressive depth of research and a clear eye for complexities."
— the Guardian