A Rome of One's Own: The Forgotten Women of the Roman Empire (Hardcover)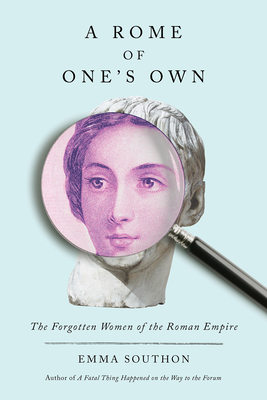 Description
---
From the acclaimed author of A Fatal Thing Happened on the Way to the Forum comes a wildly entertaining new history of Rome that uses the lives of 21 extraordinary women to upend our understanding of the ancient world.

The history of Rome has long been narrow and one-sided, essentially a history of "The Doing of Important Things," and as far as Roman historians have been concerned, women don't make that history. From Romulus through "the political stab-fest of the late Republic," and then on to all the emperors, Roman historians may deign to give you a wife or a mother to show how bad things become when women get out of control, but history is more than that.

Emma Southon's A Rome of One's Own is the best kind of correction. This is a retelling of the history of Rome with all the things Roman history writers relegate to the background, or designate as domestic, feminine, or worthless. This is a history of women who caused outrage, led armies in rebellion, wrote poetry; who lived independently or under the thumb of emperors. Told with humor and verve as well as a deep scholarly background, A Rome of One's Own highlights women overlooked and misunderstood, and through them offers a fascinating and groundbreaking chronicle of the ancient world.
About the Author
---
Dr. Emma Southon holds a PhD in ancient history from the University of Birmingham. The author of Marriage, Sex and Death: the Family and the Fall of Rome and Agrippina, she cohosts a history podcast with writer Janina Matthewson called History is Sexy, and works full time as a bookseller at Waterstones Belfast.
Praise For…
---
"[An] expert and wittily conversational narrative . . . Skillfully parsing sometimes limited and biased sources, Southon depicts her subjects as complex human beings . . . Southon's crisp characterizations, snappy assessments of existing histories, and breezy narrative style will enchant fans of ancient history and women's history. It's a delight."
— Publishers Weekly, *starred review*
"Clever, bold, and refreshingly feminist; readers will be engaged and entertained to the very end. This book deserves a home on library shelves to balance patriarchal nonfiction collections. More histories like this are needed."
— Booklist
"
A Rome of One's Own
is a fantastic read. It is sparkling, irreverent and entertaining, while still being clear and informative, and the focus on the often-ignored women's stories is long overdue. Where was Emma Southon when I studied Roman history!?"
— Laura Shepperson, author of Phaedra
"A Rome of One's Own
is hugely entertaining and illuminating. It is such an original way to look at the period, examining not only the women's lives but also what they represented to the Romans. Emma Southon brilliantly walks the line between humor and heartbreak, never shying away from the brutality some of the women endured, yet doing so with the lightest touch and managing to keep their humanity always in focus. I particularly enjoyed the huge range of characters—from Julia Felix the smart, Pompeii entrepreneur to Julia Caesar, the Emperor's daughter – which took us on the broadest possible sweep of Roman society. A thoroughly engaging read."
— Elodie Harper, author of The Wolf Den
"The women in Southon's book are nuanced, fearless and thanks to Southon's
brilliant storytelling
, unforgettable: ambitious kingmakers, charming courtesans, political actors, brave survivors and proud poets.
Funny, original, and often moving
, this is exactly the type of book I wish I could have read when I was younger."
— Costanza Casati, author of Clytemnestra
"Emma Southon is a truly original voice in popular historical writing. She has this amazing ability to take everything you thought you knew about Roman history, turn it upside down, reorient it, and show it to you anew, all the while making you laugh uproariously because she is, frankly, hilarious.
A Rome of One's Own
is the history book I didn't know I needed but I now find indispensable—an instant classic."
— Jane Draycott, author of Cleopatra's Daughter
"A Rome of One's Own
is a whip-smart and revelatory read. Emma Southon brings us 'the story of Rome as told
through
women'—women like a priestess, a businesswoman, and a poet; women who were queens, rebels, scapegoats, and survivors. This is the history you didn't know you needed from a writer who should be on everyone's radar."
— Shelley Puhak, author of the national bestseller The Dark Queens
"Southon gives a fresh sense of Roman civilization... She presents ordinary, 'small' lives as extraordinary… This is not just a book about the lives of historical women, but one about the history of womanhood… delightful… Southon's book is a testament to those who were determined not to be left voiceless."
— The TLS
"An irreverent … lively, alternative history."
— BBC History