Magical Boy Volume 2: A Graphic Novel (Paperback)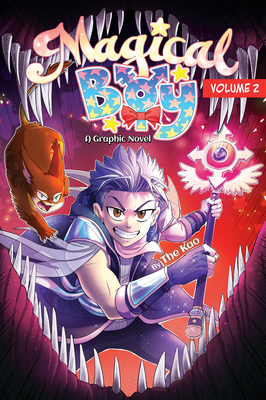 Description
---
A breathtakingly imaginative fantasy series starring Max—a high schooler chosen to become the next "Magical Girl." There's just one catch . . . he's a trans boy!
Although he was assigned female at birth, Max is your average trans man trying to get through high school as himself. But on top of classes, crushes, and coming out, Max's life is turned upside down when his mom reveals an eons old family secret: he's descended from a long line of Magical Girls tasked with defending humanity from a dark, ancient evil!
For decades, Devoid and his minions have been sealed away, with each generation's magical girl protecting the seal and our world. But as the millennia have passed, more and more cracks have appeared in the weakening seal. Now, the seal is open, evil is pouring into our world, and only Max can defeat it.
A hilarious and heartfelt riff on the magical girl genre made popular by teen manga series, Magical Boy is a one-of-a-kind fantasy series that comic readers of all ages will love.
About the Author
---
The Kao is Vincent Kao, an illustrator and comic artist known for his slice-of-life web series, Mondo Mango, and the Prism Award-winning webcomic, Magical Boy - both original series available at Tapas. Vincent graduated from Columbia College in Chicago with a Bachelor of Fine Arts in Illustration. He started his career through a series of comic strips surrounding his daily life and since then has freelanced, self-published, as well as collaborated in a few crowdfunded comic anthologies, all under "The Kao" name. To this day, he continues to work on his illustrations and comics in hopes to inspire and bring joy to everyone around him. For more information, please visit www.thekao.net.
Praise For…
---
Praise for Magical Boy Volume 1
"In this fantastic reimagining of the popular magical girl genre, Kao sticks to classic genre conventions while considering a important question: What happens when a person granted the cosmic powers of a magical girl is actually a trans boy? . . . Using a classic manga art style in full color, Kao keeps the story fun and exciting while tackling real-life issues Max faces." – Booklist, Starred Review
A Texas Librarian Association Maverick Graphic Novels Reading List Pick
A 2023 American Librarian Association Rainbow Book List Selection