Wings of Fire: A Guide to the Dragon World (Hardcover)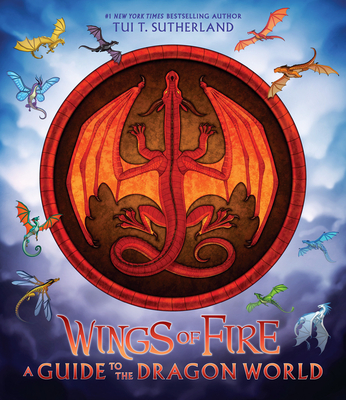 Description
---
Dive into the world of Wings of Fire like never before!The #1 New York Times, USA Today, and Wall Street Journal bestselling Wings of Fire series soars to even greater heights with an all-new collection of stories and art from readers' favorite dragon world! Tui T. Sutherland and Wings of Fire cover artist Joy Ang delve deeper into the legends of the ten dragon tribes, creating the ultimate collection for every FanWing. Each chapter of A Guide to the Dragon World explores the history, mythology, and folklore of the beloved series in a truly spectacular and gift-worthy edition!
About the Author
---
Tui T. Sutherland is the author of the New York Times and USA Today bestselling Wings of Fire series, the Menagerie trilogy, and the Pet Trouble series, as well as a contributing author to the bestselling Spirit Animals and Seekers series (as part of the Erin Hunter team). In 2009, she was a two-day champion on Jeopardy! She lives in Massachusetts with her wonderful husband, two awesome sons, and two very patient dogs. To learn more about Tui's books, visit her online at tuibooks.com.
Joy Ang started making art professionally with Udon Comics and helped publish and create The Anthology Project. She has illustrated all of the Wings of Fire covers as well as multiple picture books, including Mustache Baby and Mustache Baby Meets His Match. She lives in Seattle.
Praise For…
---
Praise for The Lost Heir (Wings of Fire, Book Two):
"[A] perfect adventure for young fantasy fans to sink their teeth into." -- School Library Journal
Praise for The Dragonet Prophecy (Wings of Fire, Book One):
"Dramatic battle scenes, double-crosses, and one seriously deranged queen makes Wings of Fire a series that should have broad appeal for middle-grade fantasy fans." -- Booklist
"Fast-paced and detailed, this first installment in a new adventure series is entertaining." -- Kirkus Reviews
"Readers of all ages will be enchanted by the humanistic storyline and the page-turning excitement." -- Library Media Connection
"A thrilling new series for dragon-lovers." -- Austin Family
Praise for The Lost Heir (Wings of Fire, Book Two):
"[A] perfect adventure for young fantasy fans to sink their teeth into." --School Library Journal
Praise for The Dragonet Prophecy (Wings of Fire, Book One):
"Dramatic battle scenes, double-crosses, and one seriously deranged queen makes Wings of Fire a series that should have broad appeal for middle-grade fantasy fans." -- Booklist
"Fast-paced and detailed, this first installment in a new adventure series is entertaining." --Kirkus Reviews
"Readers of all ages will be enchanted by the humanistic storyline and the page-turning excitement." -- Library Media Connection
"A thrilling new series for dragon-lovers." --Austin Family