In Defense of Witches: The Legacy of the Witch Hunts and Why Women Are Still on Trial (Paperback)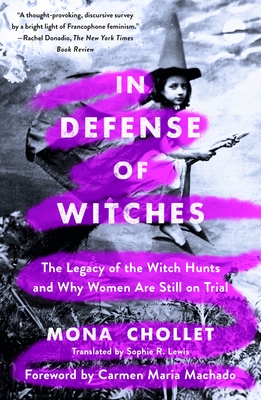 $20.00

Usually Ships in 1-5 Days
Description
---
Mona Chollet's In Defense of Witches is a "brilliant, well-documented" celebration (Le Monde) by an acclaimed French feminist of the witch as a symbol of female rebellion and independence in the face of misogyny and persecution.

Centuries after the infamous witch hunts that swept through Europe and America, witches continue to hold a unique fascination for many: as fairy tale villains, practitioners of pagan religion, as well as feminist icons. Witches are both the ultimate victim and the stubborn, elusive rebel. But who were the women who were accused and often killed for witchcraft? What types of women have centuries of terror censored, eliminated, and repressed?

Celebrated feminist writer Mona Chollet explores three types of women who were accused of witchcraft and persecuted: the independent woman, since widows and celibates were particularly targeted; the childless woman, since the time of the hunts marked the end of tolerance for those who claimed to control their fertility; and the elderly woman, who has always been an object of at best, pity, and at worst, horror. Examining modern society, Chollet concludes that these women continue to be harrassed and oppressed. Rather than being a brief moment in history, the persecution of witches is an example of society's seemingly eternal misogyny, while women today are direct descendants to those who were hunted down and killed for their thoughts and actions.

With fiery prose and arguments that range from the scholarly to the cultural, In Defense of Witches seeks to unite the mythic image of the witch with modern women who live their lives on their own terms.
About the Author
---
Mona Chollet is a Franco-Swiss writer and journalist. In Defense of Witches is her first book to be translated into English. She lives in Paris, France.
Praise For…
---
"A thought-provoking, discursive survey by a bright light of Francophone feminism….In today's France, Chollet has emerged as a quiet revolutionary, pushing back against the clichés and the patriarchy that shapes them….In Defense of Witches demonstrates that a woman's decision to go against the grain — especially by not having children — inevitably becomes a political act, even an act of resistance."—Rachel Donadio, The New York Times Book Review

"This delightful book, part history, part literary criticism, part political manifesto, explains why independent women are the witches of today, and calls on all women to mount our broomsticks and fly."—Katha Pollitt, author of Pro and Learning to Drive

"A smart feminist treatise reclaiming the witch and her radical way of life as a path forward for women…. Chollet's informed and passionate treatment will appeal to readers looking for more substance amid the witch trend that's otherwise been largely commodified and often scrubbed of its feminist origins."—Jenna Jay, Booklist

"Allows us to understand... the witch hunts of the past influenced the representation of women today." —Le Monde (France)

"Rehabilitates the figure of the witch, this dangerously independent, educated and strong woman." —Slate

"Mona Chollet demonstrates how...those who emancipate themselves from certain social norms, are in fact direct heirs of those that were hunted down censored, and eliminated during the Renaissance." —Huffington Post

"Explores the worldview that the witch hunt has sought to promote - and its consequences on society today."—Vice