Encounters: Experiences with Nonhuman Intelligences (Hardcover)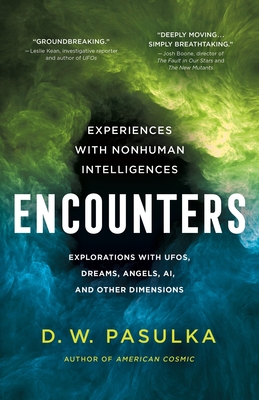 $27.00

Usually Ships in 1-5 Days
Description
---
A revolution is underway. For the first time in human history, we are at the cusp of experiencing contact with nonhuman life-forms of all kinds due to technological innovations and research into the experiences of people at the forefront of this development.

In Encounters, author D.W. Pasulka takes readers to the forefront of this revolution, sharing the work of experts across a spectrum of fields who are working to connect humanity with unknown life-forms.

Most of us have visions of nonhuman encounters that are shaped far more by Hollywood than they are informed by the current research. Encounters rewrites our visions of nonhuman species by featuring the work and stories of contemporary innovators who are rethinking our most basic assumptions about life and its manifestations beyond our experience.

The author of American Cosmic, D.W. Pasulka is a professor of religion at UNC, Wilmington; her work as a scholar has given her the tools to systematically examine data that exceeds rational categories—exactly the skillset needed to parse the world of UFOs, angels, AI, dreams, and other dimensions, which exist at the edges of human understanding. Encounters is a riveting exploration of the leading science of nonhuman life and a bold glimpse of the future of humanity in a universe where we are far from alone.
About the Author
---
D. W. Pasulka is a professor of religious studies at the University of North Carolina, Wilmington. She has written several books, including American Cosmic and Heaven Can Wait. Dr. Pasulka's research spans Catholic history to modern day reports of UAPs and UFOs.
Praise For…
---
"Encounters is a ground-breaking, multi-layered look at aspects of the UFO phenomenon that are rarely explored with such clarity, sophistication and insight. While the study of UFO evidence has captivated the world for decades, Encounters ventures further, diving into the enigmatic realms of the mystery that lie at the heart of this phenomenon, and which have touched the lives of so many people. Through profiles of unusual, gifted individuals with much to teach us, we learn how scientists and technologists are motivated to explore profound questions about the nature of consciousness as a result of their own connections to non-human intelligence. I highly recommend this book."
—Leslie Kean, investigative reporter and author of UFOs: Generals, Pilots, and Government Officials Go on the Record

"Diana Pasulka takes us galaxies beyond her essential American Cosmic, with Encounters. Here she delves into the patterns of creation, visions of Saint Michael, the protector of children, to synchronicity and the wide variety of interactions humans have with nonhuman intelligences. This is a deeply moving meditation on consciousness and all that we do not know about the mystery we exist within. One of the great recent books on the subject, sure to fascinate those interested in both spiritual and alien encounters. Simply breathtaking in its scope and the depth of its feeling."
—Josh Boone, director of The Fault in Our Stars and X-Men: The New Mutants, creator of The Stand

"Diana Pasulka has applied her prodigious academic skills to the generally dismissed subjects of UFOs and close encounters, and the result is astonishing and revelatory. The present will greet this book with wary surprise; the future will call it a masterwork."
—Whitley Strieber, #1 New York Times bestselling author of Communion

"The next essential chapter in the UFO mystery. A compelling page-turner that confronts the elephant in the room on UFOs. That, on the evidence, the key to this intriguing mystery is least likely to be that these strange objects are just mere super-advanced craft from a technologically superior non-human intelligence. In Encounters, Pasulka coaxes her fascinating UFO experiencers to reveal a frequent preternatural high-strangeness associated with their sighting events; the woo behind these events is an uncomfortable feature not commonly emphasized, indeed often overlooked. Her thesis is that maybe the very thing being ignored is the key. Why, she asks, do so many great thinkers and creatives credit their ground-breaking ideas to dreams and downloads? Is the phenomenon an organic uber AI seeding human consciousness with transcending ideas and UFO 'craft' just but one manifestation of a broader enigma? Underlying all indigenous knowledge systems is this idea of pan-psychism, a sentient environment. She questions if the notion of an organic internet explains the aboriginal dreamtime, even God. The most intriguing question she poses is whether humanity's intimacy with technology is making us all blind to what we once were and are truly capable of being."
—Ross Coulthart, author of In Plain Sight: An Investigation into UFOs and Impossible Science

"We are schooled by D.W. Pasulka in two seemingly contradictory truths: the UFO phenomenon is riven with disinformation and distortion, and the UFO phenomenon is real. Pasulka also explains why it is the experiencers of nonhuman or superhuman intelligence who count, and why the study of religion has the most to say about their altered states and cosmic realizations. Encounters is a model of where we should go from here—into a future beyond our present understandings of the natural and the supernatural, of religion and science. That is the past. This is the future."
—Jeffrey J. Kripal, author of The Superhumanities: Historical Precedents, Moral Objections, New Realities

"In Encounters, Dr. D. W. Pasulka continues a deeply profound journey to unravel the UFO mystery and place an empathetic microscope on those who have experienced it. Invisible hands continue to weave an uncharted path for Pasulka as she navigates a maze of government involvement with the UFO topic and the narrative painted between the gaps of uncertainty, while also exploring a very human lens through the scientists, researchers, and experiencers who truly shape the UFO interpretation. While the goal may appear to be a crossing of these paths, Pasulka eloquently proves that sometimes the journey is far more important than the final destination."
—Ryan Sprague, author and podcaster, Somewhere in the Skies

"Diana Pasulka brings to the incomplete study of unidentified phenomena the missing parts that make it tick: a subtle, caring way to transcend the rough political and military turmoil that has long disfigured the research; and a formal framework for the spiritual reinterpretation of what the witnesses say. Her book is a staircase to the top level."
—Jacques Vallee, author, scientist, and venture capitalist

"In Encounters, Dr. Pasulka offers us a mind-expanding view of what 'contact' means. She explores the role of the paranormal, the invisible and the spiritual as integral parts of the UFO contact experience. She also explores the role of technology and AI as a new form of contact through her fascinating profiles of scientists and innovators. After reading this deeply insightful book, if you aren't surprised by what she reveals, you haven't been paying attention."
—Rizwan Virk, founder of Play Labs @ MIT and author of The Simulation Hypothesis and Wisdom of a Yogi

"If American Cosmic took readers to super-secret crash sites in the desert and off-limits vaults of the Vatican, D. W. Pasulka's new book Encounters takes them on a more inward journey—not ETs in metal ships (although those do hover in the background) but alleged interactions with nonhuman intelligence through dreams, synchronicities, and inspiration. Pasulka's unique brand of erudite but also highly personal ufology humanizes her subject in a way that few other writers nowadays approach. Her cast of characters includes members of the scientific and technological elite, many of whom believe they have interacted with, or continuously interact with, the UFO Phenomenon. Some of her informants work on the forefront of fields like AI and space medicine that are poised to take our own species in new directions in coming years. Like Jacques Vallee at his best, Pasulka is a curious and sympathetic guide to her subjects' dreamtimes, speculations, and spiritual landscapes."
—Eric Wargo, author of Time Loops and Precognitive Dreamwork and the Long Self

"Diana Pasulka shifts the paradigm on what contact with nonhuman intelligences can mean and the social impacts it can have. She offers us a subtle, sensitive, and deeply knowledgeable depiction of the lives and worlds of people who have had experiences associated with UFOs. Particularly intriguing is the way she weaves Plato's Allegory of the Cave throughout her narrative to illuminate various facets of the UFO phenomenon and speak to the esoteric knowledges at the core of contact with nonhuman intelligences. Pasulka shows us how the experiencers may be more relevant to our potential technological and spiritual futures than we have realized."
—Hussein Ali Agrama, PhD., Associate Professor of Anthropology at the University of Chicago

Praise for American Cosmic:
"[Pasulka] approaches UFO believers with an open mind in her irresistible debut . . . [and] gives wonderful, entertaining insight into the curious study of UFOs." — Publishers Weekly

"A thought-provoking book about religion today." —Booklist