The Dead Take the A Train (Carrion City #1) (Hardcover)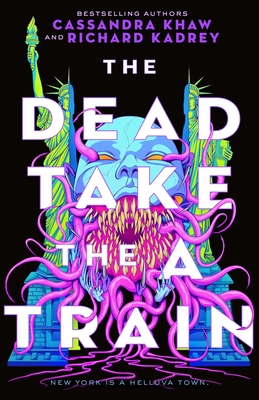 Description
---
Bestselling authors Cassandra Khaw and Richard Kadrey have teamed up to deliver a dark new story with magic, monsters, and mayhem, perfect for fans of Neil Gaiman and Joe Hill.

Julie is a coked-up, burnt-out thirty-year-old whose only retirement plan is dying early. She's been trying to establish herself in the NYC magic scene, and she'll work the most gruesome gigs, exorcize the nastiest demons, and make deals with the cruelest gods to claw her way to the top. But nothing can prepare her for the toughest job yet: when her best friend, Sarah, shows up at her door in need of help. Keeping Sarah safe becomes top priority.

Julie is desperate for a quick fix to break the dead-end grind and save her friend. But her power grab sets off a deadly chain of events that puts Sarah – and the entire world - directly in the path of annihilation.

The first explosive adventure in the Carrion City Duology, The Dead Take the A Train fuses Cassandra Khaw's cosmic horror and Richard Kadrey's gritty fantasy into a full-throttle thrill ride straight into New York's magical underbelly.
About the Author
---
RICHARD KADREY is the New York Times bestselling author of the Sandman Slim supernatural noir series. Sandman Slim was included in Amazon's "100 Science Fiction & Fantasy Books to Read in a Lifetime," and is in production as a feature film. Some of Kadrey's other books include The Grand Dark, The Everything Box, King Bullet, and Butcher Bird. In comics, he's written for Heavy Metal, Lucifer, and Hellblazer.

CASSANDRA KHAW is the USA Today bestselling author of Nothing But Blackened Teeth and the Bram Stoker Award-winner, Breakable Things. Other notable works of theirs are The Salt Grows Heavy and British Fantasy Award and Locus Award finalist, Hammers on Bone. Khaw's work can be found in places like The Magazine of Fantasy & Science Fiction, Year's Best Science Fiction and Fantasy, and Tor.com. Khaw is also the co-author of The Dead Take the A Train, co-written with bestselling author Richard Kadrey.
Praise For…
---
"I loved The Dead Take the A Train. Strange, visceral urban fantasy with a horror bent." —V.E. Schwab, #1 New York Times bestselling author

"An excellent grim and gory tale." —Library Journal, STARRED review

"An original, thought-provoking, and entertaining title that will call to readers from multiple dimensions." —Booklist, STARRED review

"Deliciously down and dirty...Khaw's and Kadrey's styles are a perfect match throughout...Fans of urban fantasy, neo-noir, and pulp horror won't want to miss this raucous adventure." —Publishers Weekly, STARRED review

"Khaw and Kadrey are a powerful team of genre-blending mad geniuses, and The Dead Take the A Train is a gore-covered cake for horror lovers." —Tor.com

"An addictive, sprawling yarn. This city brims with underhanded dealings and odd magic, and every corner writhes with fresh horrors and delights." —Hailey Piper, Bram Stoker Award-winning author of The Worm and His Kings

"The first in a pair of new books set in a magical, spooky version of New York City, The Dead Take the A Train packs a great concept and the combined talent of a horror superteam." —Paste

"Everything old is new again in this comically horrific team-up...An enchanting introduction to a magical bitch on wheels, to be continued." —Kirkus Reviews

"This is lush gore, a bloody fantastic ride where people with metaphorical demons fight literal ones, and the lost are saved not by grace but by barbed wire and love. Hop on this train now." —Kevin Hearne, New York Times bestselling author

"The Dead Take the A Train incorporates everything that's best about both authors into a seamless whole and adds a touch of something uniquely weird and wonderful. The result is fun, thrilling, and compulsively readable." —John Langan, author of The Fisherman

"A fast-paced madhouse of mayhem combining the best of Kadrey's thrillers with Khaw's gruesome Lovecraftian horror....The Dead Take the A Train is a blast and highly recommended for dark fantasy and horror fans looking for a good time." —Grimdark Magazine

"Fast-paced and thoroughly entertaining!" —Lucy A. Snyder, author of Sister, Maiden, Monster

"Khaw and Kadrey raise eldritch gore to an art form….Eye-searing horror that's impossible to look away from, I already can't wait for the next book." —Kat Howard, author of the Unseen World duology

"[O]ffsets its recognizable New York City setting with a relentless barrage of visceral body horror and deliriously twisted humor. ... a depraved carnival of nightmares and eldritch narcotics." —BookPage

"Frenetic, unrelenting, and deeply rich in world and character. Khaw and Kadrey have created a kaleidoscopic carnival of horrors and wonders." —Matt Wallace, author of the Sin du Jour and Savage Rebellion series