Heart: A History (Paperback)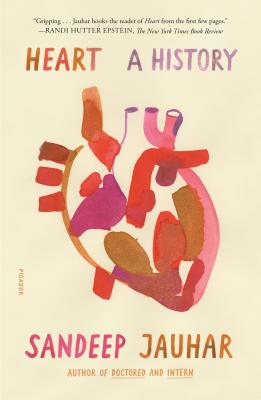 Description
---
The bestselling author of Intern and Doctored tells the story of the thing that makes us tick

For centuries, the human heart seemed beyond our understanding: an inscrutable shuddering mass that was somehow the driver of emotion and the seat of the soul. As the cardiologist and bestselling author Sandeep Jauhar shows in Heart: A History, it was only recently that we demolished age-old taboos and devised the transformative procedures that have changed the way we live.

Deftly alternating between key historical episodes and his own work, Jauhar tells the colorful and little-known story of the doctors who risked their careers and the patients who risked their lives to know and heal our most vital organ. He introduces us to Daniel Hale Williams, the African American doctor who performed the world's first open heart surgery in Gilded Age Chicago. We meet C. Walton Lillehei, who connected a patient's circulatory system to a healthy donor's, paving the way for the heart-lung machine. And we encounter Wilson Greatbatch, who saved millions by inventing the pacemaker—by accident. Jauhar deftly braids these tales of discovery, hubris, and sorrow with moving accounts of his family's history of heart ailments and the patients he's treated over many years. He also confronts the limits of medical technology, arguing that future progress will depend more on how we choose to live than on the devices we invent. Affecting, engaging, and beautifully written, Heart: A History takes the full measure of the only organ that can move itself.
About the Author
---
Sandeep Jauhar is the bestselling author of several acclaimed books on medical topics: Intern, Doctored, and Heart: A History, which was named a best book of 2018 by The Mail on Sunday, Science Friday, and the Los Angeles Public Library, and was a PBS NewsHour/New York Times book club pick; it was also a finalist for the 2019 Wellcome Book Prize. A practicing physician, Jauhar writes regularly for the opinion section of The New York Times. His TED Talk on the emotional heart was one of the ten most-watched TED Talks of 2019.
Praise For…
---
A PBS NEWSHOUR-NEW YORK TIMES BOOK CLUB PICK
A Mail on Sunday Book of the Year
A Science Friday Best Science Book of 2018
A Los Angeles Public Library Best Nonfiction Book of 2018
Shortlisted for the 2019 Wellcome Book Prize

"[Sandeep Jauhar's] gripping new book, Heart a History, had me nearly as enthralled with this pulsating body part as [Jauhar] seems to be. The tone—a physician excited about his specialty—takes a sharp turn from his first two memoirs . . . Jauhar hooks the reader of Heart from the first few pages." —Randi Hutter Epstein, The New York Times Book Review

"At once intimate and detached. And over the ensuing pages, [Jauhar] is our trusty guide through a compelling story about what makes each and every one of us tick. Both primer and ode, Heart is a fascinating education for those of us who harbor this most hallowed organ but know little about it. " —Katie Hafner, The Washington Post

"The cardiologist Sandeep Jauhar has become a Dante of modern medicine, with his earlier memoirs, "Intern" (2008) and "Doctored" (2014), casting the progress from training to career as a path studded with suffering, indignity and ethical hazard. His latest book, "Heart: A History," is something of a "Paradiso," pointing to the field's brightest and noblest stars while recognizing just how much darkness is still left in the firmament . . . Poignant and chattily erudite." —Laura Kolbe, The Wall Street Journal

"Beautifully written, informative, and thought-provoking . . . Jauhar is a gifted storyteller who paints portraits deftly and with few words. He is a master of the verbal miniature . . . [his] engaging prose makes us as happy to spend time with him, his patients, and his family as we are to read about William Harvey or heart transplant pioneer Christiaan Barnard." —Suzanne Koven, The Los Angeles Review of Books

"Sandeep Jauhar, a New York cardiologist and the author of two medical memoirs, has written a book of unusual depth and richness about a subject that concerns us all . . . Heart: A History is elegantly conceived and still more elegantly executed, with a narrative that flits effortlessly between medieval Persia and contemporary America, medical scholarship and personal anecdote . . . Jauhar writes with a vital, pulsating energy." —Thomas Morris, The Times Literary Supplement

"Cardiologist Sandeep Jauhar's exploration of that marvellous muscle, the heart, meshes cutting-edge science, memoir and history . . . A moving narrative echoing to the beat of 'this organ, prime mover and citadel'." —Barbara Kiser, Nature

"Jauhar's history is full of colorful stories and fascinating facts...but it also has a lot of heart." —Zócalo Public Square

"Much of this intimate and assured history focuses on developments in the medical understanding and treatment of the heart . . . Jauhar convincingly argues that a paradigm shift is required in cardiovascular medicine to give psycho-social factors more prominence. 'To treat our hearts, we must repair our societies and minds.'" —The Sydney Morning Herald

"Part-memoir, part-history of his medical specialty, Heart links the physical organ with the emotional one. Jauhar pairs engaging descriptions of how the heart works with tales of creativity and self-experimentation that enabled treatments for infarctions, arrhythmias and myopathies." —Kate Womersley, The Spectator

"This is both a history of surgical interventions to heal the heart, and a personal meditation on illness, family, loss, and living. [Jauhar], who has lost several family members to heart disease, takes time to examine both the work of doctors trying to fix hearts and the lives of people living with heart disease, for a book that is touching and ultimately, hopeful." —Los Angeles Public Library, "Best of 2018"

"Heart is a fascinating exploration into the roots of early medicine and cardiology . . . Heart traverses the past, present and future of the field in which he currently practices . . . Where the book really shines . . . is Jauhar's weaving of a tender personal narrative . . . Heart invites us into both his personal and professional connection to cardiac disease, while also helping address mysteries that have long perplexed doctors, as well as the patients they care for." —Amitha Kalaichandran, The Global and Mail

"A fascinating, gripping book on the history of the human heart that will bring you closer to your heart than ever before—this is truly a bold and beautiful book on cardiology." —Swapna Raghu Sanand, Financial Express (India)

"Readers' jaws will drop and drop again at stories of daring researchers experimenting on themselves and pioneering surgeons leaving a trail of dead patients, many of them children, as they perfected machines, devices, and techniques that often work miracles, fixing fatally malformed hearts, correcting defects, and, when they succeed, extending lives." —Kirkus

"Jauhar pairs medical history with revelations of his own family's tragic encounters with heart disease, delivering a deftly written and heartfelt (literally) contemplation of our most precious and often-misunderstood internal organ." —Carl Hays, Booklist

"Beautifully written, with prose that reads almost like poetry in places." —Susamma Joy Kurian, The Week

"A thumping tribute to the protagonists — some legendary some unsung — of medicine, who over the years have innovated and persevered to find cures for cardiac ailments through landmark breakthroughs in their field." —Business Standard

"Fascinating and moving in equal parts." —The Telegraph (India)

"This captivating investigation deftly communicates the beauty, mystery, and scientific wonder of the human heart." —Library Journal

"Jauhar's writing blends pathos and playfulness and is suffused with an elegiac tension, haunted as it is by the specter of his own mortality . . . Jauhar invites the reader into the resonant chambers of his heart, narrating the history of an organ while also offering a stirring personal tour of his sorrows." —Raj Telhan, American Scholar

"Cardiologist Jauhar (Intern) moves beautifully between 'dual tracks' of 'learning about the heart... but also what was in my heart,' . . . Covering enough physiology to make scientific details easily understood, Jauhar emphasizes how brave, desperate, and sometimes foolhardy experiments led to important developments, such as the heart-lung machine . . . Jauhar is thoughtful, self-reflective, and profoundly respectful of doctors and patients alike; readers will respond by opening their own hearts a little bit, to both grief and wonder." —Publisher's Weekly (Starred Review)

"My friend Sandeep Jauhar has shown us again why he is one of our most diligent teachers. For Jauhar, Heart: A History is a personal journey. Besieged with a tragic history of heart disease, he sets out to change his preordained fate. Along the way, we learn not only the history of the heart, but what we can do to prolong our own heart health." —Sanjay Gupta, MD, Chief Medical Correspondent at CNN and Faculty Neurosurgeon at Emory Clinic

"Sandeep Jauhar writes with the eye of a doctor and the heart of a poet. His latest book, Heart: A History, is a superb tribute to our most vital organ." —Marilyn Yalom, Stanford University, author of The Amorous Heart: An Unconventional History of Love

"An engaging walk through the history of modern cardiology with an authoritative guide. Sandeep Jauhar draws on personal experience, family history, his training and clinical work, and his knowledge of his field to craft an account of the heart—what we know about it and how we came to that understanding—that is at once intimate and comprehensive." —Peter D. Kramer, author of Listening to Prozac and Ordinarily Well

"In Heart: A History, Sandeep Jauhar, one of the most talented physician-writers of our era, takes us on an enlightening, uplifting journey through the major milestones and advances of heart disease—while at the same time anchoring his intimate personal experiences." —Eric Topol, Scripps Research Institute, author of The Patient Will See You Now

"Sandeep Jauhar expertly weaves little-known tales from medical history into his own personal and professional experiences to create a richly detailed book about the human heart. Thoroughly engrossing and full of historical gems." —Lindsey Fitzharris, author of The Butchering Art

"Engaging . . . Jauhar brings literary flair . . . narrating the history of cardiology through stories of daring innovations, painstaking research, and chance discoveries." —K. Srinath Reddy, Indian Express

"This is a vital book. A charming, honest and unflinching exploration of a most fascinating organ: the heart. Cardiologist and author Sandeep Jauhar beautifully weaves medical research with philosophy, science with personal stories—of patients and doctors, including his very own. The depth of his knowledge is remarkable but the breadth of his compassion even more so." —Elif Shafak, Chair, 2019 Wellcome Book Prize

"Jauhar weaves his own personal and family story into his history of the heart...very effectively... This gives a certain dramatic tension to the book, as it tells the fascinating and rather wonderful history of cardiology... Jauhar tells us that "the human heart became an obsession with me" and his book, about the heart, comes from the heart. It is a subject in which he is entirely expert, and is written with great eloquence." —Henry Marsh, New Statesman
Give Books for the Holidays 2023