Best Tent Camping: Washington: Your Car-Camping Guide to Scenic Beauty, the Sounds of Nature, and an Escape from Civilization (Paperback)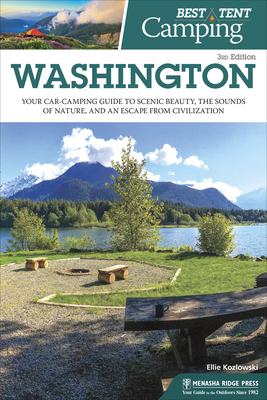 $16.95

Usually Ships in 1-5 Days
Description
---
Perfect Camping for You in Washington
The Evergreen State provides a spectacular backdrop for some of the most scenic campgrounds in the country. But do you know which campgrounds offer the most privacy? Which are the best for first-time campers? Ellie Kozlowski has traversed the entire region--from wide, sandy beaches to snowcapped mountains to narrow river gorges--and compiled the most up-to-date research to steer you to the perfect spot
Best Tent Camping: Washington presents 50 private, state and national park, and state and national forest campgrounds, organized into eight distinct regions. Selections are based on location, topography, size, and overall appeal, and every site is rated for beauty, privacy, spaciousness, safety and security, and cleanliness--so you'll always know what to expect. The new full-color edition of this proven guidebook provides everything you need to know, with detailed maps of each campground and key information such as fees, restrictions, dates of operation, and facilities, as well as driving directions and GPS coordinates.
Whether you seek a quiet campground near a fish-filled stream or a family campground with all the amenities, grab Best Tent Camping: Washington. It's an escape for all who wish to find those special locales that recharge the mind, body, and spirit. This guide is a keeper.
About the Author
---
Ellie Kozlowski grew up in a suburb of Boston and camped on Cape Cod as a kid. She's lived in the Pacific Northwest for the better part of a decade. It is, she thinks, the best place to enjoy the desert, the rainforest, the ocean, and the mountains. She loves adventuring, hiking, stargazing, snowshoeing, reading or napping in her hammock, and losing cell service. When she's not driving up a mountainside or along a coast, she's enjoying all Seattle has to offer with her partner and their dog. Jeanne Louise Pyle lived in the Pacific Northwest for 30 years. Her love of the outdoors led to authoring the first book of the Best Tent Camping series in 1994.