Diabetes Meals for Good Health Cookbook: Low-Carb Recipes and Swaps for Every Meal (Paperback)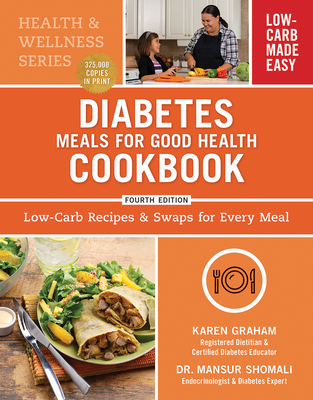 Description
---
Leading the diabetes low-carb movement.
This 4th edition of the cookbook companion to Karen Graham's bestselling Complete Diabetes Guide includes all the most up-to-date dietary information for those living with diabetes or prediabetes. Recent CDC reports indicate that over 37 million Americans have diabetes and another 96 million have prediabetes. Trending fad diets like keto and Atkins have been used to help people with diabetes manage their caloric intake and lose weight. However, these restrictive diets are challenging to maintain and may lead to future health concerns.
This book presents clear instructions and an easy-to-follow meal plan for safely transitioning to a healthy, sustainable low carbohydrate diet.
Karen Graham is a Registered Dietitian and Certified Diabetes Educator; Mansur Shomali, MD is an endocrinologist. Together, they show that with a little planning, a diabetes diet can be fulfilling, nutritious and delicious. Diabetes Meals for Good Health Cookbook, 4th edition, gives step-by-step instructions for putting this low-carb advice into action. This simple and straightforward meal planning guide includes balanced options for every meal of the day along with low-carb pairing advice and nutritional analysis. Managing diabetes is easier than you think
About the Author
---
Karen Graham, RD, CDE is a Registered Dietitian, Certified Diabetes Educator and nutrition counsellor with over 30 years of specialization in the management and treatment of diabetes. She lives in British Columbia, Canada, where she works as a Public Health Dietician. Mansur Shomali, MD, CM, is a physician, researcher and educator specializing in endocrinology, diabetes and metabolism. He resides near Baltimore, Maryland.