Tools: A Visual Exploration of Implements and Devices in the Workshop (Hardcover)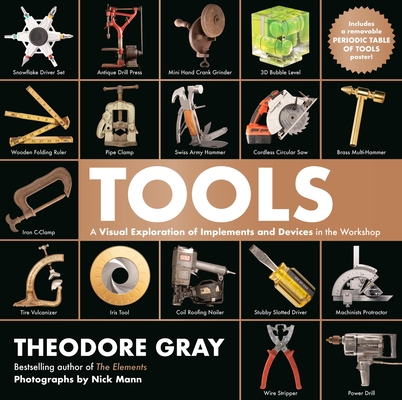 Description
---
The international bestselling author of The Elements celebrates 118 individual categories of tools found in the home workshop—from crescent wrenches to miter saws, from levels to cordless drills—all exquisitely photographed in Nick Mann's inimitable style.

Includes a bonus poster of Theodore Gray's PERIODIC TABLE OF TOOLS!

Tools is arguably Theodore Gray's most personal book yet. Hand tools and power tools have been a central part of his life for as long as he can remember. Using them, collecting them, and appreciating them is as much a part of his DNA as his passion for the periodic table. This book is the story of those tools, from Gray's personal favorites that have stuck with him through to years, to new and exciting antiques and modern inventions that he's discovered along the way. Organized into 118 categories, (and cleverly arranged into a periodic table of tools where each tool in a column shares properties and builds from lightest to heaviest) each tool is featured in a great big beautiful photograph on the left-hand side of the spread. On the right side of the page, Theo regales us with history and personal stories and shows us multiple variations on the theme. Tools is an unprecedented collection featuring 500 stunning examples of the world's most wonderful workshop implements. It's the must-have book for every tool lover.
About the Author
---
Theodore Gray is the author of The Elements, Molecules, and Reactions as well as Theodore Gray's Completely Mad Science, How Things Work, and Engines. He is the creator of the bestselling iPad apps "Elements" and "Molecules," which have both been named App of the Week by Apple, and he was the director of "Disney Animated," also honored by Apple as iPad App of the Year. He co-founded Wolfram Research, Inc., makers of the widely used software Mathematica and the the Wolfram Alpha website. He lives in Urbana, Illinois.

Nick Mann is a photographer specializing in taking beautiful photos of inanimate objects on black backgrounds. His other work includes The Elements, Molecules, Reactions, How Things Work and Engines. In his other life, he designs and makes specialized note-taking fieldwork equipment and he works in the quality control department for a large automotive company. He lives in Urbana, Illinois.
Praise For…
---
"[A] readable feast that covers more than 180 different types and categories of tools commonly found in many workshops. The writing style is engaging and humorous, and gives common-sense advice interlaced with lessons the authors have learned…. The well-organized book includes clear and lush illustrations, plus personal stories. The table of contents, much like chemistry's table of elements, could be called the periodical table of tools, an effective structure that makes looking up a specific tool fast and easy….A perfect and highly recommended reference book. It's a remarkable refresher for those more experienced and handy with tools; newbies will likely find it to be an impressive introduction as well."
—
Library Journal, starred review
"Similar in format to a woodland field guide, each entry provides high-quality color photos by Nick Mann and concise, thoughtful, explanations of history, design, and function. Gray's attitude about tools is candid and frequently playful. . . . Although unquestionably authoritative, it does not take itself too seriously, and the author's droll humor will help even the most timid workshop novice get comfortable with tools."
—
Booklist