Whiskey When We're Dry: A Novel (Paperback)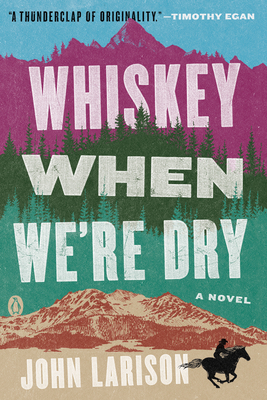 September 2018 Indie Next List
---
"A haunting and remarkable debut, John Larison's Whiskey When We're Dry stays true to the western genre while subverting many common themes of the American West, producing a wholly original narrative that will linger in your mind for days. I have never encountered a protagonist quite like Jess; she embodies the incredible strength and resolve required to survive in the West, but also the vulnerability necessary to retain humanity in the face of so much violence and brutality. Larison's prose goes down as smooth as a glass of whiskey, and I didn't want to stop reading until I'd finished every last drop."
— Tori Odea, Politics and Prose Bookstore, Washington, DC
Winter 2019 Reading Group Indie Next List
---
"In Whiskey When We're Dry, an intrepid heroine in the post-Civil War West disguises herself as a boy and rides with both a militia and an outlaw gang to find her brother. Comparisons to True Grit are apt, but John Larison has woven into his fast-paced plot contemporary themes of sexual identity, morality, and the difficulty young women face in navigating a male world. Reading his debut novel is a very entertaining but also memorable and deep experience."
— Sheila Burns, Bloomsbury Books, Ashland, OR
Description
---
Named a Best Book by Entertainment Weekly, O Magazine, Goodreads, Southern Living, Outside Magazine, Oprah.com, HelloGiggles, Parade, Fodor's Travel, Sioux City Journal, Read it Forward, Medium.com, and NPR's All Things Considered.
 
"A thunderclap of originality, here is a fresh voice and fresh take on one of the oldest stories we tell about ourselves as Americans and Westerners. It's riveting in all the right ways -- a damn good read that stayed with me long after closing the covers." - Timothy Egan, New York Times bestselling author of The Worst Hard Time 

From a blazing new voice in fiction, a gritty and lyrical American epic about a young woman who disguises herself as a boy and heads west

In the spring of 1885, seventeen-year-old Jessilyn Harney finds herself orphaned and alone on her family's homestead. Desperate to fend off starvation and predatory neighbors, she cuts off her hair, binds her chest, saddles her beloved mare, and sets off across the mountains to find her outlaw brother Noah and bring him home. A talented sharpshooter herself, Jess's quest lands her in the employ of the territory's violent, capricious Governor, whose militia is also hunting Noah--dead or alive. 

Wrestling with her brother's outlaw identity, and haunted by questions about her own, Jess must outmaneuver those who underestimate her, ultimately rising to become a hero in her own right.

Told in Jess's wholly original and unforgettable voice, Whiskey When We're Dry is a stunning achievement, an epic as expansive as America itself--and a reckoning with the myths that are entwined with our history.
About the Author
---
John Larison spent much of his childhood in remote regions of Australia, the Caribbean, Canada, the South Pacific, Alaska, and the American West before graduating from high school in Ithaca, New York. He studied philosophy and literature at the University of Oregon, and became a renowned fly-fishing guide ahead of earning an MFA from Oregon State University, where he stayed to teach while writing Whiskey When We're Dry. He lives with his family in rural Oregon.
Praise For…
---
Praise for Whiskey When We're Dry:

"Mulan meets Deadwood in a Wild West novel narrated by its straight-shooting heroine." –O Magazine
 
"A smooth yet bracing Western yarn that both celebrates and subverts the romance of the Old West through more complex contemporary perspectives on gender and race…. As in Charles Portis' classic "True Grit," much of the appeal of the telling hangs upon the distinct voice of its narrator, and Jesse's narration combines folksy vernacular with an easy loping gait." —Seattle Times

"A tale of the Old West with a fresh perspective."—New York Post

"Larison's neo-Western, about a young woman who heads West while disguised as a boy, is already generating plenty of buzz: film and TV rights have already been acquired by the team behind the Planet of the Apes reboot." —Entertainment Weekly 

"Larison writes with unrelenting momentum and thoughtfully explores questions of gender identity, power, and violence." —Outside Magazine

 "[A] sweeping saga… John Larison's new book plunges readers into the American West while simultaneously reimagining the mythic frontier. It examines issues of gender and race through the story of 17-year-old Jesse Harney and begins in the spring of 1885, when she dresses in men's clothes, mounts her horse, and sets out west in search of her big brother, an outlaw on the frontier."—Southern Living

 "Larison has developed a pitch-perfect voice for his intrepid heroine."—Publishers Weekly

"Larison gifts Jess with a strong voice to narrate her own story…. his western epic has wide appeal" —Booklist 
 
"Told in -Jessilyn's hard-hitting voice, [WHISKEY WHEN WE'RE DRY] has the resonance of a high lonesome ballad." —Library Journal

"Like Philipp Meyer's The Son or Robert Olmstead's Savage Country, Whiskey When We're Dry draws on Larison's own experiences with the "cowboy arts" to paint a vivid portrait of the American West as witnessed by an unforgettable character."—BookPage

"An evocative portrait of the old west with all its grittiness and all its openness." – The Roundtable

"An orphan girl straight out of a Gillian Welch song, betrayed in every way imaginable by the brutality that 'won the West,' is left no way to hew a family or honor but to become a virtuoso cross-dressed killer of Manifest Destiny's men. As Jessilyn Harney takes on the great lies and liars with lyrical violence, her voice takes flight, becoming a sustained, forlornly beautiful, mind-bending aria for our age."  —David James Duncan, author of The River Why

"Whiskey When We're Dry is the story of a surprising heroine. In her search for home and family, orphaned Jessilyn Harney rides out on a lonely quest, and invents herself anew. Narrated in a voice cobbled out of slang and sagebrush, Larison's novel is a vivid and fast-paced frontier saga."  —Kate Manning, author of My Notorious Life