Edge of the Grave: A Jimmy Dreghorn Mystery (Paperback)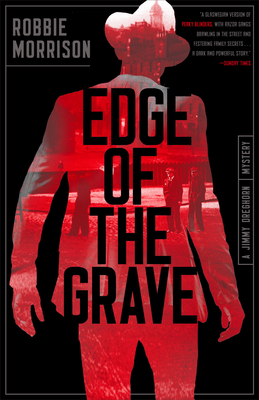 Description
---
Two detectives hunt a killer amidst the lawless streets and high society of 1930's Glasgow in this "brawling series debut" (The New York Times Book Review) that "serves up a delicious slice of gangster noir" (Adrian McKinty)—inspired by the true story of the Scottish Untouchables.

"A Glaswegian version of Peaky Blinders, with razor gangs brawling in the street and festering family secrets . . . a dark and powerful story."―Sunday Times

Glasgow, 1932. When the son-in-law of one of the city's wealthiest shipbuilders is found floating in the River Clyde with his throat cut, it falls to Inspector Jimmy Dreghorn to lead the murder case–despite sharing a troubled history with the victim's widow.

From the flying fists and flashing blades of Glasgow's gangland underworld to the backstabbing upper echelons of government and big business, Dreghorn and his partner, "Bonnie" Archie McDaid, will have to dig deep into Glasgow society to find out who wanted the man dead and why.

All the while, a sadistic murderer stalks the post-war city, leaving a trail of dead bodies in their wake. As the case deepens, Dreghorn realizes that the answers may lie in his old ties with the victim's family—and the horrors he saw in the Great War.

Edge of the Grave is historical noir at its very best—a gripping mystery that truly transports the reader to the lawless streets and high society of 1930s Glasgow and brings a teeming, chaotic city irresistibly to life.
About the Author
---
Robbie Morrison is an award-winning writer in the comic-book industry, and has scripted adventures for iconic characters including Judge Dredd, Doctor Who, and Batman. On both sides, his family connection to Glasgow and the surrounding areas stretches back four generations, and is a source of inspiration for the Jimmy Dreghorn series. Edge of the Grave is his debut novel.
Praise For…
---
"Those looking for a grittier mystery should pick up Edge of the Grave, Robbie Morrison's brawling series debut. Glasgow a century ago was a brutally violent city starkly divided between the haves and the have-nots; in the course of their police work, Dreghorn and McDaid dodge blades, fists, bottles, even cauldrons of boiling soup. Dreghorn . . . is put through his paces before [the novel] reaches the last page, but never fear—the detective survives for the second book."—New York Times Book Review

"For readers who are fans of thrilling, well-choreographed violence. First-rate . . . Perhaps the best debut novel I have read this year."—BookPage, starred review

"Terrific . . . a historical tour de force."—The Globe and Mail

"Brilliant."—The Times

"A magnificent, enthralling portrait of a city and the men and women who live and die in it . . . I can't wait to spend some more time with Dreghorn and McDaid."—Mark Billingham, bestselling author of the Tom Thorne series

"A hugely impressive debut."―Evening Standard