Dungeons & Dragons Stickerology: Legendary Stickers of Monsters, Magical Items, and More: Stickers for Journals, Water Bottles, Laptops, Planners, and More (Novelty book)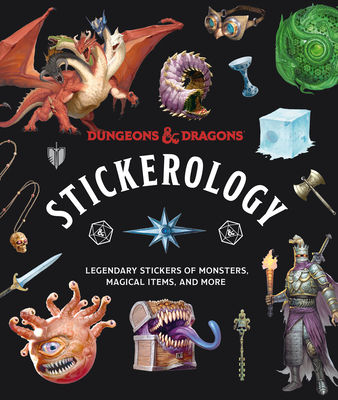 Description
---
Filled with vibrant images showcasing the extraordinary world of Dungeons & Dragons, this collectible sticker book is a must-have for D&D players of all ages.

This officially licensed book is packed with stickers from the Dungeons & Dragons archives—a treasure trove of adventuring relics, beasts, weaponry, and more. Decorate journals, adorn tech accessories, and deck out character sheets with uniquely designed, detailed stickers.
About the Author
---
Dungeons & Dragons launched the great tradition of roleplaying games in 1974 with an unprecedented mix of adventure and strategy, dice-rolling, and storytelling. Wizards of the Coast continues to honor that tradition, bringing to market a diverse range of D&D game and entertainment experiences and influencing numerous writers, directors, and game designers by tapping into an innate human need to gather with friends and tell an exciting story together.