River Sing Me Home: A GMA Book Club Pick (A Novel) (Hardcover)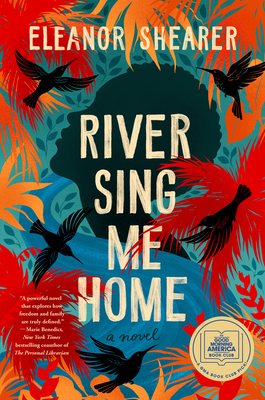 $27.00

Usually Ships in 1-5 Days
Description
---
A GOOD MORNING AMERICA BOOK CLUB PICK • This beautiful, page-turning and redemptive story of a mother's gripping journey across the Caribbean to find her stolen children and piece her family back together is a "celebration of motherhood and female resilience" (The Observer).

Named One of Time's 100 Must-Read Books of 2023

"A powerful novel that explores how freedom and family are truly defined"—Marie Benedict, New York Times bestselling coauthor of The Personal Librarian
 
Her search begins with an ending.…

The master of the Providence plantation in Barbados gathers his slaves and announces the king has decreed an end to slavery. As of the following day, the Emancipation Act of 1834 will come into effect. The cries of joy fall silent when he announces that they are no longer his slaves; they are now his apprentices. No one can leave. They must work for him for another six years. Freedom is just another name for the life they have always lived. So Rachel runs.
 
Away from Providence, she begins a desperate search to find her children—the five who survived birth and were sold. Are any of them still alive? Rachel has to know. The grueling, dangerous journey takes her from Barbados then, by river, deep into the forest of British Guiana and finally across the sea to Trinidad. She is driven on by the certainty that a mother cannot be truly free without knowing what has become of her children, even if the answer is more than she can bear. These are the stories of Mary Grace, Micah, Thomas Augustus, Cherry Jane and Mercy. But above all this is the story of Rachel and the extraordinary lengths to which a mother will go to find her children...and her freedom.
About the Author
---
Eleanor Shearer is a mixed-race writer and the granddaughter of Windrush generation immigrants. She splits her time between London and Ramsgate on the English coast so that she never has to go too long without seeing the sea. For her Master's degree in Politics at the University of Oxford, Eleanor studied the legacy of slavery and the case for reparations, and her fieldwork in St. Lucia and Barbados helped inspire River Sing Me Home.
Praise For…
---
"Shearer's dynamic debut… weaves together a historical accounting of the perils of British emancipation with a moving interrogation of what freedom really means."
—Time

"A powerful novel that explores how freedom and family are truly defined."
—Marie Benedict, New York Times bestselling coauthor of The Personal Librarian

"An extraordinary odyssey of pain, love, and homecoming as Rachel searches not only for her children but for her own past, her own independence, and her own soul. A haunting and powerful debut."
—Kate Quinn, New York Times bestselling author of The Diamond Eye

"A stunning debut with poetic language and real characters that lock themselves in your heart. Full of emotion and sheer determination, River Sing Me Home is a fine example of the will and strength of the Black women who fought and clawed themselves and their loved one from the evil clutches of slavery. We stand on their shoulders and this book honors them all."
—Sadeqa Johnson, New York Times bestselling author of The House of Eve

"[A] testament to how hard a mother will fight for her kids." 
—Real Simple

"A strong and beautiful novel that stares into the face of brutality and the heart of love."
—Jeanette Winterson, New York Times bestselling author of 12 Bytes and Why Be Happy When You Could Be Normal?

"A moving and dynamic novel…. Shearer treats such a difficult and underexamined part of history deftly and honourably. She sieves through it to give us what all good novelists do; the essential without sacrificing the specific and the historical."
—The Guardian (UK)

"An incredible debut novel about the power of a mother's love – highly recommended."
—Good Housekeeping (UK)

"Hugely profound, hopeful and emotive this is written in lyrical prose that demonstrates Shearer's mastery of language... A book you will not forget for a long time."
—Glamour (UK)

"[T]he heart of the novel lies in its celebration of motherhood and female resilience. This is a tender exploration of one woman's courage in the face of unbelievable cruelty."
—The Observer

"An extraordinary and gripping debut. Rachel's love for her children resonates through each page as she fights for her freedom and theirs. A must-read!"
—Chanel Cleeton, New York Times bestselling author of Our Last Days in Barcelona

"I followed Rachel's journey with my heart in my mouth. Eleanor Shearer brings this story of a mother's courage to the page with compassion, tenderness and pitch-perfect prose. A powerful debut novel from a remarkable writer."
—Natasha Lester, New York Times bestselling author of The Paris Seamstress

"An intense, absorbing debut, concerned with the power and persistence of maternal love." 
—The Sunday Times

"Action-packed, the novel paints an extraordinary portrait of motherly love and hope."
—Daily Mail

"[T]ransportive storytelling and achingly stirring and evocative prose.... An excellent choice for fans of Yaa Gyasi, Brit Bennett, and those already planning their Black History Month reading list."
—Apartment Therapy

"[A] powerful debut novel... This fast paced, emotional saga transports readers throughout the Caribbean."
—Sisters From AARP

"Shearer... has penned a truly memorable novel about family, love and healing. And while the horrors of slavery are quite apparent, those in need of a little hope would do well to pick up this début."
—The Free Lance-Star

"A searing debut full of love, loss, and the shadows of the past, River Sing Me Home is rich, lyrical, and full of heart. The talented Eleanor Shearer's research skills are matched by the depth of emotion with which she writes, and the result is heartbreaking, hopeful, and unforgettable. Both a powerful ode to the endless depths of a mother's love and an important meditation on what freedom really means, this is the kind of book that will stay with readers for years to come." 
—Kristin Harmel, New York Times bestselling author of The Forest of Vanishing Stars

"River Sing Me Home is the engrossing tale of an enslaved woman in 1834 whose haunted soul leads her to seek the children taken from her. A mesmerizing page-turner."
—Denny S. Bryce, bestselling author of Wild Women and the Blues

"A Psalm for the soul--a mother's untold journey for the missing pieces of her heart. A stellar debut that brings the beauty and resilience of the 1830s Caribbean to the forefront in a lyrical narrative that will endear and entrance readers."
—Vanessa Riley, Critically Acclaimed author of Island Queen and Queen of Exiles
 
"A powerful story about the depths of a mother's love … one you won't be able to put down."
—the Skimm

"In scenes of vivid horror, stirring resilience, and moving reconciliation, Shearer shows the cruel effects of slavery and its aftermath. The beautifully written depiction of a mother longing for her children makes this transcendent."
—Publishers Weekly (starred review)

"An amazing debut novel that masterfully explores one enslaved woman's heartbreak with love and care. It uplifts and empowers without shying away from the horrors of slavery. I can see myself reading this book again and again."
—Kaia Alderson, author of Sisters in Arms
 
"An immersive and spellbinding debut novel reminding us that the human spirit will always reach for freedom."
—Cheryl A. Head, author of Time's Undoing

"This novel explored, with courage and capability, the illusory nature of 'freedom' at a critical point in West Indian history. In so many ways, like the river in its title, this novel sings… A meaningful and important addition to my bookshelf."
—Cherie Jones, author of How the One-Armed Sister Sweeps Her House

"[A] moving testament to a mother's love."
—Booklist

"The novel is in many ways an adventure story, but Shearer capably shifts the narrative from action to introspection, illuminating the inner life of this powerful matriarch… Recommended, especially for readers of historical fiction and Caribbean/postcolonial history in particular, with a remarkable female character at its core."
—Library Journal

"This beautiful novel is a masterclass in how to speak of unspeakable things. With great strength and great compassion, Eleanor Shearer tells us the story of one woman's determination to find the children slavery stole from her. That journey is harrowing at times – I had a few quiet weeps – but I finished River Sing Me Home buoyed by the powerful tale of a mother's quiet courage"
—Meg Clothier, author of The Book of Eve