Something About Her (Hardcover)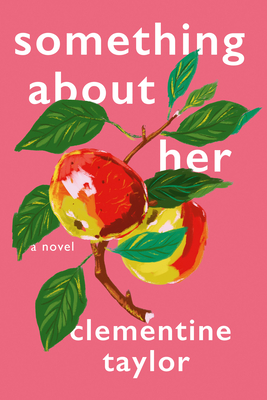 Description
---
A heartfelt and delicately crafted debut novel about two young women who become entangled in one another and embark on a surprising journey of self-discovery and modern love.

Aisling and Maya's connection is unexpected. Maya has recently returned to the University of Edinburgh for her second year, confident in her place there and in her first proper relationship with her childhood best friend, Ethan. Finally, she is one of them, those happy couples, self-satisfied in the knowledge that they are one half of something solid.

Aisling is a first-year student from Ireland, ready to leave her controlling family behind. But despite the distance, she still feels claustrophobic, still feels watched. Reeling from her break-up with her ex-girlfriend, she struggles to make friends and finds herself isolated. That is, until Aisling joins the Poetry Society. That's where she meets Maya, and everything changes.

Moving between Ireland, Scotland, and London, Something About Her is a story about the fragility and transformative power of first love. With vivid insight and tenderness, it exposes the fear, hope, and longing that can consume us, particularly when there's so much you still don't know about love, about life, and about yourself.
About the Author
---
Clementine Taylor grew up in Oxford, England. After completing an undergraduate degree in theology and religious studies and a master's degree in gender studies, she spent a few years working as a researcher in Cambridge and London. Currently, she lives in Oxford again, where she is studying for a doctorate. Something About Her is her debut novel.
Praise For…
---
One of:
PopSugar's Best New Romance Novels
PureWow's 7 Books We Can't Wait to Read in November
 
"[A] sweet, coming-of-age, debut novel following the first queer love story of two undergrads, set in Ireland and Scotland." –Nylon
 
"The swooning swirl of infatuation is well captured in Taylor's poetically tinged prose." –The Times (UK)

"A poignant love story [that] explores the emotional complexities of first love and how what we carry into relationships can lift us up and weigh us down." –Shondaland

"[A] delicate and consuming coming-of-age tale." –PopSugar

"[A] rich, intimate queer coming-of-age story…An emotionally intelligent storyline familiar to anyone who has experienced the often painful road toward self-discovery and young love." –Pride Source

"Taylor weaves in an emotionally intelligent storyline familiar to anyone who has experienced the often painful road toward self-discovery and young love." –Q Salt Lake Magazine

"Taylor's debut blends the joy of Aisling and Maya's love story with the pain of Aisling's past. The communication issues that plague the couple's relationship are realistic, and readers will care deeply about both characters and their emotional journeys. This tender coming-of-age, first-love story will resonate with fans of Sally Rooney and Naoise Dolan." –Booklist
 
"[A] raw debut…Taylor beautifully portrays the progression of the girls' emotional intimacy. This shows promise." –Publishers Weekly

"Taylor has a keen eye for building intimacy between characters." –Kirkus Reviews
 
"This book put me under its spell and refused to let go. Iridescent and joyful, reading it feels a bit like falling in love." –Bobby Palmer, author of Isaac and the Egg
 
"Raw, tender and deliciously romantic, this coming of age love story is absolutely unforgettable. I loved it." –Sophie Irwin, author of A Lady's Guide to Fortune-Hunting
 
"Clementine Taylor captures the beautiful ache of desire and the complexity of queerness in this raw and tender story of first love." –Lauren McBrayer, author of Like a House on Fire