The Dictionary People: The Unsung Heroes Who Created the Oxford English Dictionary (Hardcover)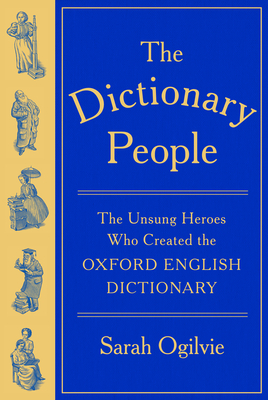 $30.00

Usually Ships in 1-5 Days
Description
---
The New York Times Book Review Editors' Choice • A history and celebration of the many far-flung volunteers who helped define the English language, word by word.

"Enthralling and exuberant, Sarah Ogilvie tells the surprising story of the making of the OED. Philologists, fantasists, crackpots, criminals, career spinsters, suffragists, and Australians: here is a wonder book for word lovers." —Jeanette Winterson, author of Oranges Are Not the Only Fruit


The Oxford English Dictionary is one of mankind's greatest achievements, and yet, curiously, its creators are almost never considered. Who were the people behind this unprecedented book? As Sarah Ogilvie reveals, they include three murderers, a collector of pornography, the daughter of Karl Marx, a president of Yale, a radical suffragette, a vicar who was later found dead in the cupboard of his chapel, an inventor of the first American subway, a female anti-slavery activist in Philadelphia . . . and thousands of others.

Of deep transgenerational and broad appeal, a thrilling literary detective story that, for the first time, unravels the mystery of the endlessly fascinating contributors the world over who, for over seventy years, helped to codify the way we read and write and speak. It was the greatest crowdsourcing endeavor in human history, the Wikipedia of its time.

The Dictionary People is a celebration of words, language, and people, whose eccentricities and obsessions, triumphs, and failures enriched the English language.
About the Author
---
SARAH OGILVIE is a linguist, lexicographer, writer, and technologist. Raised in Australia, she has lived and worked in both the United States, teaching at Stanford, and Britain. She currently teaches at Oxford University, where she develops and directs a new degree integrating humanities with technology.
Praise For…
---
"Sprightly, elegant. . . . Engrossing. . . . Lively and entertaining. . . . The real joy of The Dictionary People is to be reminded that any group of people pinned at its intersection will still burst forth every which way, a tapestry of contradictions, noble and ignoble, wild and banal. In the lives of these uneminent Victorians, Ogilvie has shown us that humanity, even for word nerds, is always—as Jane Austen might put it—sprawly, fragmented and irrepressible." —The New York Times Book Review
 
"[A] delightful grab-bag of brief biographies. . . . Again and again, The Dictionary People emphatically demonstrates that even seemingly dry-as-dust scholars weren't that at all. . . . [To] all the 'unsung heroes' celebrated in The Dictionary People, we owe much of our appreciation of the range, beauty and history of the English language." —The Washington Post

"As is true of so many of the most important things in an everyday life (the earth, for instance) we take for granted, we never pause a moment to wonder: How did this get made? The Oxford English Dictionary is, especially in my life, such a wonder. In The Dictionary People—a lively, funny book, full of eccentrics—Sarah Ogilvie finds all the magical characters who contributed to making the Dictionary. This is an exquisitely written book." —Jamaica Kincaid
 
"Enthralling and exuberant, Sarah Ogilvie tells the surprising story of the making of the OED. Philologists, fantasists, crackpots, criminals, career spinsters, suffragists, and Australians: here is a wonder book for word lovers." —Jeanette Winterson

"While bringing to life a host of passionate volunteers, Ogilvie also charts decades of social, economic, and cultural change, mapped by words. A fresh, vibrant, entertaining history." —Kirkus Reviews [starred review]

"Whether it's Wordle, Spelling Bee or Blossom, families and friends are finding daily enjoyment (and, yes, frustration) in learning new words. That's the exact audience that will be delighted to discover The Dictionary People, Sarah Ogilvie's captivating, enchanting history. The story of how Ogilvie—a linguist, writer and lexicographer—found her way to this project is almost as fascinating as the history itself. . . . Through their devotion and love of language, the unsung heroes of the Oxford English Dictionary have helped us understand our world better. Ogilvie's passion for the Dictionary People is palpable and con­tagious, making this book a sheer delight." 
—Bookpage [starred review]

"Astonishing . . .  Ogilvie cleverly organises her book as an alphabetised dictionary, running from A for Archaeologist to Z for Zealot by way of N for New Zealanders. This allows her to produce short, punchy biographical essays that never outstay their welcome." —Kathryn Hughes, The Sunday Times (UK)

"These stories about the ensemble of, for the most part, unfancy but always unexpected Oxford English 'dictionary people' are a perfect dose of hope. The pages come alive with humor, surprise, passion, charm, empathy, intrigue, humanness, and love. I'd prescribe it for any reader who is working against the odds to bring vision into reality." —Anna Deavere Smith
 
"[A] charming debut. Ogilvie not only introduces readers to a fascinating cross-section of Victorian society, but notes the groundbreaking nature of the OED project. The whimsical narrative is also educational, providing extensive insight into the process used to trace the origins of words. Readers will be enthralled." —Publishers Weekly (starred and boxed)
 
"Ogilvie's enthusiasm for the [Oxford English Dictionary] Readers . . . is infectious, and this book is a delight to read." —Laurie Unger Skinner, Booklist

"Ogilvie has done her research: she has really dug into a huge array of people. I love words and I cherish my OED, with its magnifying glass – so having the background of it explained was fascinating." —Val McDermid, The Guardian