Disruptions: Stories (Hardcover)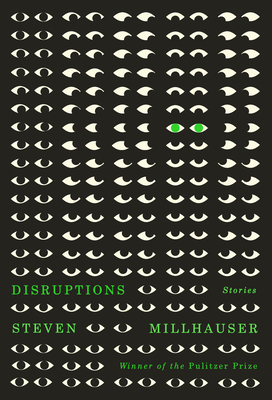 Description
---
An exquisite new collection from a Pulitzer Prize–winning master of the short story, the culmination of a five-decade career: work that takes us beneath the placid surface of suburban life into the elusive strangeness of the everyday

Here are eighteen stories of astonishing range and precision. A housewife drinks alone in her Connecticut living room. A guillotine glimmers above a sleepy town green. A pre-recorded customer service message sends a caller into a reverie of unspeakable yearning. With the deft touch and funhouse-mirror perspectives for which he has won countless admirers, Steven Millhauser gives us the towns, marriages, and families of a quintessential American lifestyle that is at once instantly recognizable and profoundly unsettling. Disruptions is a collection of provocative, bracingly original new work from a writer at the peak of his form.
About the Author
---
STEVEN MILLHAUSER is the author of numerous works of fiction, including the novel Martin Dressler, which was awarded the Pulitzer Prize in 1997, and We Others: New and Selected Stories, winner of The Story Prize in 2011 and a finalist for the PEN/Faulkner Award. His work has been translated into eighteen languages, and his story "Eisenheim the Illusionist" was the basis of the 2006 film The Illusionist. He lives in Saratoga Springs, New York.
Praise For…
---
"Millhauser revitalizes the small-town tale, evoking the magical, the mundane, and the extravagantly madcap . . . Millhauser is the great eccentric of American fiction . . . Millhauser reminds you of Borges sometimes, of Calvino and Angela Carter at other times, even of Nabokov once in a while . . . Much as Millhauser relishes the magical, he also has a soft spot for the humdrum: the sound of a lawn sprinkler, the sight of a basketball left on a driveway. His genius is to be able to evoke both so urgently." —Charles McGrath, The New Yorker

"Several of the stories are among his best . . . [One] is a bit like Shirley Jackson's 'The Lottery,' if YouTube videos of the stonings had leaked out . . . It was always a treat to find his stories in The New Yorker, where many have appeared over the years . . . When Millhauser is on, he hands you a periscope of his own unique design, and he allows you to really look and feel." —Dwight Garner, New York Times

"Cause for celebration . . . Once again his precision shines bright." —Michael Welch, Chicago Review of Books

"More turmoil and magic in suburbia from one of America's most accomplished short story writers . . . Each of these stories is open to interpretation as a study of prejudice, suburban narrowness, and groupthink. But Millhauser has always been too slippery a writer to pursue such obvious meaning-making; more often, the effect is that of Borges-ian strangeness and delight . . . Millhauser remains gifted at stretching time, space, and expectations." —Kirkus Reviews (starred)

"Millhauser shows his mastery for the short story in a collection that consistently addresses the absurdity of modern American life . . . These characters, like Millhauser's bizarre worlds, feel fascinatingly real." —Annie Tully, Booklist

"A mélange of fantastical imaginings and scenes of domestic oddness . . . Millhauser exhibits a Cheeveresque curiosity about—and a fun house distortion of—a small town's placid façade . . . This will please Millhauser's longtime fans and earn him new admirers." —Publishers Weekly