One of the Girls (Paperback)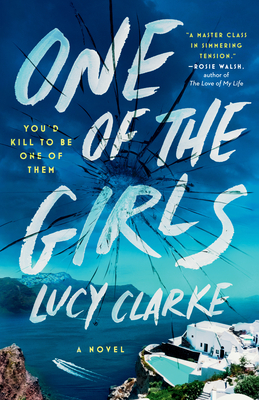 Description
---
A twisty psychological thriller from internationally bestselling author Lucy Clarke, One of the Girls is the delicious story of a bachelorette trip on a stunning Greek island... that ends in murder.

It was supposed to be the perfect weekend away. Six very different women travel to a sun-drenched Greek island for a bachelorette party. From the shimmering ocean views to the quaint tavernas and whitewashed streets, the vacation feels like the ideal escape. But dangerous undercurrents run beneath the sunset swims and midnight cocktails – because each of the women is hiding a secret, and soon their masks begin to slip. Someone is determined to make sure that Lexi's marriage never happens – and that one of the women doesn't leave the island alive.

This scorching thriller signals the arrival of a major breakout talent. One of the Girls examines the pressures and joys of female friendship . . . as well as the deadly consequences when a relationship goes wrong.
About the Author
---
Lucy Clarke is the author of seven psychological thrillers. Her debut novel was a Richard and Judy Book Club pick, and her books have been sold in over 20 territories. Her most recent novel, The Castaways, was a Sunday Times bestseller. Clarke lives by the sea with her husband and two children.
Praise For…
---
"Full of suspense and unexpected thrills, it'll be hard to put this book down as you try to figure out the 'whodunit.'"--USA Today

"One of the Girls is a masterclass in simmering tension and shocking revelations. With a fascinating cast of complicated female protagonists, a raft of dark emotional backstories and a gloriously exotic location, this story delivers in spades until the very last line." --Rosie Walsh, bestelling author of The Love of My Life and Ghosted

"Exquisitely drawn with all the twists and turns you'd expect from Lucy Clarke … this was a delicious escape from the world … not to mention as close as I'll get to a Greek Island for a while. I loved it!"--Sally Hepworth, bestselling author of The Mother-In-Law
 
"How could you not like a thriller about a hen party that goes awry, set on an island in Greece?Secrets explode when these women gather at a villa set on a precipitous cliff, about as steep as all the lies that are revealed."--Real Simple, "Best Beach Reads of 2022"

"If you liked Big Little Lies, Lucy Clarke's One of the Girls should definitely be on your TBR. Filled with suspense and mystery, One of the Girls will keep you guessing which friend is the behind the murderous plot."--PopSugar

"With an exquisite setting that crackles with tension, One of the Girls is a page-turning voyage to a remote Greek Island where friends old and new have gathered for a hen weekend. Dark and atmospheric, Clarke expertly renders the complicated female relationships with their intertwined alliances, secrets and betrayals. Lucy Clarke has proved, once again, that she is a master of the thriller genre."--Julie Clark, bestselling author of The Last Flight

"Clarke patiently and skillfully layers on the tension until the book reaches a final, powerful crescendo that reveals the surprising answers to those questions… Clarke elevates her story with a thoughtful examination of the intricacies of female friendship and women's lives."--BookReporter.com

"The twisting, suspenseful, and fast-paced thriller keeps the reader guessing until the very end. Grab a mimosa and join the party, as Clarke  explores the complicated dynamics of female relationships while tackling difficult issues such as sexual assault, racial inequalities, domestic abuse, and bullying. Suggest One of the Girls to readers of Lucy Foley, Ruth Ware, and Shari LaPena."--Booklist

"Clarke keeps the pages turning....Liane Moriarty fans may want to check this one out."--Publishers Weekly

"A sinister, spellbinding story of misdirection with shocking revelations. The descriptions of the azure waters and scenic surroundings turn this suspense-filled mystery into a perfect beach read."--BookTrib

"Packed with secrets, drama and all the complexities of female friendship and the darkness that lurks within us, One of the Girls is the perfect beach read!" --Allie Reynolds, author of Shiver

"Brimming with tension, with such perfectly drawn characters I keep wondering what they're doing now. Lucy Clarke gets better and better."--Clare Mackintosh, author of Hostage

"Lucy Clarke goes from strength to strength; this utterly addictive, trouble-in-paradise novel is her best yet. The plot shifts like sand beneath the reader's feet." --Erin Kelly, bestselling author of Watch Her Fall

"I'm breathless, I raced through the last third hardly coming up for air. Talk about twists and turns. I loved the beautifully realised setting, the evocative descriptions of Greece, the food, I loved how Lucy handles such a wide varied vibrant cast of women with emotional depth and intelligence, I loved the jolts and shocks along the way . . . this is going to blow everyone's socks off! One of the Girls is next level." --Emma Stonex, bestselling author of The Lamplighters

"I loved One Of The Girls: beautiful writing, suffused with menace, complicated female heroines, and an ending I couldn't predict."  --Gillian McAllister, bestselling author of That Night

"Female friendships under the scrutiny of the Greek sunshine, this is an engrossing thriller with so many unexpected twists and turns." --Lisa Ballantyne, bestselling author of The Guilty One

"A taut, propulsive plot keeps the pages turning through twist after devilish twist. Lucy Clarke always delivers." --Chris Whitaker, author of We Begin at the End

"Compelling and clever; One of the Girls is expertly plotted and atmospheric with deft characterization."--Jane Shemilt, author of The Patient