In the Dark (Hardcover)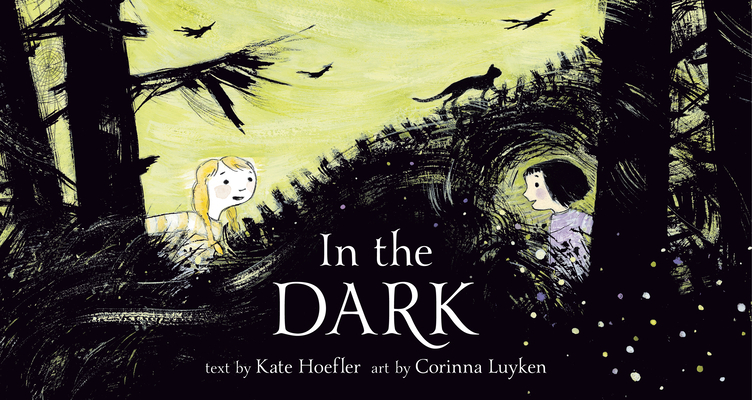 Description
---
With striking illustrations that will make your soul fly and spare text that will make your heart dance, this lyrical picturebook encourages us to set aside our snap judgements and quiet our fears of the unknown by shining light on what has been kept in the dark.

They came in the dark,
and took the narrow path
that only witches used.

Everyone said that's what they were . . .

But what if everyone was wrong? Watch what happens when one girl steps into the woods and gets to know these newcomers. The spooky black cat? Meet Mingus! The broomsticks and cloaks? Cloth and wooden handles. And those shadows in the sky? Handmade kites, fluttering in the breeze.

When the breeze becomes a blustery storm, everything changes...including first impressions.

Told from two perspectives, here is a gentle and timely reminder that all it takes to bridge the gap of misunderstanding and fear between people is an open and willing heart.
About the Author
---
Kate Hoefler is the author of several picture books, including Nothing in Common (illustrated by Corinna Luyken), Great Big Things, Rabbit and the Motorbike, and Real Cowboys, which received two starred reviews and was a School Library Journal Best Book of the Year. Kate received her MFA in poetry from the University of Michigan, where she was a Colby Fellow. She lives in Ohio with her family.

Corinna Luyken is the author-illustrator of ABC AND YOU AND ME (June 2023); THE TREE IN ME (an NCTE Notable Poetry Book and Indie Bestseller); MY HEART (A New York Times Best Seller); and THE BOOK OF MISTAKES (which The Wall Street Journal called "sublime"). She is also the illustrator of IN THE DARK (Aug 2023) and NOTHING IN COMMON, both written by Kate Hoefler; PATCHWORK (A New York Times and Kirkus Best Picture Book of 2022), written by Matt de la Peña; SOMETHING GOOD and ADRIAN SIMCOX DOES NOT HAVE A HORSE, both written by Marcy Campbell; and WEIRD LITTLE ROBOTS, written by Carolyn Crimi. She was raised in Oregon, California, and Hawaii; and studied dance improvisation, poetry, and printmaking at Middlebury College in Vermont. She now lives near the Salish Sea in Olympia, WA with her husband, daughter, and two small cats.
Praise For…
---
★ "Magical and astute, In the Dark sheds light on building community through kindness, compassion, and connection." —Booklist, starred review

"A marvelous mix of autumnal spirits with a deeper call for understanding." —Kirkus Reviews

"Via a perspective-oriented picture book that's printed to flip vertically, the creators delicately explore a community divided." —Publishers Weekly

"Hoefler's text is atmospheric and lyrical; Luyken's mixed-media art....excels at portraying the eeriness of the woods as well as their benign reality." —The Horn Book