Dark Music: A novel (Paperback)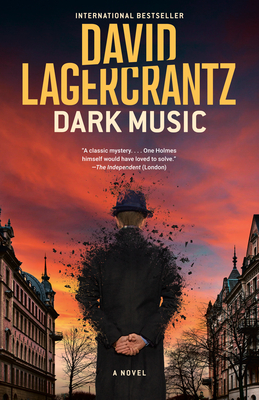 Description
---
INTERNATIONAL BESTSELLER • Inspired by Sherlock Holmes, an exhilarating new thriller from the best-selling author of The Girl in the Spider's Web—a murder investigation in which two unlikely allies race to uncover a shadowy international conspiracy.

Professor Hans Rekke is a world authority on interrogation techniques, capable of dizzying feats of logic and observation. He was born into wealth and power and has a picture-perfect wife and daughter. But he also has a fragile psyche that falls apart under pressure.

Micaela Vargas is a street-smart police officer, the daughter of Chilean political refugees, who grew up in the projects on the outskirts of Stockholm and has two brothers on the wrong side of the law. She is tenacious and uncompromising, and desperate to prove herself to her fellow cops.

Micaela needs Hans's unique mind to help her solve the case of a murdered asylum-seeker from Afghanistan. Hans needs Micaela to save him from himself. Together, they need to find the killer before they're both silenced for good.
About the Author
---
DAVID LAGERCRANTZ is an acclaimed author and journalist. His continuations of Stieg Larsson's Millennium Trilogy—The Girl in the Spider's Web, The Girl Who Takes an Eye for an Eye, and The Girl Who Lived Twice—are worldwide best sellers. He is also the author of I Am Zlatan Ibrahimović and Fall of Man in Wilmslow. He lives in Stockholm.
Praise For…
---
"Dark Music is a terrifically well-wrought book that grabs readers and tugs them through a dangerous deductive adventure."
—The Wall Street Journal

"Rekke [is a] gem of a character . . . Kudos to Lagercrantz and translator Giles for a compelling read."
—Kirkus Reviews (starred)

"Lagercrantz has created a complex, Holmes-and-Watson alliance here that's enhanced by brooding Scandinavian atmosphere, nuanced internal conflicts, and sharp-edged cultural divides. A well-constructed series starter, offering more to come."
—Christine Tran, Booklist

"A promising series launch . . . Vargas's depth of character bodes well for future entries. Not just Sherlock Holmes fans will want to check this one out.
—Publishers Weekly

"A crime thriller inspired by Sherlock Holmes, written by the author who successfully continued writing Stieg Larssson's Millennium Trilogy, sounds like a dream. But it's happened . . . Lagercrantz has penned a classic murder mystery . . . You'll love the massive contrast in styles of the two main characters, as they cope with the ups and downs of a complicated investigation—one Holmes himself would have loved to solve."
—Alan Jones, The Independent
 
"David Lagercrantz, who inherited Stieg Larsson's mismatched investigators in his sequels to the Millennium series, introduces an odd couple of his own . . . It has a cosmopolitan collection of oddball characters, and themes as diverse as classical music and Sweden's anti-terrorist policies." 
—John Dugdale, The Sunday Times (London), "Best Thriller Books of 2022 So Far"

"A rich, engrossing novel."
—Natasha Cooper, Literary Review

"This book kept me up half the night . . . It works brilliantly . . . David Lagercrantz knows his craft."
—Expressen
 
"A must-read . . . Another writer might have gotten lost in a swamp of clichés. But not David Lagercrantz . . . Lagercrantz skillfully navigates a complex plot."
—Smålandsposten
 
"Very entertaining . . . The depiction of this duo's friendship is finely tuned and poignant, and I have only good things to say about the suspense."
—Svenska Dagbladet
 
"We are without a doubt dealing with a dynamic duo . . . Both affecting and engaging."
—Göteborgs-Posten

"Don't be surprised by the success of the Rekke/Vargas series . . . There is an enormous amount of research behind this story."
—Dagens Nyheter
 
"Lagercrantz really captures readers . . . We like Rekke and Vargas—both as partners and as individuals."
—Kulturnytt, Swedish Radio