The Last Devil to Die: A Thursday Murder Club Mystery (Hardcover)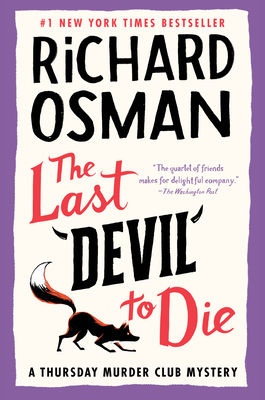 Other Books in Series
This is book number 4 in the A Thursday Murder Club Mystery series.
Description
---
Instant #1 New York Times bestseller!

A new mystery is afoot in the fourth book in the Thursday Murder Club series from million-copy bestselling author Richard Osman

It's rarely a quiet day for the Thursday Murder Club.

Shocking news reaches them—an old friend has been killed, and a dangerous package he was protecting has gone missing.

The gang's search leads them into the antiques business, where the tricks of the trade are as old as the objects themselves. As they encounter drug dealers, art forgers, and online fraudsters—as well as heartache close to home—Elizabeth, Joyce, Ron, and Ibrahim have no idea whom to trust.

With the body count rising, the clock ticking down, and trouble firmly on their tail, has their luck finally run out?

And who will be the last devil to die?
About the Author
---
Richard Osman is an author, producer, and television presenter. His first three novels, The Thursday Murder Club, The Man Who Died Twice, and The Bullet That Missed were number one, million-copy international bestsellers as well as New York Times bestsellers. The Last Devil to Die is his fourth novel. He lives in London with his wife Ingrid and Liesl the cat.
Praise For…
---
Praise for The Last Devil to Die:
 
"Skulduggery and laughs abound as our favorite gaggle of amateur-detective retirees tackle drug runners, dodgy antique dealers, art forgers and Battenberg cake recipes."
—People

"So what is it about the Thursday Murder Club books that make them so broadly appealing? The simple answer is that they are really good. The writing is pithy and fresh, so much so that I kept writing down lines from The Last Devil To Die. . . But there's more than just quotable sentences at work here. Osman's plots play fair with the reader, carefully placing "red herrings" to fool the reader into picking the wrong possible murder suspect—a gambit that has improved with each successive book. The endings feel both inevitable and earned: the exact combination one wants in a good mystery. . . Osman's greatest strength is fusing the puzzle-mastery of Christie and her Golden Age peers with emotional earnestness and wry humor."
—Esquire

"While author Richard Osman will be moving on to write a second series, he assured me (and the many other readers who are similarly invested) that he'll return to the funny, sweet stories of my favorite retirement home sleuths. The Last Devil to Die is a beautiful send-off that will get us through the wait."
—Elle
 
"Osman doesn't disappoint… Everything is here that fans of the series have come to expect: humour, warmth, the confounding of expectations as these pensioners investigate… Along with the laughs, there is grief, and an ending that is handled sensitively (I was weeping)… We all need a regular injection of the Thursday Murder Club to keep our spirits up."
—The Guardian

"The Last Devil to Die is equal parts well-plotted mystery, scintillating repartee and deep reflection on what it means to love and live."
—BookPage, starred review

"I cannot think of another series with a more moving exploration of love after a lifetime together, and The Last Devil To Die reduced me to tears at more than one point."
—The Christian Science Monitor

"What is truly special in the books are the characters, whose age allows for a beautiful kind of interaction… For all the fizz of jokes and romance, the books carry with them a sense of grief and sadness which becomes much stronger in The Last Devil to Die… The kindness is his books comes out of something greater for Osman. It's how he wants the world to be and it's how he thinks the world is, if only we could realize it."
—Town & Country

"Incredibly clever, with some deeply poignant scenes and laugh-out-loud shenanigans from the elderly friends, this fourth entry in the series is chaotically fun… Osman weaves numerous plot lines, both tragic and hilarious, into an irresistible novel, perfect for fans of Mrs. Pollifax or Miss Marple." 
—Shelf Awareness

"The latest adventure of the Thursday Murder Club is also its best... Even if the mysteries weren't absorbing — which they are — Osman's books, like Alexander McCall Smith's, would work simply because it's such fun to spend time with these people. What sets Devil apart from its predecessors is the deftness and humor with which Osman confronts a subject that's completely not funny: dementia... In the end, the murder club books are not really about crime but about friendship and finding ways to stay involved in life."
—Minneapolis Star Tribune

"Delivers the same kind of clever dialogue, colorful characters and corkscrew plotting that made the other books so much fun… As you reach the last chapters of this book, you'll think you've figured out the mystery. You'll think so several times. But Osman and the Thursday Murder Club will keep the surprises coming."
—Tampa Bay Times 

"The strands of the plot multiply entertainingly and get tied together in the usual satisfying way… Osman serves up another delightful mystery."
—Kirkus

"Osman follows The Bullet That Missed with a bittersweet mystery about the problems facing many older people: dementia, computer fraud, death. Humor does, however, alleviate the poignancy in this strongest, most emotional book in the best-selling series."
—Library Journal, starred review

Praise for The Bullet That Missed:

"Osman concocts a satisfyingly complex whodunit full of neat twists and wrong turns. But unlike most crime novelists, he ensures his book's strength and momentum stem not from its plot or its thrills but rather its perfectly formed characters. Once again, the quartet of friends makes for delightful company… Heartwarming and enthralling. 'They carried a kind of magic, the four of them,' a policeman muses. That magic is still there in abundance."
—Washington Post

"The Bullet That Missed hits on every front. Its quandaries stymie, its solutions thrill, its banter is worth reciting and its characters exemplify an admirable camaraderie. One can only hope that the Thursday Murder Club's next outing appears before long."
—Wall Street Journal

"The Thursday Murder Club is back, and that should make everyone happy — except, of course, murderers. Richard Osman's engaging series about a group of crime-solving retirees has delighted readers since the first book. The Thursday Murder Club, an international bestseller, was funny, original, baffling, poignant and thoroughly engaging. That's a high bar to set from the get-go, but Osman has easily achieved it in subsequent books… This book is as delightful as the others. A remarkable achievement, Osman up there effortlessly balancing on that very high bar."
—Minneapolis Star-Tribune

"Not to be missed."
—Parade

"Charming."
—People

"The mysteries are complex, the characters vivid, and the whole thing is laced with warm humor and—remarkably, considering the body count—good feeling. Your next must-read mystery series."
—Kirkus, starred review

"Bestseller Osman's diverting third Thursday Murder Club mystery (after 2021's The Man Who Lived Twice) delivers laughs along with a nicely woven plot....The pace is breezy, the characters are intelligent and varied in their interests and backgrounds, and the humor is often pitched to readers who understand the vagaries of getting older. Osman reliably entertains."
—Publishers Weekly

"It's charming and, as always, will leave you guessing the murderer until the very end."
—Town and Country