The Sisterhood: The Secret History of Women at the CIA (Hardcover)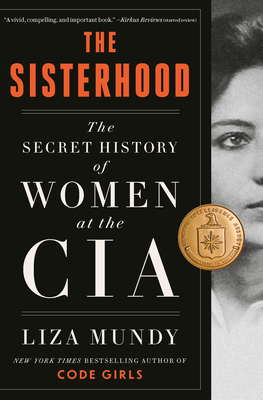 Description
---
The acclaimed author of Code Girls returns with a "rip-roaring" (Steve Coll), "staggeringly well-researched" (The New York Times) history of three generations at the CIA, "electric with revelations" (Booklist) about the women who fought to become operatives, transformed spycraft, and tracked down Osama bin Laden.

"This masterful book cements Liza Mundy as one of our foremost historians."—Kate Moore, bestselling author of The Radium Girls

A FOREIGN POLICY AND SMITHSONIAN BEST BOOK OF THE YEAR

Created in the aftermath of World War II, the Central Intelligence Agency relied on women even as it attempted to channel their talents and keep them down. Women sent cables, made dead drops, and maintained the agency's secrets. Despite discrimination—even because of it—women who started as clerks, secretaries, or unpaid spouses rose to become some of the CIA's shrewdest operatives.

They were unlikely spies—and that's exactly what made them perfect for the role. Because women were seen as unimportant, pioneering female intelligence officers moved unnoticed around Bonn, Geneva, and Moscow, stealing secrets from under the noses of their KGB adversaries. Back at headquarters, women built the CIA's critical archives—first by hand, then by computer. And they noticed things that the men at the top didn't see. As the CIA faced an identity crisis after the Cold War, it was a close-knit network of female analysts who spotted the rising threat of al-Qaeda—though their warnings were repeatedly brushed aside.

After the 9/11 attacks, more women joined the agency as a new job, targeter, came to prominence. They showed that data analysis would be crucial to the post-9/11 national security landscape—an effort that culminated spectacularly in the CIA's successful effort to track down bin Laden in his Pakistani compound.

Propelled by the same meticulous reporting and vivid storytelling that infused Code Girls, The Sisterhood offers a riveting new perspective on history, revealing how women at the CIA ushered in the modern intelligence age, and how their silencing made the world more dangerous.
About the Author
---
Liza Mundy is an award-winning journalist and the New York Times bestselling author of four books, including Code Girls. A former staff writer for The Washington Post, Mundy writes for The Atlantic, Politico, and Smithsonian Magazine, among other publications.
Praise For…
---
"A rip-roaring read about spycraft and the CIA's inner workings . . . an inspiring group portrait of extraordinary CIA women whose careers are multisided profiles in courage."—Steve Coll, Pulitzer Prize–winning author of Ghost Wars

"An indispensable history, untold until now, The Sisterhood has stellar reporting, sparkling writing, and shocking revelations of power struggles inside the world's most famous secret intelligence service."—Tim Weiner, National Book Award–winning author of Legacy of Ashes

"A must-read for anyone interested in national security, secrets, and the CIA."—Annie Jacobsen, bestselling author of Surprise, Kill, Vanish

"Liza Mundy is a prodigious reporter and a wonderful writer who has uncovered the stories of the female spies and analysts who helped make the CIA what it is today. The Sisterhood is the extraordinary, hitherto untold story of those women."—Peter Bergen, bestselling author of The Rise and Fall of Osama bin Laden

"With painstaking research, an award-winning journalist reveals the crucial roles undertaken by women in the intelligence arena. . . . The result is a vivid, compelling, and important book. Another winner from Mundy, who tells a story that deserves to be told about women who deserve to be remembered."—Kirkus Reviews (starred review)

"Galvanizing . . . Brimming with startling, intriguing, and infuriating facts and insights, this arresting and suspenseful exposé is rooted in extensive interviews and research as exacting as that conducted by the brilliant women analysts Mundy profiles. . . . Every page is electric with revelations as Mundy vividly and perceptively portrays the remarkable women who covertly elevated this complicated, controversial, yet essential government agency."—Booklist (starred review)