Stonewall: The Definitive Story of the LGBTQ Rights Uprising that Changed America (Paperback)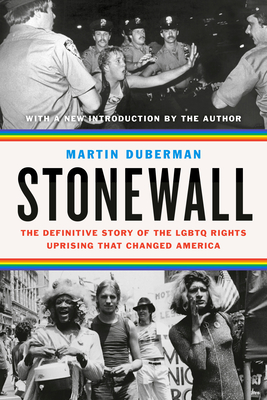 Description
---
The definitive account of the Stonewall Riots, the first gay rights march, and the LGBTQ activists at the center of the movement. 

"Martin Duberman is a national treasure."—Masha Gessen, The New Yorker

On June 28, 1969, the Stonewall Inn, a gay bar in New York's Greenwich Village, was raided by police. But instead of responding with the typical compliance the NYPD expected, patrons and a growing crowd decided to fight back. The five days of rioting that ensued changed forever the face of gay and lesbian life.

In Stonewall, renowned historian and activist Martin Duberman tells the full story of this pivotal moment in history. With riveting narrative skill, he re-creates those revolutionary, sweltering nights in vivid detail through the lives of six people who were drawn into the struggle for LGBTQ rights. Their stories combine to form an unforgettable portrait of the repression that led up to the riots, which culminates when they triumphantly participate in the first gay rights march of 1970, the roots of today's pride marches. 

Fifty years after the riots, Stonewall remains a rare work that evokes with a human touch an event in history that still profoundly affects life today.
About the Author
---
Martin Duberman is Distinguished Professor of History Emeritus at City University of New York, where he founded and directed the Center for Lesbian and Gay Studies. He is the author of more than twenty-five biographies, memoirs, essays, plays, and novels. He is a recipient of the Bancroft Prize, multiple Lambda Literary Awards, and the Lifetime Achievement Award from the American Historical Association, and he has been a finalist for the Pulitzer Prize and the National Book Award. In 2012 Duberman received an honorary Doctor of Humane Letters from Amherst College and in 2017 an honorary Doctor of Letters from Columbia University.
Praise For…
---
"A fascinating account of the birth of gay liberation and a replay of the turbulent, society-changing '60s."
—San Francisco Chronicle

"Interesting...instructive...Duberman argues correctly that Stonewall marked a generational, organizational, and ideological shift that brought gay liberation into the array of social protest."
—The New York Times Book Review

"Illuminating...a vivid and stirring recreation of the Stonewall riot, probing beneath its symbolism to discover the social forces it unleashed."
—Los Angeles Times Book Review

"One of the most important books about lesbians and gays to emerge since Stonewall."
—Seattle Weekly

"Moving...Duberman rises to history's most crucial challenges as he expertly chronicles how long and tortuous the road to Stonewall actually was."
—The Washington Post

"A powerful and compelling book that will make it harder for future 'sixties' books to ignore the gay liberation movement."
—The Nation

"Duberman's best book yet...No one has mined sources as extensively to tell the story of Stonewall."
—The Advocate

"Duberman's history lesson is like a script to some extraordinary movie...It even has a fascinating cast of secondary characters."
—The Boston Globe

"Engrossing...a long overdue look at one of the seminal events in the history of gay activism. Important and absorbing."
—Kirkus Reviews