Norwegian By Night (A Sheldon Horowitz Novel #2) (Paperback)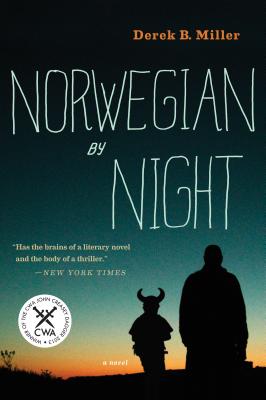 Other Books in Series
This is book number 2 in the A Sheldon Horowitz Novel series.
June 2013 Indie Next List
---
"Sheldon Horowitz, an 80-year-old Korean War veteran, has a touch of dementia and goes to live with his daughter and son-in-law in Norway, where he becomes further disoriented. One day what sounds like violence breaks out in the upstairs apartment and a young boy's life appears to be at risk. Sheldon becomes the boy's protector/abductor, fleeing in disguise through the countryside as exiled Serbian war criminals and Norwegian cops give pursuit and the old man's Marine sniper skills come back to him. A wild, compelling, politically complex, and sometimes funny tale that is a very rich read, this is highly recommended."
— Richard Howorth, Square Books, Oxford, MS
Description
---
In this winner of the Crime Writerss Association John Creasey Dagger Award and the Guardian Best Crime and Thriller of the Year, a former Marine sniper and a newly orphaned boy race across the Norwegian wilderness, fleeing demons both real and imagined.

Sheldon Horowitz—widowed, impatient, impertinent—has grudgingly agreed to leave New York and move in with his granddaughter, Rhea, and her new husband, Lars, in Norway—a country of blue and ice with one thousand Jews, not one of them a former Marine sniper in the Korean War turned watch repairman. Not until now, anyway.

Home alone one morning, Sheldon witnesses a dispute between the woman who lives upstairs and an aggressive stranger. When events turn dire, Sheldon seizes and shields the neighbor's young son from the violence, and they flee the scene. As Sheldon and the boy look for a safe haven in an alien world, past and present weave together, forcing them ever forward to a wrenching moment of truth.

A Financial Times Best Book of the Year, Kirkus Reviews Best Crime Novel of the Year, and an Indie Next Selection. You can find the coming-of-age story of Sheldon Horowitz in How To Find Your Way in the Dark. Additionally, this is the first novel in which Sigrid Ødegård appears. You can follow her to her next case in American by Day.
About the Author
---
Derek B. Miller is an American novelist, who worked in international affairs before turning to writing full-time. He is the author of five previous novels, all highly acclaimed: Norwegian by Night, The Girl in Green, American by Day, Radio Life and Quiet Time (an Audible Original). His work has been shortlisted for many awards, with Norwegian by Night winning the CWA John Creasey Dagger Award for best first crime novel, an eDunnit Award and the Goldsboro Last Laugh Award. How to Find Your Way in the Dark was a Finalist for the National Jewish Book Award and a New York Times best mystery of 2021. 
Derek B. Miller is a graduate of Sarah Lawrence College (BA), Georgetown (MA) and he earned his Ph.D. summa cum laude in international relations from The Graduate Institute in Geneva with post-graduate work at Oxford. He is currently connected to numerous peace and security research and policy centers in North America, Europe and Africa, and he worked with the United Nations for over a decade. He has lived abroad for over twenty-five years in Israel, the United Kingdom, Hungary, Switzerland, Norway and Spain.
Praise For…
---
Best New Crime Writer of the Year: Winner of the CWA 2013 John Creasey Dagger Award "Has the brains of a literary novel and the body of a thriller." — New York Times "Derek B. Miller's Norwegian by Night is one of those books that completely transcends its genre and offers us one of the most memorable characters — Sheldon Horowitz — that I've encountered in years.  If you like those other Scandihoovian thriller writers, this is your book." —Richard Russo for The Millions "Truly a page-turner...Norwegian by Night is about past wars and present-day ethnic strife, family, grief, guilt and, ultimately, redemption. Korea (and phantom Koreans), Vietnam, the Holocaust, ethnic identity — Serb, Norwegian, Muslim, and yes, Jewish — these are the true characters of the novel....Funny, moving and thoroughly gripping." —Jewish Week "A stunning examination of how our lives shape our character, and how our allegiances shape our destiny." — Bethanne Patrick, AARP (1 of "12 Summer Reads for 2013") "Derek B. Miller's debut novel, Norwegian by Night, is about aging snipers. Or, it's about parenting and loss. Or, the lingering traces of the Korean and Vietnam Wars. It feels about as full as life itself, and almost as real." —Jessica Young, Jewniverse "[A] beautifully-written contribution to Nordic noir with a twist. It cleverly avoids many the genre's clichés and pitfalls and emerges triumphant as a fully-dimensional gem." —From the John Creasey Dagger Award Judges' Citation "Both an exciting chase thriller and a poignant story about a man who comes into his own again in his dotage." --Library Journal "No brief plot outline can do justice to a book that deserves to find a place on a few best-of-the-year lists. Sheldon is a brilliantly imagined character, a true mensch, made of Greatest Generation stuff...Miller joins the ranks of Stieg Larsson, Henning Mankell, and Jo Nesbø, the holy trinity of Scandinavian crime novelists." --Booklist, starred "Miller's affecting debut, about a cantankerous Jewish widower transplanted to Norway who becomes party to a hate crime, is an unusual hybrid: part memory novel, part police procedural, part sociopolitical tract and part existential meditation. Miller, an American living in Oslo...makes the setting a powerful character...The novel, first published in Norway, was worth the wait." --Kirkus Reviews "A literate, thoughtful and unusual thriller...Our image of Scandinavia is one of tolerance — Miller doesn't disagree with the image, but Norwegian by Night offers a fascinating fictional exploration of the meaning and implementation of that tolerance." --The Times (UK) "Norwegian by Night has all the ingredients of a top-notch thriller, but it's the superb characterisation of the protagonist that fuels true suspense. Funny and moving as well as thoroughly gripping, this is crime fiction of the highest order." --The Guardian "Much more than an enjoyable thriller. It is a beautifully written tale of love and loss...One of the best novels of the year."—Jenni Frazer, The Jewish Chronicle (UK) "This highly visual storytelling reads like a first draft of the script for an action-packed, emotionally satisfying movie, one that will appeal to —
Give Books for the Holidays 2023