Seven Empty Houses (National Book Award Winner) (Paperback)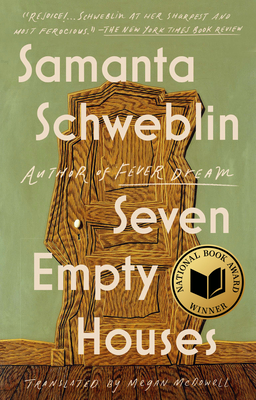 Description
---
Winner of the 2022 National Book Award for Translated Literature

A blazing new story collection that will make you feel like the house is collapsing in on you, from the 3 time International Booker Prize finalist, "lead[ing] a vanguard of Latin American writers forging their own 21st-century canon." –O, the Oprah magazine

The seven houses in these seven stories are strange. A person is missing, or a truth, or memory; some rooms are enticing, some unmoored, others empty. But in Samanta Schweblin's tense, visionary tales, something always creeps back inside: a ghost, a fight, trespassers, a list of things to do before you die, a child's first encounter with darkness or the fallibility of parents.

In each story, twists and turns will unnerve and surprise: Schweblin never takes the expected path and instead digs under the skin, revealing surreal truths about our sense of home, of belonging, and of the fragility of our connections with others. This is a masterwork from one of our most brilliant modern writers.
About the Author
---
Samanta Schweblin is the author of the novel Fever Dream, a finalist for the International Booker Prize, and the novel Little Eyes and story collection A Mouthful of Birds, longlisted for the same prize. Chosen by Granta as one of the twenty-two best writers in Spanish under the age of thirty-five, she has won numerous prestigious awards around the world. Her books have been translated into thirty-five languages, and her work has appeared in English in The New Yorker and Harper's Magazine. Originally from Buenos Aires, Schweblin lives in Berlin.

Megan McDowell is the recipient of a 2020 Award in Literature from the American Academy of Arts and Letters and has been short- or longlisted four times for the International Booker Prize. She lives in Santiago, Chile.
Praise For…
---
Praise for Seven Empty Houses

"Rejoice! Just when we're settling into fall, all cozy on the couch with a Netflix show queued up, a new short story collection from Samanta Schweblin is here to spit in your pumpkin spiced latte and drag its nails down the wall. Seven Empty Houses... takes aim at the place we feel safest: home. Darker and more tinged with terror than her breakthrough novel, Fever Dream, this is Schweblin at her sharpest and most ferocious." —New York Times Book Review

"[H]er newest collection may be her most unsettling.... The spectacular and strange stories in Seven Empty Houses, translated by Schweblin's longtime English translator Megan McDowell, pertain to nothing more mysterious than mistaken perceptions, debilitating grief and the often-torturous passage of time." —Washington Post

"[A] sense of dreamlike menace infuses the linked fictions in Samanta Schweblin's Seven Empty Houses, beautifully translated from the Spanish by Megan McDowell.... These stories pulse with blood and lust, ego and id, as Schweblin punches above her weight.... Schweblin is at the forefront of emerging Latin American writers, defiant and assured, swaggering among the jungles of sex, love, and politics." —Oprah Daily

"Samanta Schweblin's new short stories take place against familiar everyday scenes. But she twists and turns those moments in unexpected and chilling ways." —NPR

"Nothing is ever quite what it seems in Schweblin's fiction, and rarely is anything innocuous either... As the title intimates, the domestic environment looms large in these seven stories translated by the incomparable Megan McDowell.... Schweblin crafts a shrieking crescendo of creeping dread and bewilderment.... In Seven Empty Houses we're firmly steeped in a reality that's recognisable. This is terror that's tangible, and it's all the more frightening for it." —Financial Times

"The proximity to Halloween is appropriate, given Schweblin's idiosyncratic mode of tense and unsettling literary horror. As in Fever Dream and Little Eyes…something is always creeping around these empty houses." —The Millions

"Ethereal… Seven compelling explorations of vacancy in another perfectly spare and atmospheric translation." —Kirkus Reviews
 
"Evocative." – Publishers Weekly

"Excellent." —Bookriot
 
"Uniquely satisfying." —LitHub


Praise for Samanta Schweblin

"Weird, wondrous, and wise . . . Samanta Schweblin has perfected the art of pithy literary creepiness, crafting modern fables that tingle the spine and the brain." —O, the Oprah Magazine
 
"Genius." —Jia Tolentino, The New Yorker
 
"What makes Schweblin so startling as a writer… what makes her rare and important, is that she is impelled not by mere talent or ambition but by vision." —The New York Times
 
"Strange and beautiful." —Tommy Orange
 
"Sickeningly good." —Emma Cline
 
 "Mesmerizing." —The Washington Post
 
"Tales of somber humor, full of characters who slide into cracks or fall through holes into alternate realities."—J. M. Coetzee
 
"Schweblin delivers a skin-prickling masterclass in dread and suspense." —The Economist

"While Schweblin executes each narrative move with propulsive confidence, as though of course it would not go any other way, it is also impossible to guess where a Schweblin story is going. One of the greatest effects of Schweblin's writing is the sensation of having a trapdoor kicked open in your own mind—of not knowing this weird space even existed, but of course. There you are." —Los Angeles Review of Books
 
"You see how masterfully she handles her prose—a writer in full control on the page. Her language is economical, yet supremely effective at creating a tense, claustrophobic atmosphere; shadows lurk behind the words left unwritten, the sentences that refuse to reveal the hidden things just around the corner. Rarely, if ever, is the horror named. It is simply felt. Nothing can be trusted." —New York

"A master of elegant and uncanny fiction . . . Schweblin is gifted at treating the otherworldly with a matter-of-fact attitude, writing about the surreal as if it were unremarkable. . . . And her writing, beautifully translated by Megan McDowell, is consistently perfect; she can evoke more feelings in one sentence than many writers can in a whole story. . . . A stunning achievement from a writer whose potential is beginning to seem limitless." —NPR

"Chilling . . . A master of the macabre . . . Her particular genius lies in the fact that there's something inherently savage and ungovernable about her work: each of these eerie, shocking stories crouches like a tiny feral beast, luring you in with false promises of docility, only to then sideswipe you with sharpened claws and bared fangs." —Financial Times