How to Retire Overseas: Everything You Need to Know to Live Well (for Less) Abroad (Paperback)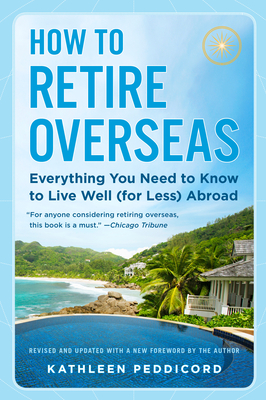 $18.00
Email or call for price
Description
---
The definitive guide for anyone dreaming of living in paradise when they retire.

Whether motivated by a desire for adventure, or the need to make the most of a diminished nest egg, more and more Americans are considering an overseas retirement. Drawing on her more than three decades of experience helping people relocate happily and successfully, Kathleen Peddicord shows how living in an unconventional retirement destination can cost less than a traditional home in Florida or Arizona. Peddicord addresses all of the essential issues, including:

• Finding a home to own or rent
• Researching and understanding your tax liability
• Obtaining health insurance and medical care
• Avoiding common mistakes and pitfalls
• Opening a bank account

Whether readers are interested in relatively unknown havens like Nicaragua, well-traveled areas in Italy, or need some help deciding, How to Retire Overseas is the ultimate guide to making retirement dreams come true.
About the Author
---
KATHLEEN PEDDICORD is the founder of liveandretireoverseas.com, a subscription site offering its members advice on retiring abroad. A full-time expat herself, Peddicord lived in Ireland with her family for several years before relocating to Paris and, most recently, Panama, where she lives now with her husband and son.
Praise For…
---
Praise for How to Retire Overseas

"For anyone considering retiring overseas, this book is a must."—Chicago Tribune
 
"[Peddicord] leaves only a few foreign stones unturned, giving readers step-by-step pointers as well as insights to several travel-tested locales that are retiree-friendly… How to Retire Overseas could lend a refreshingly different look at your future."—Pittsburgh Post-Gazette

"If you're thinking about living abroad in retirement, this book is essential reading."—Wall Street Journal
 
"Whether you're in the 'what if?' stage, or have graduated to an investigatory visit, or are now seriously intending to live overseas...How to Retire Overseas will be one of your essential resources."—Rapid River Arts & Culture (Asheville, NC)