Disappearing Earth: A novel (Hardcover)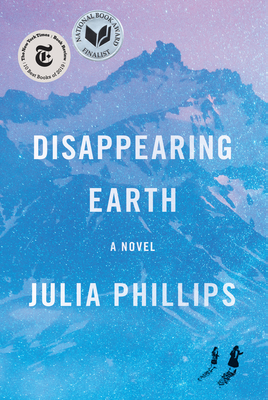 $26.95
Email or call for price.
May 2019 Indie Next List
---
"Julia Phillips is an author to watch. She beautifully transports us to a region of the world that I had never heard of and now can't stop thinking about. The stories of the women there—their family dynamics, their hopes and fears, the economic and cultural divide of various communities—tell a moving story about this place in a moment in time, but ultimately about the universal struggle of women living with the expectations placed on them. A remarkable debut."
— Casey Coonerty, Bookshop Santa Cruz, Santa Cruz, CA
Summer 2020 Reading Group Indie Next List
---
"A thrilling and original debut novel that explores the lives of several women living in Russia's remote Kamchatka Peninsula whose lives are unknowingly connected by the unsolved disappearances of three girls. The mystery of the girls' fates will keep you on the edge of your seat, but even more impressive is the way Phillips portrays the lives of her female characters—women who struggle to obtain a better life for themselves and their children, lives unencumbered by the racism, economic instability, and isolation inherent in living in a disregarded and harsh corner of Russia's vast landscape."
— Lori Feathers, Interabang Books, Dallas, TX
Description
---
One of The New York Times 10 Best Books of the Year

National Book Award Finalist
Finalist for the National Book Critics Circle John Leonard Prize
Finalist for the Center for Fiction First Novel Prize
Finalist for the New York Public Library's Young Lions Fiction Award 

National Best Seller

"Splendidly imagined . . . Thrilling" --Simon Winchester
"A genuine masterpiece" --Gary Shteyngart

Spellbinding, moving--evoking a fascinating region on the other side of the world--this suspenseful and haunting story announces the debut of a profoundly gifted writer.

One August afternoon, on the shoreline of the Kamchatka peninsula at the northeastern edge of Russia, two girls--sisters, eight and eleven--go missing. In the ensuing weeks, then months, the police investigation turns up nothing. Echoes of the disappearance reverberate across a tightly woven community, with the fear and loss felt most deeply among its women.

Taking us through a year in Kamchatka, Disappearing Earth enters with astonishing emotional acuity the worlds of a cast of richly drawn characters, all connected by the crime: a witness, a neighbor, a detective, a mother. We are transported to vistas of rugged beauty--densely wooded forests, open expanses of tundra, soaring volcanoes, and the glassy seas that border Japan and Alaska--and into a region as complex as it is alluring, where social and ethnic tensions have long simmered, and where outsiders are often the first to be accused.

In a story as propulsive as it is emotionally engaging, and through a young writer's virtuosic feat of empathy and imagination, this powerful novel brings us to a new understanding of the intricate bonds of family and community, in a Russia unlike any we have seen before.
About the Author
---
Julia Phillips is a Fulbright Fellow whose writing has appeared in The New York Times, The Atlantic, The Moscow Times, and The Paris Review. She lives in Brooklyn.
Praise For…
---
"A superb debut—brilliant. Daring, nearly flawless. A crime jump-starts Disappearing Earth; the novel exposes the ways in which the women of Kamchatka are fragmented not only by [a] kidnapping, but by place [and] identity . . . Phillips describes the region with a cartographer's precision and an ethnographer's clarity, drawing an emblematic cast . . . There will be those eager to designate Disappearing Earth a thriller by focusing on the whodunit rather than what the tragedy reveals about the women in and around it. Phillips' deep examination of loss and longing is a testament to the novel's power." —Ivy Pochoda, The New York Times Book Review

"Engrossing: an auspicious debut novel, a literary whodunit set in a distinctly foreign land. Phillips immerses readers in Kamchatka—it's in the rich, humane characterizations; the plot's gentle surprises; the reminders of the past; the rendering of the landscape. Rarely has a novel so fully brought to life a place most couldn't pretend to know. Phillips plots with methodical flair; the depth of her storytelling prowess reveals itself . . . Disappearing Earth wades through darkness with heart." —David Canfield, Entertainment Weekly

"Stunning . . . Phillips lets her experience [in Kamchatka] shimmer lightly in details [of] beautifully delineated scenes—situations strange in their specificities and universal in their familiarity. The mystery is worth reading until the very end." —Bethanne Patrick, NPR

"A couple of days ago, I felt like I needed to read a book that would submerge me somewhere beautiful, severe, isolated, unknown to me. Then this novel, Disappearing Earth, set in far eastern Russia, in the world's second largest city that's inaccessible by land, came like magic." —Jia Tolentino, on Twitter

"An addictive page-turner about the search for two missing girls. Phillips's writing draws you in: Disappearing Earth is everything you could want from a book and more—a fast-paced yet thoughtful thriller full of human emotion and endurance." —Mehera Bonner, Cosmopolitan

"Invigoratingly hard to classify . . . A dead or missing girl is such a common device in crime fiction that its use now prompts raised eyebrows. But Julia Phillips ingeniously dismantles conventions. [Set] in a volcano-studded peninsula in Russia, this novel builds a portrait of a place, as the disappearance of two sisters shapes and is refracted through the lives of women. As remote as this world is, readers will find it strangely familiar. Phillips's characters fight to steer a course between the twin hazards of loss and captivity. Young mothers chafe at the confinement of family responsibilities, craving risks their older counterparts dread. For Phillips, the intricate web linking her characters—bonds that can suffocate, sustain, or expose—is not a mystery to be uncovered by a solitary detective. The ending of Disappearing Earth ignites an immediate desire to reread the chapters leading up to it . . . What appear to be fragments, the remains of assorted personal disasters and the detritus of a lost empire, is in truth capable of unity." —Laura Miller, The New Yorker
  
"Fascinating, immensely moving . . . The paradox of Ms. Phillips' novel, set in one of the most remote and mysterious places on the planet: its concerns are instantly recognizable. The book opens with the abduction of two young sisters. Succeeding chapters follow a diverse cast in the year after the unsolved crime; their stories are about the unraveling of bonds: a teenager is dropped by her best friend; a woman learns that her husband has died in a mountain accident; in the simplest and most shattering chapter, a woman reaches the brink of despair when her dog runs away. You wonder if the kidnapped girls are going to be forgotten, but Ms. Phillips returns to their fate, tying together subtly dropped clues . . . Engrossing." —Sam Sacks, The Wall Street Journal

"Julia Phillips is at once a careful cartographer and gorgeous storyteller. Written with passion and patience, this is the story of a people and the land that shapes them. A mystery of two missing girls burns at the center of this astonishing debut, and the complexity of ethnicity, gender, hearth and kin illuminates this question and many more." —Tayari Jones, author of An American Marriage 

"A miracle of structure, premise, and content, this ingenious debut spins out the narratives of twelve different women over a year to explore the way the disappearance of two young white girls unearths the suppressed racial tensions of a Russian peninsula. Reindeer herders, ballerinas, avalanches, volcanoes . . . Phillips's luring writing will transform Kamchatka from a place you've never heard of to a place you never want to leave." —Courtney Maum, The Rumpus

"An assured and engrossing debut that starts off as a thriller but then turns into a deeper exploration of the lives of women, and the way violence affects women's lives, on the peninsula of Kamchatka. You're pulled right in from the opening chapter." —Pamela Paul, The New York Times: "Summer Reads, Recommended by Women of The New York Times"

"Thrilling. . . this mystery takes you to a scrappy ice-bound town in Russia's frozen north. Rumors and rivalries, secrets and lies, all add up to a compelling portrayal of a community under siege." —People Magazine
 
"Exceptional, satisfying . . . a sophisticated and powerful literary thriller . . . a knock-out. By taking us through the year after the sisters were kidnapped, character by character, slowly spiraling back, Phillips is able to strike at so much of what ails not only Russia but also most tradition-bound areas all over the world today. The stitches of Phillips's language make you go, Damn, that's good. And the ending can't be described without borrowing some of Phillips's own language: it peels open your chest and squeezes out the stuff we read fiction to feel." —Randy Rosenthal, The Los Angeles Review of Books

"Unshakeable . . . Disappearing Earth has the makings of the thriller when two sisters vanish without a trace [on] the isolated, punishing Kamchatka peninsula . . . but Phillips does something more sophisticated. All the women yearn for something more than they have. Phillips is so skilled at conveying place and people, you can feel the chill of the shadow cast by Soviet-style apartment buildings, smell the blood soup, taste the burn of cheap vodka drunk too fast to numb the pain. It's so specific, and yet so universal. These are stories of women the world over." —Barbara VanDenburgh, USA Today

"Mesmerizing . . . The mystery of two sisters' disappearance alternately ebbs and intensifies over the course of a year, [as] each chapter dips into the life of a different girl or woman [on] Kamchatka. The story reads as a page-turner without relying on any cheap narrative tricks to propel it forward, and the strength of Phillips's writing—her careful attention to character and tone—will grip you right up until the final heart-stopping pages." —Keziah Weir, Vanity Fair 
 
"Phillips's polyphonic debut novel takes on the challenge of a setting almost impossibly remote, but still teeming with people and their troubles. Two girls disappear near the shore of the Kamchatka Peninsula (as far east as Russia goes), and Phillips proceeds to track inhabitants in some way connected to the crime over a year, weaving a net as taut and intricate as any thriller plot, but rich in detail about relationships, historical scars, and the specific and universal trials of being a woman." —Boris Kachka, Vulture

"A genuine masterpiece, but one that is easily consumed in a feverish stay-up-all-night bout of reading pleasure. It's as much a portrait of humanity as of a small Kamchatka community." —Gary Shteyngart

"Absorbing and extraordinarily well crafted. . . Set in remote Kamchatka, a landscape of volcanoes and vast tundra nine time zones east of Moscow, it is a many-stranded crime story. It is also a complex portrait of clashing cultures—both white and indigenous. In month-by-month chapters that at first appear only delicately linked, Phillips zooms in on lives that have been touched in some way by the widely publicized, ineptly investigated abduction of two little girls. Phillips draws intricately detailed characters, and we quickly come to know them intimately. Yet her primary interest is in social forces — especially those that nurture dangerous men while devaluing girls and women who seem too independent, too headstrong, too sexual. Ambiguity about the fates of [the girls] allows room for both hope and dread, and Phillips skillfully spins out that suspense." —Laura Collins-Hughes, The Boston Globe

"An unforgettable novel—beautifully written and tremendously satisfying." —Elena Nicolaou, Refinery29

"Pulsating . . . Phillips conjures the rugged landscape of Russia's Kamchatka Peninsula, excavating a collective trauma triggered by the kidnapping of two sisters." —O, The Oprah Magazine 

"Beautifully written . . . the chapters gradually expand our view of Kamchatka, until both the complex characters and rugged landscape come alive. Phillips's writing is so assured as the novel builds to a heart-stopping climax that you'll find it hard to believe this is her first book." —Kathleen Keenan, BookRiot "Best Books of 2019 So Far" 

"Elegant, ingeniously interwoven. Phillips alights chapter by chapter on various residents of a remote Russian peninsula . . . As a series of character studies, it's brilliant. But Phillips never stops tracing Earth's arc, tilting her tapestry toward a singularly satisfying ending." —Leah Greenblatt, Entertainment Weekly

"Riveting, deeply rewarding . . . Disappearing Earth spirits us along [with] each new set of characters related to the missing girls or obsessed [with] what became of them. Phillips's writing is spare [and] canny; compelling; vivid . . . beautifully written fiction." —Chris Hewitt, Minneapolis Star Tribune

"Accomplished and gripping . . . The volcano-spiked Kamchatka Peninsula in Far East Russia, where the tundra still supports herds of reindeer and the various Native groups who depend on them, is the evocative setting of Phillips' novel. In fresh and unpredictable scenes depicting broken friendships and failed marriages, strained family gatherings, and rehearsals of a Native dance troupe, Phillips' spellbinding prose is saturated with sensuous nuance and emotional intensity, as she subtly traces the shadows of Russia's past and illuminates today's daunting complexities of gender and identity, expectations and longing." —Donna Seaman, Booklist (starred review)

"A stunning, powerful debut novel. Phillips's characters [have] deep humanity; her portrayal of Kamchatka is superb. The novel's many characters are introduced in the preface, which calls to mind all those classic Russian novels with sprawling casts. But at the same time, Disappearing Earth is utterly contemporary. Has there ever been a novel, even by Dostoevsky or Tolstoy, set in such a strange, ancient, beautiful place, with its glaciers and volcanoes and endless cold? It's a place where miracles might happen: Phillips's novel dares to imagine the possibilities." —Arlene McKanic, BookPage (starred review: Top Pick)

"Cinematic. . . a knock-out novel that combines literary heft with a propulsive plot. . . Phillips imagines a cold, desolate climate inhabited by characters who exude warmth and strength. . . Dazzlingly original." —Sally Bissell, Library Journal [starred review]

"I cannot speak too highly of Julia Phillips's thrilling, impeccably written and splendidly imagined story, set with rigorous attention to detail in one of the most volcanically dangerous and beautifully remote corners of the planet.  An exciting beginning from an author whose literary future looks set to be stellar." —Simon Winchester

"Brilliant, spectacular—a wonderful book. Julia Phillips's exquisite, detailed writing drew me in from the very first page of Disappearing Earth. I fell in love with each and every poignantly rendered character, even as I couldn't keep my eyes off the central mystery of the two missing girls. The novel is both a riveting page-turner and a gorgeous exploration of love, one that circles around a magnetic core of loss. It has lodged itself deep in my heart." —Jean Kwok, author of Girl in Translation

"Suspenseful, original and compelling,  Disappearing Earth is a strange and haunting voyage into a strange and haunting world—the faraway Kamchatka in Russia's Far East, which is brought by this debut novelist to eerie, vibrant and unsettling life." —Simon Sebag-Montefiore, author of The Romanovs 

"Julia Phillips's novel is vividly real, but it reads at times like a suspenseful fairy tale. Here are portraits of different women with a shared yearning for autonomy, in a land inhospitable to it. Here, too, is a story in which, against all odds, they do not give up hope. Disappearing Earth is a brave, affecting accomplishment." —Christine Schutt, author of Pure Hollywood 

"Disappearing Earth is a rare achievement: haunting and complex; intense yet subtle; sophisticated yet unputdownable; moving yet never sentimental; foreign yet somehow familiar. And it snaps shut at the end with dark poise. Julia Phillips possesses a unique talent, and I can't wait for her next book." —Lorraine Adams, author of Harbor 
  
"This exquisite debut reads like a secret being whispered to your ears only. Julia Phillips so smoothly evokes the quiet rage, breathtaking tenderness and searing discomfort of a human connection." —Suki Kim, author of Without You, There is No Us

"Julia Phillips writes in clean, sharp lines that belie an almost frightening depth, and a clarity of eye that renders a complex and gut-wrenching vision of the Kamchatka region and its people. More than once, I gawped at this book: there are no seams, no sentimentality, not a single untrue thought from start to finish. With Disappearing Earth, Phillips accomplishes in her first book what most writers can't glimpse in a lifetime." —Bill Cheng, author of Southern Cross the Dog

"Disappearing Earth is not only a viscerally wide-ranging introduction to the land and culture of the Kamchatka Peninsula, as well as a missing persons thriller—as beautifully written as it was, I still couldn't turn the pages fast enough—it's also a wrenching meditation on the agonies of those losses to which we never fully adjust.  This is a dazzlingly impressive first novel." —Jim Shepard, author of The Book of Aron

"A feat of literary suspense. I felt like a wide-eyed kid reading Julia Phillips's Disappearing Earth. I could live in her portrayal of this remote part of the world forever." —Sloane Crosley, author of I Was Told There'd Be Cake

"Truly impressive . . .transportive prose . . . A must-read." —Jamie Chornoby, BookBrowse   

"An exceptional and suspenseful debut. In the opening chapter, two sisters vanish from a beach on the Kamchatka Peninsula; their disappearance sends ripples throughout the close-knit community. Subsequent chapters chart the effect of longing and loss in a series of interconnected, equally riveting stories. The climax [is] truly nail-biting . . . Phillips's exquisite descriptions of the landscape are masterful throughout, as is her skill at crafting a complex, genuinely addictive whodunit. This novel signals the arrival of a mighty talent." —Publishers Weekly (starred, boxed review)

"[An] immersive, impressive, strikingly original debut. . . an unusual, cleverly constructed thriller, and also a deep dive into the culture of Russia's remote Kamchatka peninsula. Disappearing Earth opens with a chilling crime . . . The rest of the book is about different women on the peninsula, all with the shadow of the missing girls hanging over them as a year goes by. You submerge ever more deeply into this world, which is both so different from and so much like our own. Will we ever get closure about the girls? You'll want to start over and read it again once you know." —Kirkus (starred review)
Upcoming Events
No upcoming events available