Liberation Day: Stories (Paperback)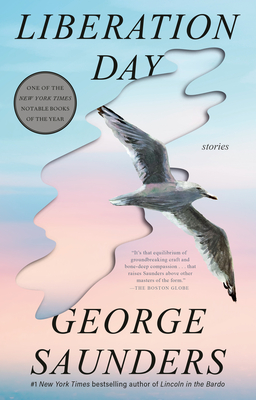 November 2022 Indie Next List
---
"When I read this collection, I knew I was looking at one of the finest, most complete, most skillfully-created literary works I have ever experienced. A masterwork that will surely become one of the most noteworthy books of the decade."
— Sophia Hardin, Third Place Books, Lake Forest Park, WA
Description
---
NEW YORK TIMES BESTSELLER • "One of our most inventive purveyors of the form returns with pitch-perfect, genre-bending stories that stare into the abyss of our national character. . . . An exquisite work from a writer whose reach is galactic."—Oprah Daily
 
Booker Prize winner George Saunders returns with his first collection of short stories since the New York Times bestseller Tenth of December.

ONE OF THE BEST BOOKS OF THE YEAR: The New York Times Book Review, The New Yorker, Oprah Daily, NPR, Time, USA Today, The Guardian, Esquire, Newsweek, Kirkus Reviews, Booklist, Library Journal

The "best short-story writer in English" (Time) is back with a masterful collection that explores ideas of power, ethics, and justice and cuts to the very heart of what it means to live in community with our fellow humans. With his trademark prose—wickedly funny, unsentimental, and exquisitely tuned—Saunders continues to challenge and surprise: Here is a collection of prismatic, resonant stories that encompass joy and despair, oppression and revolution, bizarre fantasy and brutal reality.

"Love Letter" is a tender missive from grandfather to grandson, in the midst of a dystopian political situation in the (not too distant, all too believable) future, that reminds us of our obligations to our ideals, ourselves, and one another. "Ghoul" is set in a Hell-themed section of an underground amusement park in Colorado and follows the exploits of a lonely, morally complex character named Brian, who comes to question everything he takes for granted about his reality. In "Mother's Day," two women who loved the same man come to an existential reckoning in the middle of a hailstorm. In "Elliott Spencer," our eighty-nine-year-old protagonist finds himself brainwashed, his memory "scraped"—a victim of a scheme in which poor, vulnerable people are reprogrammed and deployed as political protesters. And "My House"—in a mere seven pages—comes to terms with the haunting nature of unfulfilled dreams and the inevitability of decay.

Together, these nine subversive, profound, and essential stories coalesce into a case for viewing the world with the same generosity and clear-eyed attention Saunders does, even in the most absurd of circumstances.
About the Author
---
George Saunders is the #1 New York Times bestselling author of eleven books, including A Swim in a Pond in the Rain; Lincoln in the Bardo, which won the Booker Prize; Congratulations, by the Way; Tenth of December, a finalist for the National Book Award and winner of the inaugural Folio Award; The Braindead Megaphone; and the critically acclaimed collections CivilWarLand in Bad Decline, Pastoralia, and In Persuasion Nation. He teaches in the creative writing program at Syracuse University.
Praise For…
---
"It's that equilibrium of groundbreaking craft and bone-deep compassion—plus his rangy, tilt-a-whirl voice—that raises Saunders above other masters of the form."—The Boston Globe
 
"Part of the Saunders elixir is that we feel more empathetic after reading his work."—The San Francisco Chronicle

"Liberation Day is great art … winningly readable … Whether exploring recognisable social and political dilemmas, taking us somewhere else entirely, or doing both at the same time, Saunders never denies us the solid satisfactions of plot, jokes, character, pacing and lovely phrasemaking."—The Daily Telegraph (UK)
 
"The nine stories in Liberation Day are by turn exhilarating, sad, mindbendingly bizarre and wickedly funny. All are stamped with Saunders's quirky, profoundly moral sensibility, and his fury at repression and coercion."—The Sunday Times (UK)
 
"Utterly moving … terrific … Worth reading for 'Love Letter' alone."—The Independent (UK)
 
"Masterful"—i paper (UK)

"Saunders has revealed himself to be nothing less than an American Gogol: funny, pointed, full of nuance, and always writing with a moral heart. This, his first book of short fiction in nearly a decade, only cements the validity of such a point of view. The nine pieces here are smart and funny, speculative yet at the same time written on a human scale, narratives full of love and loss and longing and the necessity of trying to connect."—Kirkus Reviews (starred review)
 
"Saunders's vision of diabolically intrusive tyranny undermining democracy possesses the keen absurdity of Kurt Vonnegut, while his more subtle stories align with the gothic edge of Shirley Jackson. . . . Each of these flawless fables inspires reflection on the fragility of freedom and the valor of the human spirit."—Booklist (starred review)