Emma (Mass Market)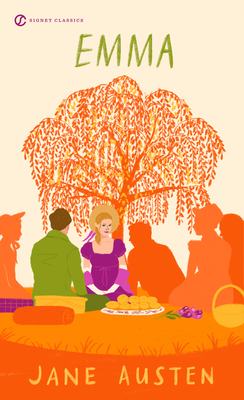 Description
---
NOW A MAJOR MOTION PICTURE!

A fascinating, humorous, and timeless coming-of-age tale featuring one of Jane Austen's most memorable characters.

"Emma Woodhouse, handsome, clever, and rich, with a comfortable home and happy disposition…had lived nearly twenty-one years in the world with very little to distress or vex her."
 
The celebrated opening of Jane Austen's Emma introduces readers to a supremely self-assured and accomplished young woman who believes herself immune to romance. By turns brilliant and foolish, self-aware and self-deluding, Emma "leaps from error to error," writes Margaret Drabble in her incisive Introduction, wreaking comic havoc in the lives of those around her. The mature flowering of Austen's singular and prolific genius, Emma is the compelling story of a woman seeking her true nature and finding true love in the process.

With an Introduction by Margaret Drabble
and an Afterword by Sabrina Jeffries 
About the Author
---
Jane Austen (1775-1817) was born in Hampshire, England, to George Austen, a rector, and his wife, Cassandra. Like many girls of her day, she was educated at home, where she began her literary career by writing parodies and skits for the amusement of her large family. Although Austen did not marry, she did have several suitors and once accepted a marriage proposal, but only for an evening. Although Austen never lived apart from her family, her work shows a worldly and wise sensibility. Her novels include Sense and Sensibility (1811), Pride and Prejudice (1813), Mansfield Park (1814), Emma (1815), and Northanger Abbey and Persuasion, published together posthumously in 1818.
 
Margaret Drabble is the highly acclaimed novelist, biographer, and editor of The Oxford Companion to English Literature. Her novels include The Gates of Ivory, The Seven Sisters, and The Red Queen. She lives in London.
 
Sabrina Jeffries is the New York Times bestselling author of more than thirty-five novels. Despite her Ph.D. in Early Modern British Literature from Tulane University, she abandoned academics for a rewarding career writing sexy and humorous historical romances. She lives in North Carolina.
Praise For…
---
"A great artist, equal in her small sphere to Shakespeare."—Alfred Lord Tennyson
Upcoming Events
No upcoming events available