New Favorites for New Cooks: 50 Delicious Recipes for Kids to Make [A Cookbook] (Hardcover)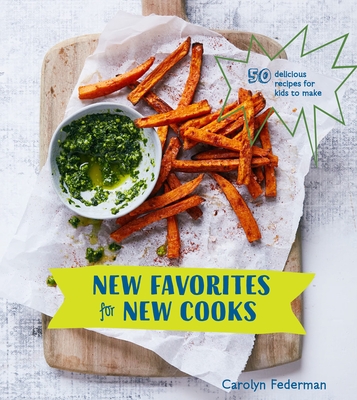 Description
---
From a leader in the field of food education, this smart, fun, lavishly illustrated cookbook provides 50 kid-tested recipes that engage children's natural inclination for adventure and use fresh, seasonal ideas for breakfast, lunch, snacks, and sweets to teach basic cooking skills.

With fresh ingredients and easy recipes, New Favorites for New Cooks, will turn any kid into a budding chef. Recipes such as Savory Scones with Fresh Herb Butter, Black Bean Taco Bar, Two-Minute Guacamole, Meatballs and Tomato Sauce, and Yogurt and Berry Compote Parfait engage every sense with bright colors, fresh flavors, and exciting textures, and showcase healthy, seasonal ingredients. Packed with information about kitchen science and history, and heavily illustrated (every recipe is photographed), this cookbook makes being in the kitchen fun for everyone.
About the Author
---
CAROLYN FEDERMAN is the founder of the Charlie Cart Project, a nonprofit that provides tools and curriculum for food education in schools. Prior to Charlie Cart, Carolyn worked in food education for more than a decade, leading Alice Waters's Edible Schoolyard Project, consulting on policy and program development for the Jamie Oliver Foundation, co-founding the Berkeley Food Institute, co-producing UC Berkeley's Edible Education course with Michael Pollan, and teaching cooking in her children's schools. Carolyn lives in Berkeley, California, with her two teenage children.
Praise For…
---
"Carolyn Federman knows as well as I do that if you introduce kids to real food and teach them in the garden, at farmer's markets, and in the kitchen, they will want to cook and eat every kind of food. Wisely, she has chosen the most simple yet delicious recipes based on fresh, whole produce in season. But most importantly, she has shown kids that they are capable of anything."

--Alice Waters, owner of Chez Panisse and founder of The Edible Schoolyard Project

"The best kid's books are the ones that are equally beloved by adults. New Favorites for New Cooks is one of those: essential in your kitchen however young, or old, you are. Carolyn Federman's enthusiasm gets even an old cook like me making hand-pressed tortillas and baking homemade honey-cinnamon granola!"

--Cal Peternell, author of Twelve Recipes and A Recipe for Cooking