We Were the Lucky Ones: A Novel (Paperback)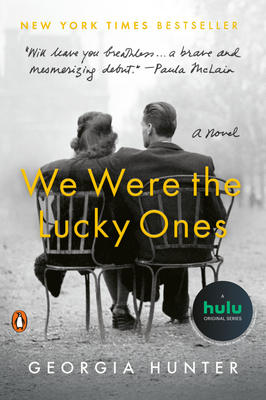 Description
---
The New York Times bestseller with more than 1 million copies sold worldwide | Soon to be a Hulu limited series starring Joey King and Logan Lerman

Inspired by the incredible true story of one Jewish family separated at the start of World War II, determined to survive—and to reunite—We Were the Lucky Ones is a tribute to the triumph of hope and love against all odds.

"Love in the face of global adversity? It couldn't be more timely." —Glamour
 
It is the spring of 1939 and three generations of the Kurc family are doing their best to live normal lives, even as the shadow of war grows closer. The talk around the family Seder table is of new babies and budding romance, not of the increasing hardships threatening Jews in their hometown of Radom, Poland. But soon the horrors overtaking Europe will become inescapable and the Kurcs will be flung to the far corners of the world, each desperately trying to navigate his or her own path to safety.
 
As one sibling is forced into exile, another attempts to flee the continent, while others struggle to escape certain death, either by working grueling hours on empty stomachs in the factories of the ghetto or by hiding as gentiles in plain sight. Driven by an unwavering will to survive and by the fear that they may never see one another again, the Kurcs must rely on hope, ingenuity, and inner strength to persevere.
 
An extraordinary, propulsive novel, We Were the Lucky Ones demonstrates how in the face of the twentieth century's darkest moment, the human spirit can endure and even thrive.
About the Author
---
When Georgia Hunter was fifteen years old, she learned that she came from a family of Holocaust survivors. We Were the Lucky Ones was born of her quest to uncover her family's staggering history. Hunter's website, georgiahunterauthor.com, offers a behind-the-scenes glimpse at the extensive research this project has entailed. She lives in Connecticut.
Praise For…
---
"[Georgia Hunter is] just as courageous as the characters her writing will never let us forget." —Harper's Bazaar

"Love in the face of global adversity? It couldn't be more timely." —Glamour, "Best Books to Read in 2017"

"[A] gripping, emotional novel." —People , "The Best New Books"

"A remarkable story of courage, love, and of course, luck." —Book Riot's Best Books of 2017

"[A] gripping and moving story." —Bustle, "15 New Authors You're Going To Be Obsessed With This Year"

"Turning history into fiction can be tricky . . . Hunter finesses the challenge. Her novel brings the Kurcs to life in heart-pounding detail." —The Jewish Voice

"The story that so grippingly comes across in the pages of We Were the Lucky Ones isn't strictly fiction—the characters and events that inhabit this Holocaust survival story are based on her family's own history." —Newsweek

"[A] must-read." —New York Post

"[A] remarkable history . . . Hunter sidesteps hollow sentimentality and nihilism, revealing instead the beautiful complexity and ambiguity of life in this extraordinarily moving tale." —Publishers Weekly

A Finalist for the National Jewish Book Awards' Book Club Award

A Women's National Book Association Great Group Read

"Reading Georgia Hunter's We Were the Lucky Ones is like being swung heart first into history. Her engrossing and deeply affecting account . . . will leave you breathless. But the true wonder of the book is how convincingly Hunter inhabits these characters, each modeled after her own family members. This is their story Hunter is telling so beautifully and profoundly, and ours as well. A brave and mesmerizing debut, and a truly tremendous accomplishment." —Paula McLain, author of The Paris Wife and Circling the Sun

"We Were the Lucky Ones is the most gripping novel I've read in years. Georgia Hunter pulled me into another world, vivid, horrifying, astonishing, and heartbreaking." —Lauren Belfer, New York Times bestselling author of And After the Fire, A Fierce Radiance, and City of Light.

"We Were the Lucky Ones is a skillfully woven reimagining of [Hunter's] own family's struggle for survival during World War II . . . with spectacular historical detail. This emotionally resonant, gripping portrait of the war is filled with beautifully drawn and wonderfully heroic characters I won't soon forget." —Jillian Cantor, author of Margot and The Hours Count

"Georgia Hunter has crafted her own family history into a sprawling, yet still intimate portrait of those swept up in the devastation of war and scattered to the winds.  It is an astonishing saga of hope, of luck, of destruction, and most remarkably of love, made all the more astonishing because of the true story at its core." —David R. Gillham, New York Times bestselling author of City of Women

"Elegantly executed and always clear, Hunter evokes pre-war Poland with loving detail, clearly showing what was left behind and lost. . . . We Were the Lucky Ones is a compelling read, notable for Hunter's clear portraits of her plucky, resilient family, and for her ability to build suspense and investment without emotional manipulation." —Courtney Naliboff, ReformJudaism
Give Books for the Holidays 2023