The Postscript Murders: A Mystery (Paperback)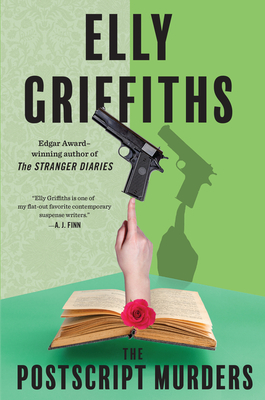 Description
---
Murder leaps off the page when crime novelists begin to turn up dead in this intricate new novel by internationally best-selling author Elly Griffiths, a literary mystery perfect for fans of Anthony Horowitz and Agatha Christie.

The death of a ninety-year-old woman with a heart condition should not be suspicious. Detective Sergeant Harbinder Kaur certainly sees nothing out of the ordinary when Peggy's caretaker, Natalka, begins to recount Peggy Smith's passing.

But Natalka had a reason to be at the police station: while clearing out Peggy's flat, she noticed an unusual number of crime novels, all dedicated to Peggy. And each psychological thriller included a mysterious postscript: PS: for PS. When a gunman breaks into the flat to steal a book and its author is found dead shortly thereafter—Detective Kaur begins to think that perhaps there is no such thing as an unsuspicious death after all.

And then things escalate: from an Aberdeen literary festival to the streets of Edinburgh, writers are being targeted. DS Kaur embarks on a road trip across Europe and reckons with how exactly authors can think up such realistic crimes . . .
About the Author
---
Elly Griffiths is the USA Today bestselling author of the Ruth Galloway and Brighton mystery series, as well as the standalone novels The Stranger Diaries, winner of the Edgar Award for Best Novel, The Postscript Murders, and Bleeding Heart Yard. She is the recipient of the CWA Dagger in the Library Award and the Mary Higgins Clark Award. She lives in Brighton, England.
Praise For…
---
Praise for Elly Griffiths and THE POSTSCRIPT MURDERS Finalist for the CWA Gold Dagger Award A Most Anticipated Title of 2021 from Crime Reads and The Buzz Magazines A Best Book of March from New York Post and PopSugar "This droll romp is a latter-day Miss Marple." —Washington Post "A limitless talent, a novelist in the humane vein of Louise Penny and Kate Atkinson, Elly Griffiths is one of my flat-out favorite contemporary suspense writers. No matter the book—a Ruth Galloway mystery, a Magic Men caper, an ambitious, assured non-series thriller—she innovates and excites; I turn each final page both deeply satisfied and ravenous for more." —AJ Finn "A macabre ode to the mystery genre." —PopSugar "A motley and charming trio of amateur sleuths...Griffiths' strong sense of place—the sea is sparkling yet unsettling, Aberdeen's cliffs beautiful yet unforgiving—provides a rich foundation for a cleverly constructed story with complex, memorable characters...A cozy bibliophile's delight of a mystery that turns writerly research and acknowledgments into fodder for pivotal plot points, offers a tongue-in-cheek peek at the publishing business and pays tribute to friendships that transform into chosen families." —BookPage "Delightful...Told with Griffiths's characteristic charm and gentleness." —Daily Mail "A light-hearted, life-affirming celebration of crime fiction and the colourful characters that create it...Such witty and charming entertainment." —The Times "Delicious, unadulterated entertainment." —Sunday Express "This super-readable thriller will have you hooked." —The Sun   "A love letter to murder mysteries, wrapped up in a character-rich caper." —Sunday Mirror "Griffiths assembles a vivid cast of characters, offering an enjoyably modern take on an old genre." —The Sunday Times "If you're looking for a laugh and to travel on a murder hunt, The Postscript Murders is the read for you." —Daily Record "An entertaining mystery for book-lovers." —Good Housekeeping "Always an expert in building tension and creating atmosphere in her thrillers, Elly Griffiths' latest is no exception." —Woman's Weekly "Dark and addictive." —Woman's Weekly Fiction "Smart and complex...even a little comic. Very satisfying; the intelligence unmistakable and the characters made as knowable as those in The Stranger Diaries, and—well, and this is clearly just a writer to be trusted with as much of your attention as she asks for." —Shawanjunk Journal "Complex characters, hidden histories, and adept twists enrich the narrative. Readers will be enthralled." —Publishers Weekly "Griffiths, author of the long-running Ruth Galloway series, follows the success of her first standalone, The Stranger Diaries (2019), win —