Wave (Paperback)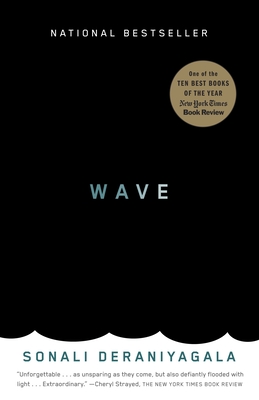 $15.95

Usually Ships in 1-5 Days
Description
---
One of The New York Times's 10 Best Books of the Year, a Christian Science Monitor Best Nonfiction Book, a Newsday Top 10 Books pick, a People magazine Top 10 pick, a Good Reads Best Book of the Year, and a Kirkus Best Nonfiction Book

A National Book Critics Circle Award finalist

In 2004, at a beach resort on the coast of Sri Lanka, Sonali Deraniyagala and her family—parents, husband, sons—were swept away by a tsunami. Only Sonali survived to tell their tale. This is her account of the nearly incomprehensible event and its aftermath.
About the Author
---
Sonali Deraniyagala teaches in the Department of Economics at the School of Oriental and African Studies, University of London. She is currently a visiting research scholar at the School of International and Public Affairs at Columbia University, New York, working on issues of economic development, including post-disaster recovery.
Praise For…
---
"The most powerful and haunting book I have read in years."
—Michael Ondaatje

"Unforgettable. . . . The most exceptional book about grief I've ever read. . . . [Deraniyagala] has fearlessly delivered on memoir's greatest promise: to tell it like it is, no matter the cost. . . . As unsparing as they come, but also defiantly flooded with light. . . . Extraordinary."
—Cheryl Strayed, The New York Times Book Review

"Unforgettable . . . It is a miracle Deraniyagala lived. The fact that she could write such a memoir, bringing those she loved to life so completely that they breathe on the page, is itself a miracle."
—Vanity Fair

"Out of unimaginable loss comes an unimaginably powerful book. . . . I urge you to read Wave. You will not be the same person after you've finished."
—Will Schwalbe

"Vivid. . . . What emerges from this wizardry most clearly is, of course, Deraniyagala herself—carrying within her present life another gorgeously remembered one."
—San Francisco Chronicle

"An amazing, beautiful book."
—Joan Didion

"Stories of grief, like stories of love, are of permanent literary interest when done well. . . . Greatness reverberates from [Deraniyagala's] simple and supple prose."
—The New York Times

"Turns revealing into art as powerful as a planetary vibration."
—The Plain Dealer

"Both heartbreaking and astonishingly beautiful."
—New York Post

"[Deraniyagala's family] spring from these pages with an exuberance and dimensionality that lifts Wave from memoir into some virtual realm of documentation."
—The Boston Globe

"[A] quiet memoir of torturous loss. . . . Deraniyagala tours memories of her young family's history with artistry."
—The New Yorker

"A haunting chronicle of love and horrifying loss. . . . Memory, sorrow, and undying love."
—Abraham Verghese

"Radiant. . . . The extremity of Deraniyagala's story seizes the attention, but it's the beauty of how she expresses it that makes it indelible. . . . [She is] a writer of such extraordinary gifts. . . . Wave is a small, slender book, but it is enormous on the inside." 
—Salon

"Chillingly real. . . . Wave captures the elusive, shape-shifting nature of grief."
—Newsday

"Beautiful and ravaging . . . faultless prose."
—Daily Herald

"Immeasurably potent. . . . Relentless in its explication of grief, this massively courageous, tenaciously unsentimental chronicle of unthinkable loss and incremental recovery explodes—and then expands—our notion of what love really means."
—More magazine
Upcoming Events
11/17/2021 - 7:00pm to 8:00pm

12/15/2021 - 7:00pm to 8:00pm