Labyrinth's Heart (Rook & Rose #3) (Paperback)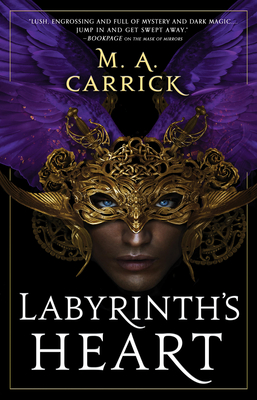 Other Books in Series
This is book number 3 in the Rook & Rose series.
Description
---
"Lush, engrossing and full of mystery and dark magic" (BookPage), Labyrinth's Heart is the thrilling conclusion to M. A. Carrick's Rook & Rose trilogy, in which a con artist, a vigilante, and a crime lord become reluctant allies in the quest to save their city from a dangerous ancient magic.

May you see the face and not the mask.

Ren came to Nadežra with a plan. She would pose as the long-lost daughter of the noble house Traementis. She would secure a fortune for herself and her sister. And she would vanish without a backward glance. She ought to have known that in the city of dreams, nothing is ever so simple.

Now, she is Ren, con-artist and thief. But she is also Renata, the celebrated Traementis heir. She is Arenza, the mysterious pattern-reader and political rebel. And she is the Black Rose, a vigilante who fights alongside the legendary Rook. 

Even with the help of Grey Serrado and Derossi Vargo, it is too many masks for one person to wear. And as the dark magic the three of them helped unleash builds to storm that could tear the very fabric of the city apart, it's only a matter of time before one of the masks slips—and everything comes crashing down around them.


The Rook & Rose trilogy
The Mask of Mirrors
The Liar's Knot
Labyrinth's Heart
About the Author
---
M. A. Carrick is the joint pen name of Marie Brennan (author of the Memoirs of Lady Trent) and Alyc Helms (author of the Adventures of Mr. Mystic). The two met in 2000 on an archaeological dig in Wales and Ireland, including a stint in the town of Carrickmacross, and have built their friendship through two decades of anthropology, writing, and gaming. They live in the San Francisco Bay Area.
Praise For…
---
"Immersive…a feast to savor slowly."—BuzzFeed

"Utterly captivating. Carrick spins an exciting web of mystery, magic, and political treachery in a richly drawn and innovative world."—S. A. Chakraborty

"The Mask of Mirrors kept me up reading way past my bedtime. A web of intrigue, magic, and the art of the con this novel will catch hold of your dreams and keep you from sleeping."—Mary Robinette Kowal

"For those who like their revenge plots served with the intrigue of The Goblin Emperor, the colonial conflict of The City of Brass, the panache of Swordspoint, and the richly detailed settings of Guy Gavriel Kay."—Booklist (starred review)

"Lush, engrossing, and full of mystery and dark magic, The Mask of Mirrors is sure to please fantasy readers looking to dial up the intrigue....Jump in and get swept away."—BookPage

"A revolution­ary, explosive climax – in both political and emotional terms. It's a fantastic conclusion. . . .This is a novel full of tension and incident, colour and verve. It has style and a sense of humour, and as the capstone to the trilogy it more than lives up to its predecessors."—Locus on Labyrinth's Heart