The Midnight Kingdom (The Dark Gods #2) (Paperback)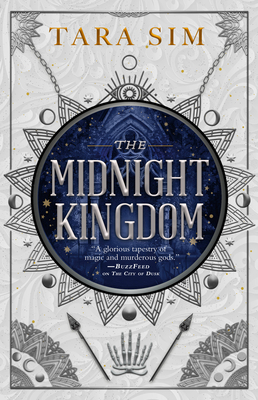 Other Books in Series
This is book number 2 in the The Dark Gods series.
Description
---
In this "glorious tapestry of magic and murderous gods" (Buzzfeed News) each heir walks a dangerous path, attempting to undo the damage the gods have wrought across the four realms, but they live on borrowed time—and not all of them will survive.
A cataclysmic battle to save the city of Nexus has left the four noble heirs scattered across the realms.
Taesia, the shadow-wielding rebel of House Lastrider, and Nikolas, the reluctant soldier of House Cyr, have been cast into Noctus, the realm of eternal night. But they are not alone. The dangerous and unpredictable god of light has traveled with them, and he will do anything in his power to destroy Noctus in his bid for cosmic control. 
Risha, the peacekeeping necromancer of House Vakara, must navigate her way through Mortri, the realm of death. But still she cannot help the wayward spirits, nor does she have any idea how to return home. All she knows is that no mortal can survive for long in Mortri. And the creatures that prowl the realm of death don't take kindly to the living.
Angelica, the stubborn elementalist of House Mardova, is on her own in Vitae, trying to keep Nexus from unraveling. But Angelica secretly suffers from an illness that her god left in her veins. And when she is sent on a delicate diplomatic mission, she knows that any weakness will have disastrous repercussions for her family, her kingdom, and her dreams of the throne.   
All will encounter old friends and new enemies as they attempt to restore the balance of the universe. But the gods grow stronger. And their descendants will need more than their magic and their wits to survive the war that is coming... 
About the Author
---
Tara Sim is the author of TheCity of Dusk (Orbit), as well as the Scavenge the Stars duology (Little, Brown) and the Timekeeper trilogy (Sky Pony Press). She can often be found in the wilds of the Bay Area, California. When she's not writing about magic, murder, and mayhem, Tara spends her time drinking tea, wrangling cats, and lurking in bookstores.
 
Praise For…
---
"Tara Sim's adult debut is a glorious tapestry of magic and murderous gods and a perfect entry for anyone looking for a new series starter."—Buzzfeed News on The City of Dusk

"Lovers of epic, dark fantasies, rejoice! There's literally a lot here to love at 512 pages, including immersive writing that excellently builds this magical world, badass queer characters, and an interesting plot. Fans of A Darker Shade of Magic and All of Us Villains will want to pick this up sooner rather than later." —Book Riot on The CIty of Dusk

"The City of Dusk by Tara Sim is a delightful, complex, intimate yet explosive debut adult fantasy novel."—Strange Horizons

"Recommended for fans of large-scale fantasy sagas with diverse, frequently queer protagonists."—Booklist on The City of Dusk

"Fantasy readers will appreciate Sim's attempt to create an expansive world in the vein of A Darker Shade of Magic or Gideon the Ninth....There's a lot to love here."—Kirkus on The City of Dusk