Zilot & Other Important Rhymes (Hardcover)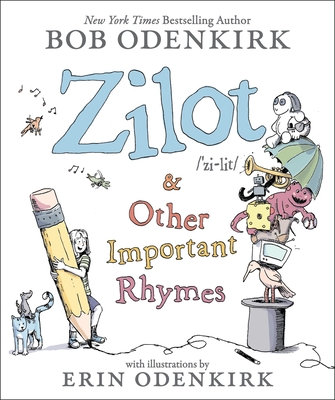 Description
---
A New York Times Bestseller!
An IndieBound Bestseller!
A USA Today Bestseller!

Emmy Award-winning and New York Times bestselling writer, comedian, and actor Bob Odenkirk and his daughter, illustrator Erin Odenkirk, present poetic nonsense for all ages perfect for fans of Shel Silverstein and Jack Prelutsky!

Bob Odenkirk began writing these poems with his children when they were little, compiling the poetry into a homemade book entitled Olde Time Rhymes. He wanted Nate and Erin to understand that actual people had written the books the family loved to read and to instill in them the feeling that they could be writers and illustrators themselves. Almost twenty years later, when the Odenkirks found themselves quarantined under the same roof, they revisited these mostly silly, sometimes poignant works. It wasn't until Erin began to create illustrations to accompany the words, though, that the book grew to be something much bigger than an Odenkirk family treasure.

From the titular made-up word for a blanket fort, an adorable dog with a penchant for the zoomies, and a father teaching his kids how umbrellas work, the subjects of these works, complemented by Erin's whimsical and detailed linework, come alive on these pages. Featuring over seventy poems, Zilot & Other Important Rhymes will delight readers young and old.
About the Author
---
Bob Odenkirk is known for acting (Breaking Bad, Better Call Saul, and feature films like Greta Gerwig's Little Women) and for writing lots of comedy sketches for TV shows (Saturday Night Live and Mr. Show with Bob and David). In fact, he's been writing silly stuff his whole life because he sees the world as a mostly funny, pretty ridiculous place. Bob's other books include A Load of Hooey, a collection of comedic essays, and Comedy Comedy Comedy Drama, his instant New York Times bestselling memoir, but Zilot & Other Important Rhymes is the thing he's most proud of in this world. His greatest wish is that you laugh today and he'd very much like to help make that happen.

Erin Odenkirk has been creating art as long as she can remember, having first found inspiration in drawing real and made-up animals. Now a graduate of Pratt Institute, she lives in Brooklyn, New York with a lot of pencils and one bunny. Erin hopes Zilot & Other Important Rhymes makes you chuckle, maybe even chortle, but mostly she hopes it inspires you to go make something "important."
 
Nate Odenkirk contributed to Zilot & Other Important Rhymes both as a little kid and as a tall wisp of a man. His original "radio" play, Summer in Argyle, is kid-and adult-friendly and perfect for keeping both quiet on long road trips. As a classically trained writer, Nate has yet to make a single mistakes.
 
Praise For…
---
A Barnes & Noble Book of the Year Finalist
An Amazon Best Book of the Month
 

* "In the same vein as…Shel Silverstein and Jack Prelutsky, Odenkirk's poems beg to be read out loud…Highly recommended for those looking to freshen up their collections of silly poetry."—School Library Journal, starred review

* "Zilot strikes the perfect balance as a gift that will inspire repeated bedtime reading."—BookPage, starred review

"Silliness abounds throughout the 70-plus disparate poems, each featuring…illustrations that radiate enthusiastic quirkiness."—Publishers Weekly

"Snuggle up, get a fire going, and read these delightful, thoughtful, and brilliantly illustrated poems. The fire MUST be within a safety-compliant fireplace or outdoors in a four-by-six firepit." —David Cross, actor, comedian, writer, honorary fire safety marshal

"You'll laugh and 'aw' and sniffle and snort and sigh. Sidesplittingly hilarious!" —Chris Harris, bestselling author of I'm Just No Good at Rhyming

"These clever poems will unlock your imagination and bring laughs to your belly. My daughter and I loved Zilot!" —Jenna Fischer, actor, author, podcaster

"If you DON'T want to read funny, heartfelt, wild poems with perfect illustrations . . . don't read this book!"—Jon Scieszka, first National Ambassador for Young People's Literature

"Bob and I once had a conversation about how he was going to start a family so he could write a children's book with them. Hats off to a true 3-D chess player!" —Scott Aukerman, comedian, writer, host of Comedy Bang! Bang!

"Utterly charming. An invitation inside the Odenkirks' pillow fort, and you should accept." —Adam Rex, bestselling author of Frankenstein Makes a Sandwich and On Account of the Gum

"Bob and his daughter have created a book for bedtime, wake time, any ol' time at all!"—Henry Winkler, actor, co-author of the bestselling Hank Zipzer series

"Everyone should have a family like the Odenkirks, who, in this delightful book, share their love of reading, art, and whimsy with all of us." —Carol Burnett, actor, author, legend

"It is my civic duty to demand that you and your entire family read this wonderfully ridiculous book written and illustrated by a wonderfully ridiculous family called the Odenkirks."—Tig Notaro, actor, comedian, writer