Dust (Hardcover)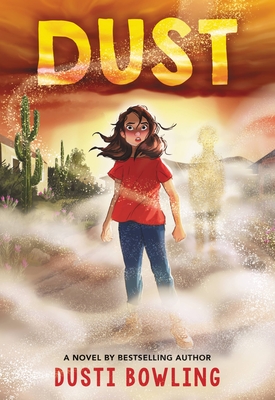 Description
---
A girl who struggles to breathe befriends a boy who seems shrouded in dust, in this unmissable tour de force from bestselling and award-winning author Dusti Bowling.

After Avalyn nearly died from an asthma attack, her parents moved her to the clear, dry air of Clear Canyon City, Arizona. And for the last ten years, she's been able to breathe. That is, until Adam showed up.

Quiet and unkempt, Adam is an instant target for the bullies who have plagued Avalyn and her friends. As Avalyn gets to know him, she begins to suspect that the sudden, strange increase in dust storms around town are somehow connected to his emotions. She thinks his problems may be even worse at home, especially when massive black walls of dust start rolling in after the school day. Will she find a way to stand up for her new friend? Her life may just depend on it.

Dusti Bowling delivers a page-turning, powerful, and poignant novel of friendship, courage, and healing, perfect for readers of Kimberly Brubaker Bradley, Lynda Mullaly Hunt, and Erin Entrada Kelly.  
About the Author
---
Dusti Bowling is the bestselling and award-winning author of Insignificant Events in the Life of a Cactus, The Canyon's Edge, and Across the Desert, among other books for young readers. Dusti holds a bachelor's degree in Psychology and lives in Arizona with her husband, three daughters, a dozen tarantulas, a gopher snake named Burrito, a king snake name Death Noodle, and a cockatiel named Gandalf the Grey.
Praise For…
---
"A powerful call to spell out pain when we see it in ourselves and others, even when—especially when—it feels unspeakable, Dust is mindfully and resolutely told. This book will save lives. I'm grateful it's in the world."—Beth Vrabel, award-winning author of When Giants Burn and the Newspaper Club series

"[Avalyn's] determined sleuthing will draw in readers. …An investigation of hard choices and empathy."—Kirkus

"[Bowling] deftly portrays Avalyn as a resourceful tween who will stop at nothing to protect a friend, determinedly overcoming her feelings of frustration and isolation."—Publishers Weekly

Praise for Across the Desert:

* "Readers will soar along with Jolene into the prospect of better days."—Booklist, starred review

* "Instantly compelling."—School Library Journal, starred review

* "[A] tense, poignant story about the essential nature of friendship and life's unexpected possibilities." —Publishers Weekly, starred review

"Experience has taught Jolene she can only count on herself, and she doesn't think she counts for much. But when she witnesses her friend's accident in the desert via live stream, she finds the strength to rescue them both. Across the Desert combines compelling adventure, honesty, danger, and love."—Kimberly Brubaker Bradley, two-time Newbery Honoree and #1 New York Times bestselling author of The War That Saved My Life and Fighting Words.

Praise for The Canyon's Edge: * "Stunning.... an edge-of-your-seat read."—Kirkus Reviews, starred review

* "This emotionally resonant survival tale is a must-have."—School Library Journal, starred review

* "Powerful...a triumphant story of healing and bravery."—Booklist, starred review

"Beautifully written. [Dusti] Bowling is a master storyteller."—Midwest Book Review

"A powerful, heart-thumping story about survival and the inner strength it takes to reclaim life after trauma. Nora shows us that it's possible to emerge stronger than we've ever been before."—Ann Braden, award-winning author of The Benefits of Being an Octopus

"You won't be able to stop turning pages of this gripping, unforgettable novel with emotional depth and resonance as you cheer for Nora to conquer her inner and outer beasts."—Donna Gephart, award-winning author of Lily and Dunkin, The Paris Project, and Abby, Tried and True

"A haunting, heart-pounding story of survival, brilliantly told in verse. The Canyon's Edge will inspire, uplift and resonate. I loved it!"—Barbara Dee, author of Maybe He Just Likes You and My Life in the Fish Tank

"A gutsy, page-turning tale of courage, survival, and healing, told in dynamic verse. The Canyon's Edge is powerful, unflinching, and full of heart."—Chris Baron, author of All of Me

"Thrilling."—BookPage