Standing My Ground: A Capitol Police Officer's Fight for Accountability and Good Trouble After January 6th (Hardcover)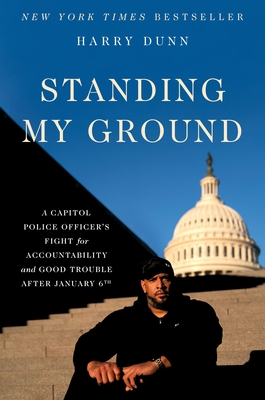 $28.00

Coming Soon - Available for Pre-Order Now
Description
---
The stirring memoir of Harry Dunn, a Capitol Police Officer on duty January 6th, who has become one of the most prominent and essential voices regarding the truth of that day.
 
Walking the halls of democracy as a Capitol Police officer, Harry Dunn was a man slowly experiencing an awakening. It sparked after the election of our first Black president. It grew as his belief in the bravery and honor of law enforcement was shaken by Ferguson and countless other cases of police brutality towards the Black community. It continued to burn brighter as he watched members of Congress, many of whom he had befriended, lose their way to partisanship, as political extremism intensified. And it exploded into a blaze when he fought side by side with his fellow officers on January 6th, when democracy and their lives were threatened.

Standing My Ground provides a crucial, definitive firsthand account of what happened on that day our country was shocked to its core. But it will also share the story of a man who refused to stay quiet when he learned that some of the men and women he had risked his life protecting, who knew him by name, would deny the horrors they faced. That's when he chose to speak up and to seek out what his hero John Lewis once termed "good trouble." Dunn's ongoing story as a witness willing to meaningfully engage with the media, lawmakers, and the public provides a backdrop for examining the political and racial divide in this country—one that we must overcome in order to demand accountability and preserve our precious democracy.
About the Author
---
Harry Dunn joined the United States Capitol Police (USCP) in 2008 and since 2011 has served at the officer rank as a Private First Class (PFC). PFC Dunn is assigned to a USCP First Responder Unit responsible for maintaining perimeter security around the exterior of the US Capitol. PFC Dunn has been on duty for presidential inaugurations, joint sessions of Congress, and State of the Union addresses, as well as hundreds of peaceful protests and demonstrations. He has also served as a Crisis Intervention Officer responsible for assisting individuals who may be experiencing a mental crisis and, as a member of USCP Crisis Negotiation Teams, has trained to respond to hostage or barricade situations. PFC Dunn also participates in USCP programs and activities to promote equity, diversity, and inclusion. PFC Dunn has received the Presidential Citizens Medal, the Congressional Gold Medal, the Capitol Police Service Medal, the Capitol Police Achievement Medal, the Gus Heningburg Award from the African American Chamber of Commerce of New Jersey, and the Concerned Black Men Award. PFC Dunn graduated from James Madison University with a BS degree in health science with a concentration in public health education. He lives in Silver Spring, Maryland.
Praise For…
---
"Dunn dramatically recounts the hours leading up to the attack….His intimate first-person chronicling of the crowd's violent surge is as riveting as his account of retreating to his post, covered in pepper spray and bruises, to take a video call from his young daughter. He candidly addresses his mounting frustration and disbelief weeks later as the event's violent intensity became diluted…. Throughout this forcefully delivered book, Dunn's passion for true patriotism and the tenets of constitutional democracy resonate, despite his emotional pain and PTSD. A sobering, heroic testimonial about an infamous day in American history."—Kirkus Reviews