The Last Wilderness: A History of the Olympic Peninsula (Paperback)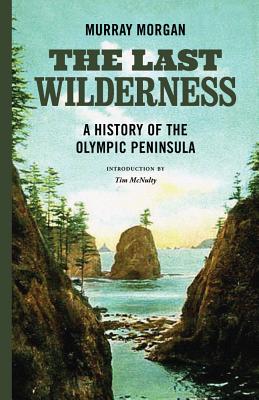 Description
---
Murray Morgan's classic history of the Olympic Peninsula, originally published in 1955, evokes a remote American wilderness "as large as the state of Massachusetts, more rugged than the Rockies, its lowlands blanketed by a cool jungle of fir and pine and cedar, its peaks bearing hundreds of miles of living ice that gave rise to swift rivers alive with giant salmon."

Drawing on historical research and personal tales collected from docks, forest trails, and waterways, Morgan recounts vivid adventures of the area's settlers--loggers, hunters, prospectors, homesteaders, utopianists, murderers, profit-seekers, conservationists, Wobblies, and bureaucrats--alongside stories of coastal first peoples and striking descriptions of the peninsula's wildlife and land.

Freshly redesigned and with a new introduction by poet and environmentalist Tim McNulty, this humor-filled saga and landmark love story of one of the most formidably beautiful regions of the Pacific Northwest will inform and engage a new generation of readers.
About the Author
---
Journalist, educator, and historian Murray Morgan (1916-2000) authored more than twenty books, including Skid Road: An Informal Portrait of Seattle and Puget's Sound: A Narrative of Early Tacoma and the Southern Sound. He worked for Time magazine and CBS News, hosted the Northwest radio show Our Town, Our World, and wrote for magazines ranging from Cosmopolitan to the Nation and the Saturday Evening Post. Tim McNulty is an award-winning poet, essayist, and nature writer based in the foothills of the Olympic Mountains. His natural history books include Olympic National Park: A Natural History and Washington's Mount Rainier National Park. His work has received the Washington State Book Award and the National Outdoor Book Award.