Skid Road: An Informal Portrait of Seattle (Paperback)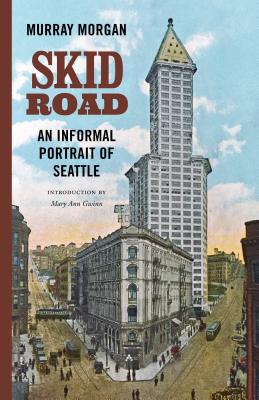 Description
---
Skid Road tells the story of Seattle "from the bottom up," offering an informal and engaging portrait of the Emerald City's first century, as seen through the lives of some of its most colorful citizens. With his trademark combination of deep local knowledge, precision, and wit, Murray Morgan traces the city's history from its earliest days as a hacked-from-the-wilderness timber town, touching on local tribes, settlers, the lumber and railroad industries, the great fire of 1889, the Alaska gold rush, flourishing dens of vice, the 1919 general strike, the 1962 World's Fair, and the stuttering growth of the 1970s and '80s. Through it all, Morgan shows us that Seattle's one constant is change and that its penchant for reinvention has always been fueled by creative, if sometimes unorthodox, residents.

With a new introduction by Pulitzer Prize-winning book critic Mary Ann Gwinn, this redesigned edition of Murray Morgan's classic work is a must for those interested in how Seattle got to where it is today.
About the Author
---
Murray Morgan (1916-2000), a journalist and historian, was the author of more than twenty books, including the well-loved Skid Road and The Last Wilderness. He worked for Time magazine, the New York Herald Tribune, and CBS News and hosted the early morning radio show "Our Town, Our World." Mary Ann Gwinn writes for the Seattle Times, Booklist, and other publications. She won the Pulitzer Prize for national reporting in 1990, was one of three jurors for the 2017 Pulitzer Prize in fiction, and serves on the board of the National Book Critics Circle.
Give Books for the Holidays 2023