The House Without Windows (Paperback)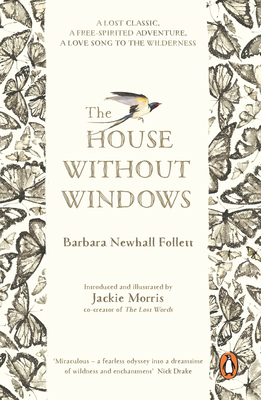 $9.99
Email or call for price
Description
---
A lost classic of children's nature writing, introduced and illustrated by beloved creator of The Lost Words, Jackie Morris

This is the irresistible and entirely unique story of one little girl's desire to escape into the wilderness.

Little Eepersip doesn't want to live in a house with doors and windows and a roof, so she runs away to live in the wild—first in the Meadow, then by the Sea, and finally in the Mountain. Her heartbroken parents follow her, bringing her back home to 'safety' and locking her up in the stifling square of the house. But she slips away once more, following her heart into the richness of untrammeled nature and disappearing forever.

First published in 1927 and written by a child of just twelve years old, The House Without Windows is an extraordinary paean to the transcendent beauty of the natural world, and the human capacity to connect with it.
About the Author
---
Barbara Newhall Follett was a child prodigy. Born in New Hampshire in 1914, she published her first novel, The House Without Windows, aged twelve. One year later she published another, The Voyage of the Norman D., based on her own experiences sailing round Nova Scotia without her parents at thirteen years old. Barbara Newhall Follett walked out of her Brookline, Massachusetts home with $30 in her pocket one evening shortly before Christmas 1939 and was never seen again. The mystery of her disappearance has never been solved. Jackie Morris grew up in the Vale of Evesham, dreaming of becoming an artist and living by the sea. She has now created over forty children's books, including the bestselling and critically acclaimed modern classic The Lost Words, and her books have sold more than a million copies worldwide. Jackie lives in a cottage on the cliffs of Pembrokeshire, which she shares with a small pride of cats and various other gentle creatures.
Praise For…
---
"One of the strangest, most enchanting and mystifying stories I've read in recent years . . . It's beautiful, bonkers and brimming with the abundance and richness of nature and a life lived with no boundaries. Also Jackie's intro and illustrations provide a depth and context that only lifts the book and its story higher." —Rob Cowen, author, Common Ground: Encounters with Nature at the Edges of Life
 

"Extraordinary. Deeply weird, beautiful & unsettling."  —Robert Macfarlane, author, The Lost Spells
 

"The House without Windows is miraculous - a fearless odyssey into a dreamtime of wildness and enchantment. Gloriously illuminated by Jackie Morris's moving art, this is a work of strange power for our own bewildered times." —Nick Drake

 

"Astonishingly lyrical" —The Spectator