The Silmarillion: Special Edition (Hardcover)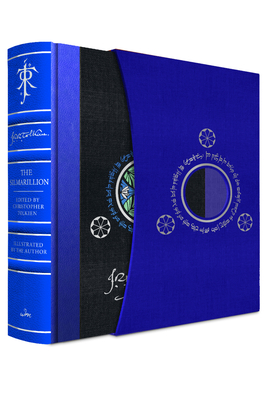 Description
---
For the first time ever, a beautiful deluxe stamped clothbound hardcover edition of the forerunner to The Lord of the Rings housed in a custom-built clothbound slipcase, and illustrated throughout in color by J.R.R. Tolkien himself, with the complete text printed in two colors and with many bonus features unique to this edition.
The Silmarilli were three perfect jewels, fashioned by Fëanor, most gifted of the Elves, and within them was imprisoned the last Light of the Two Trees of Valinor. But the first Dark Lord, Morgoth, stole the jewels and set them within his iron crown, guarded in the impenetrable fortress of Angband in the north of Middle-earth.
The Silmarillion is the history of the rebellion of Fëanor and his kindred against the gods, their exile from Valinor and return to Middle-earth, and their war, hopeless despite all the heroism, against the great Enemy. It is the ancient drama to which the characters in The Lord of the Rings look back, and in whose events some of them such as Elrond and Galadriel took part.
The book also includes several shorter works: the Ainulindalë, a myth of the Creation, and the Valaquenta, in which the nature and powers of each of the gods is described. The Akallabêth recounts the downfall of the great island kingdom of Númenor at the end of the Second Age, and Of the Rings of Power tells of the great events at the end of the Third Age, as narrated in The Lord of the Rings.
Exclusive features to this deluxe edition include:
A color reproduction of Christopher Tolkien's "A Brief Account of the Silmarillion and it's Making"
A printed art card reproduction of "Taniquetil"
A blue ribbon marker
Silver gilt page edges
A die-cut slipcase
Blue leather and black cloth binding with raised spine ribs
Plus:
Two poster-size, fold-out maps of the Silmarillion, the Beleriand and the Lands to the North by J. R. R. Tolkien and Christopher Tolkien
Fifty illustrations, paintings, and designs
About the Author
---
John Ronald Reuel Tolkien (1892-1973) was a distinguished academic, though he is best known for writing The Hobbit, The Lord of the Rings, and The Silmarillion, plus other stories and essays. His books have been translated into over 60 languages and have sold many millions of copies worldwide.
Praise For…
---
"How, given little over half a century of work, did one man become the creative equivalent of a people?" — The Guardian
"Demanding to be compared with English mythologies…at times rises to the greatness of true myth." — Financial Times
"A creation of singular beauty…magnificent in its best moments." — Washington Post
"A grim, tragic, brooding and beautiful book, shot through with heroism and hope…its power is almost that of mysticism." — Toronto Globe and Mail