The Dreaming Path: Indigenous Ideas to Help Us Change the World (Hardcover)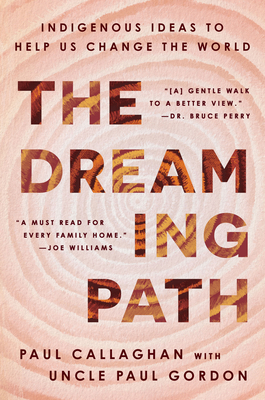 Description
---
Drawing on ancient Aboriginal wisdom, a leading Indigenous Australian healer and an Elder show you how to find contentment, purpose, and healing by learning to reconnect with your story—and ultimately the universe.
Dr. Paul Callaghan belongs to the land of the Worimi people who live north of Sydney along the east coast of Australia. Raised to live the western way, Paul found himself mired in deep depression—struggling to find meaning while raising a family and working as a senior education executive. Desperate to break free of his restlessness, he made a drastic change: He "went bush" and connected with his elders to "walk Country" and learn Aboriginal traditions. Twenty years later, Paul is an expert healer and spiritual guide eager to share the wisdom of his ancestors and the insights he discovered on his life journey.
In this affirming, empowering, and transformative book, he teaches you about the Dreaming Path—a connection to the earth and the universe, past, present, and future that has always been there, but can be difficult to find amid the chaos of the modern world.
The Dreaming Path offers tips, practices, inspiration, and motivation that can enable you to achieve a profound state of mind, body, and spirit wellness, while encouraging you to think deeply about essential life topics, including:
Caring for our place and the importance of story
Relationships, sharing, and unity
Love, gratitude, and humility
Learning and living your truth
Inspiration and resilience
Being present and healing from the past
Contentment
Leading
The Dreaming Path reminds us that we are our stories; by learning to recognize that we are all an indelible part of something much larger, we can begin to heal ourselves and our communities.
About the Author
---
Paul Callaghan is a Worimi man. He is an Aboriginal storyteller and dancer who has held a number of senior executive positions in his career. Paul's passion however has always been around healing individuals, communities, and the Earth our Mother. His corporate roles have always incorporated this passion. The Dreaming Path was awarded the 2023 Small Publishers' Adult Book of the Year by the Australian Book Industry Awards. Paul has been "going bush" for many, many years and learning traditional "Lore" from his Elders.
Uncle Paul Gordon is a Ngemba man, born at Brewarrina in the land now called Australia. He grew up in a tin hut on the Barwon River in northwestern New South Wales. Since 1983, he has spent most of his time with the Old Men performing cultural activities and learning Aboriginal Lore. Today, Uncle Paul is recognized as a senior Elder, and he is one of the highest initiated Aboriginal men in NSW. He contributed many of the stories in The Dreaming Path.
Praise For…
---
"I love this beautiful book. The wisdom of Aboriginal ways of thinking and acting are outlined in context of our modern world leadership challenges. The insights of Paul Callaghan—an Aboriginal man with leadership in Western organizations—are like leaves of practical input floating down a quiet stream of wisdom. It's not a harsh, angry rejection of Western views and practices; it's a gentle walk to a better view. The insights about leadership are powerful and timely. This should be required reading for anyone entering a leadership position in any walk of life." — Dr. Bruce Perry, co-author with Oprah Winfrey of the #1 New York Times bestselling book What Happened To You?
"Packed with timeless wisdom, practical life exercises, and written with a heaping dose of kindness and compassion, Paul Callaghan and Uncle Paul Gordon meet readers whoever they are or wherever they see their station in life. This gem of a book brings two worlds together—the aboriginal and Western worlds—imparting the wisdom urgently needed by all humanity at this time. … The Dreaming Path teaches us how to live our life with deep respect, kinship, and love for everything that exists. What a gift!" — Glenn Aparicio Parry, two-time Nautilus Award-winning author of Original Thinking and Original Politics