Sun Damage: A Novel (Paperback)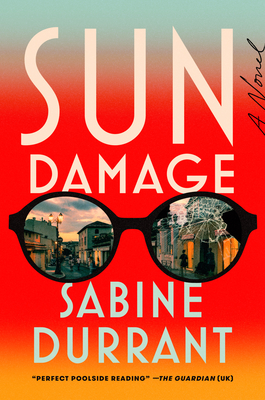 Description
---
Reminiscent of the works of Patricia Highsmith and Lucy Foley, a compulsive psychological thriller—"the perfect poolside reading" (Guardian)—involving gorgeous grifters on the loose in the south of France who prey on a group of unsuspecting vacationers . . . and each other.
The heat is intense. The secrets are stifling. And there is no escape.
In a tiny village in Provence, nine guests arrive at a luxury holiday home.
The visitors know each other well, or at least they think they do.
The only stranger among them is Lulu, the young woman catering their stay. But Lulu is not exactly the woman on the video the guests thought they'd hired. Turns out Lulu has plenty to hide—and nowhere to run as the heat rises.
In this seemingly idyllic getaway, under the scorching sun, loyalties will be tested, secrets exposed, and tensions pushed to the brink . . .
Dripping in intrigue, Sun Damage is a glamorous, witty, and totally riveting story chock full of secrets, lies and . . . more lies.
About the Author
---
SABINE DURRANT is a former assistant editor of The Guardian and a former literary editor of the Sunday Times whose feature writing has appeared in numerous British national newspapers and magazines. She has been a magazine profile writer for the Sunday Telegraph and a contributor to The Guardian's family section. She is the author of several books, including Under Your Skin, Lie With Me, and Finders, Keepers. She lives in south London with her husband, the writer Giles Smith, and their three children.
Praise For…
---
"Sabine Durrant is one of the greatest thriller writers of our generation and this is her at her scorching, gripping, unputdownable best. Sun Damage is brilliantly plotted, but it is Durrant's graceful yet probing descriptions of place and class, her insight into families and couples and what lies beneath, and her painting of settings so exquisite that you feel you're really there that make this book so incredibly satisfying and enjoyable." — Lisa Jewell
"Sabine Durrant finely evokes Riviera beaches and provincial France, and gives us a character who grows more sympathetic as we admire the ingenuity with which she overcomes her perils. The climax is sheer genius . . . Ideal for a sun lounger at home or abroad." — The Times (London)
"Claustrophobic and suspenseful, with an engaging narrator and a satisfying twist: perfect poolside reading." — The Guardian UK
"This entertaining psychological thriller from Durant deploys a delicious arsenal of unexpected plot twists . . . . Ali's keenly observant narration . . . keeps the plot moving briskly along . . . . Good, Patricia Highsmith–style fun." — Publishers Weekly
"Sabine Durrant finely evokes Riviera beaches and provincial France, and gives us a character who grows more sympathetic as we admire the ingenuity with which she overcomes her perils. The climax is sheer genius . . . Ideal for a sun lounger at home or abroad." — Audiobook of the Week, The Times
"A merciless portrayal of privileged English abroad leavens a tense and fiendish thriller. Yikes!" — Saga Magazine
"The premise is so interesting and the characters so divisive that you'll want to keep reading." — Belfast Telegraph
"A sizzling thriller." — Bella Magazine
"Escapist." — Hello Magazine
"Essential holiday reading material." — Closer Magazine
"Durrant is relentless with the suspense, presenting Ali's unreliable narrator status beautifully. . . It's superbly controlled, a novel that's obsidian dark under the blazing French sun." — Irish Independent