The Best American Short Stories 2023 (Paperback)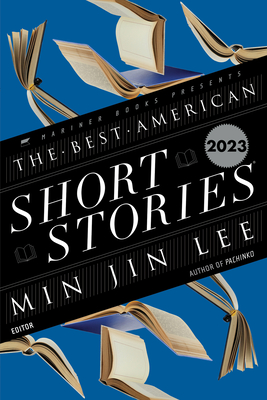 Description
---
A collection of the year's best short stories, selected by National Book Award finalist Min Jin Lee and series editor Heidi Pitlor.
"Without stories, we cannot live well," shares guest editor Min Jin Lee, describing how storytelling affects and nurtures readers. The Best American Short Stories 2023 features twenty pieces of short fiction that reflect a world full of fractured relationships, but also wondrous hope. A lifelong friendship may become a casualty of the Russia-Ukraine war. Rejected by his lover, a man seeks to reconcile with his family. Twitter users miraculously muster enough empathy to help a lost cat find a forever home. Enlightening, poignant, and undeniably human, the stories in this anthology bravely confront societal darkness and offer, in Lee's words, "our emotional truths, restoring our sanity and providing comfort for the days ahead."
The Best American Short Stories 2023 includes Cherline Bazile • Maya Binyam • Tom Bissell • Taryn Bowe • Da-Lin • Benjamin Ehrlich• Sara Freeman • Lauren Groff • Nathan Harris • Jared Jackson • Sana Krasikov • Danica Li • Ling Ma • Manuel Muñoz • Joanna Pearson • Souvankham Thammavongsa • Kosiso Ugwueze • Corinna Vallianatos • Azareen Van Der Vliet Oloomi • Esther Yi
About the Author
---
MIN JIN LEE is the author of the novels Free Food for Millionaires and Pachinko, a finalist for the National Book Award and runner-up for the Dayton Literary Peace Prize. Lee is the recipient of the 2022 Manhae Grand Prize for Literature from South Korea and of fellowships in fiction from the Guggenheim Foundation, the Radcliffe Institute of Advanced Study at Harvard University, and the New York Foundation for the Arts. She is a writer-in-residence at Amherst College and serves as a trustee of PEN America and a director of the Authors Guild. She is at work on her third novel, American Hagwon, and a nonfiction work, Name Recognition.
Heidi Pitlor is a former senior editor at Houghton Mifflin Harcourt and has been the series editor for The Best American Short Stories since 2007. She is the author of the novels The Birthdays, The Daylight Marriage, and Impersonation.
Praise For…
---
"Confrontational and at times confounding, these are stories to get lost in, then gratefully chart a path homeward." — Kirkus Reviews
"As guest editor of this year's entry in the Best American Short Stories series, [Jesmyn] Ward has assembled a brilliant and moving collection...These 20 stories capture beautiful and devastating human experiences and the tales we tell to persevere. Contributors' captivating prose and incredible storytelling will plunge readers into fascinating worlds and challenge them to take on new perspectives." — Booklist (starred review) on The Best American Short Stories 2021
"If you feel uneasy choosing just one author's collection, let a witty novelist pick the best stories of the year for you."  — Nicole Y. Chung, Washington Post
"This terrific and surprising collection of tales by a diverse group of writers lives up to Diaz's 'rah-rah' (his term) rallying cry for the form... Count on them to transport you." — USA Today on Best American Short Stories 2018
"This year's collection brings together fine stories by famous fiction writers like Chimamanda Ngozi Adichie and Karen Russell... [while] a great deal of the magic is generated by the appearance of less familiar names... Each of these outstanding stories is, as Diaz observes, a chance to listen 'to some other lone voice struggling to be heard against the great silence.'"  — National Book Review on The Best American Short Stories 2018
"This anthology rejoices in its range of subject matter, its emotional complexity and its depiction of quietly powerful moments." — Shelf Awareness on The Best American Short Stories 2019