The Year of Second Chances: A Novel (Hardcover)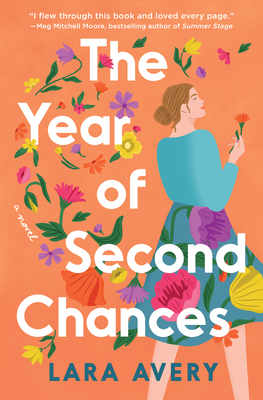 Description
---
In this dazzling debut, Lara Avery crafts a story about one woman's uplifting journey of possibility, second chances, and falling in love again…with life—perfect for fans of P.S. I Love You.
"A lively, witty ride with a strong cast of supporting characters. Avery tackles the topic of grief in a way that manages to feel lighthearted and profound at the same time. I flew through this book and loved every page." —Meg Mitchell Moore, bestselling author of Summer Stage
Robin Lindstrom spent her first year as a young widow cocooned in the safe haven of the Minnesota farmhouse she'd once shared with Gabe, the love of her life—the man she thought she'd be with 'til the end. But her world is turned upside down when she receives an email informing her that her late husband has enrolled in something called "Bubbl"—a dating service. The app subscription lasts 12 months; use it!, Gabe's message-from-the-grave reads. I don't like the thought of you being alone. If you won't do it for yourself, do it as a favor to me. Please.
After twelve months of pulling herself together, Robin's fragile equilibrium is knocked sideways. How could Gabe, of all people, be asking her to venture out into the murky waters of 21st century online dating? As her underemployed brother, Theo, points out, it's "only" for a year, and it's basically Gabe's last request.
And so Robin tentatively takes steps to put herself out into the world once more, even if it means awkward outings at bowling alleys, club-hopping with DJs she meets online, and stammering conversations at dinner. Along the way, she's surprised to find herself meeting new people, trying new things…and even getting to know a new version of herself. Because everyone deserves a second chance at love—and loving life.
About the Author
---
Lara Avery is the author of three young adult novels, one of which, The Memory Book, received the 2017 Minnesota Book Award. She studied film at Macalester College and got her MFA in creative writing from the University of Mississippi. She lives in Topeka, Kansas.
Praise For…
---
"Avery debuts with a tender novel full of heart and healing…. Avery's funny and engaging writing, plus Robin's strong voice, will keep readers turning pages. Suggest to those who enjoyed Catherine Newman's We All Want Impossible Things." — Booklist (starred review)
"It speaks to Avery's skill that the novel soars from this implausible beginning. While there is romance and there is humor, this is not (as it might first seem) a meet-cute rom-com. It's a story about grief, and about finding a way to move ahead after a traumatic loss — even if 'moving ahead' might not mean what you think it does."  — Minneapolis Star Tribune
"Avery's adult debut explores grief with humor and warmth…. The concept is fresh and the voice full of heart. Fans of Annabel Monaghan should take note." — Publishers Weekly
"Sammie's narrative voice is sardonic, distinctive, wildly intelligent, and sometimes hilarious...Readers will feel her mind and heart shifting with the illness. Indelible."  — Kirkus Reviews (starred review) on The Memory Book
"Sammie's voice is a bright, relatable, and uncompromising one...Strengths abound in Avery's touching novel, and Sammie's relationships, both friendly and romantic, are no exception...Fans of John Green's work and Jennifer Niven's All the Bright Places will be reaching for the tissue box at the book's tear-inducing end." — School Library Journal (starred review) on The Memory Book
"Avery (Anything but Ordinary) crafts an emotionally charged story about a young woman who has kept her eyes trained on the future, only to learn that all she has is now...Avery's novel stands out for its strong characters, a heartbreaking narrative that shifts to reflect Sammie's condition, and a love story that will leave many readers in tears."  — Publishers Weekly (starred review) on The Memory Book
"Avery brings an emotional honesty to Sammie's narrative.... Teens will be inspired by Avery's heart-rending story about a special and intelligent young woman coping with a devastating disease―a story buoyed by the strong love of family flowing through Sammie's narrative and by an exquisite love story in which Sammie experiences happiness with Coop."  — VOYA (starred review) on The Memory Book
"Avery (A Million Miles Away, 2015) balances humor and devastating sadness perfectly. Sammie's voice is sympathetic but not pitiful as she relates her hopes for the future and thoughts on the past...a story of self-discovery that's hard to put down."  — Booklist on The Memory Book