House Made of Dawn: A Novel (Harper Perennial Olive Editions) (Paperback)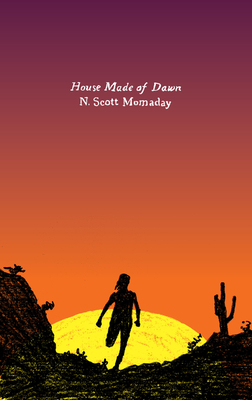 Description
---
"Both a masterpiece about the universal human condition and a masterpiece of Native American literature. . . . A book everyone should read for the joy and emotion of the language it contains." — Paris Review

The magnificent Pulitzer Prize-winning classic about a stranger in his native land from renowned Kiowa writer and poet N. Scott Momaday, now available as a limited Olive Edition from Harper Perennial.
A young Native American, Abel has come home from war to find himself caught between two worlds. The first is the world of his father's, wedding him to the rhythm of the seasons, the harsh beauty of the land, and the ancient rites and traditions of his people. But the other world—modern, industrial America—pulls at Abel, demanding his loyalty, trying to claim his soul, and goading him into a destructive, compulsive cycle of depravity and disgust.
An American classic, House Made of Dawn is at once a tragic tale about the disabling effects of war and cultural separation, and a hopeful story of a stranger in his native land, finding his way back to all that is familiar and sacred.
About the Author
---
N. Scott Momaday is an internationally renowned poet, novelist, artist, teacher, and storyteller whose works celebrate and preserve Native American heritage. He won the Pulitzer Prize for his novel House Made of Dawn and is the recipient of numerous awards and honors, including the Academy of American Poets Prize, the National Medal of Arts, the Ken Burns American Heritage Prize, the Dayton Literary Peace Prize Foundation's Richard C. Holbrooke Distinguished Achievement Award, and the 2021 Frost Medal for distinguished lifetime achievement in poetry. A longtime professor of English and American literature, Momaday earned his PhD from Stanford University and retired as Regents Professor at the University of Arizona. He lives in New Mexico.
Praise For…
---
"Both a masterpiece about the universal human condition and a masterpiece of Native American literature. . . . A beautiful artistic object, a book everyone should read for the joy and emotion of the language it contains." — The Paris Review
"Dazzling. . . . Momaday [is] an important voice in American letters." — Los Angeles Times
"Superb." — New York Times Book Review
"Authentic and powerful. . . . Anyone who picks up this novel and reads the first paragraph will be hard pressed to put it down." — Cleveland Plain Dealer
"A beautiful and moving tale. Intricately conceived . . . executed with easy lyricism. Mr. Momaday's performance is brilliant." — Publishers Weekly
"A new romanticism, with a reverence for the land, a transcendent optimism, and a sense of mythic wholeness...Push[es] the secular mode of modern fiction into the sacred mode, a faith and recognition in the power of the world." — American Literature
"Mr. Momaday has a superb sense of imagery. . . . There is a rich treasury of Pueblo Indian lore on almost every page." — Baltimore Sun
"A tragic story…one of considerable power and beauty." — The Nation